PokerStars MicroMillions III Kicks Off With Some Amazing Attendances!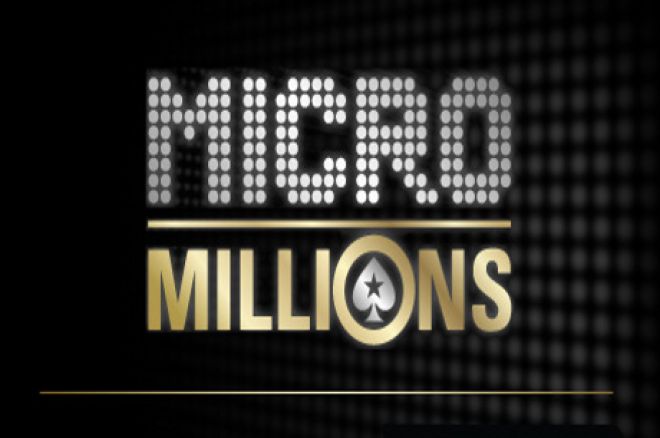 The third edition of the popular MicroMillions online poker festival kicked off on PokerStars yesterday and if the turnouts for the first five events are anything to go by then MicroMillions III could break all records.
Event #1 was the $0.11 rebuy that had a guaranteed prize pool of $10,000! Can you imagine telling someone ten years ago they could be playing in an online poker tournament that cost just $0.11 to enter and had a $10,000 prize pool? They would laugh in your face at the very thought. By the time registration closed in Event #1 there were a total of 53,870 entries, which is phenomenal but what is more, there were 171,788 rebuys and 22,440 add-ons! This created a prize pool of $24,809.80 and a winner's prize of $1,76122!
Event #2 was also a rebuy tournament but with the slightly more substantial buy-in of one whole dollar! A staggering 42,942 players turned out for this tournament, making 190,347 rebuys between them and purchasing 20,557 add-ons. This meant the massive $150,000 guarantee was not only met but was completely obliterated as $230,999.86 was up for grabs!
It was Germany's AAligator33 who emerged victorious, picking up $17,952.06 after striking a deal heads-up with Mexico's xaltepico.
Another huge turnout greeted Event #3, the $3.30 No Limit Hold'em Six-Max. An almost unbelievable 45,569 players bought in meaning $136,707 was shared out amongst the top 5,778 players, the eventual champion Devil_DuckDK of Denmark walking away with $11,580.93. The runner-up was the United Kingdom's margaretka1 who walked away with a not-too-shabby $8,414.31!
Event #4 went swimmingly well for the United Kingdom and Ireland, with three of our players reaching the final table and a UK player taking down the entire event. The $3.30 No Limit Hold'em rebuy Action Hour attracted a smaller, but still huge, field of 15,365 who by the time the rebuy period was over had created a prize pool of almost $160,000!
Once crunchpump1 of Ireland busted out in seventh place, the remaining six players struck a deal that saw the least anyone pick up increasing from the $4,253.55 they were guaranteed up to $7,393.27. willmichigan of the UK finished in fifth place and picked up the second most money at $11,851.86 whilst the eventual winner was ADP1985 who will find their PokerStars account balance $14,096.69 more than when they logged on yesterday! Congratulations!
The final event of Day 1 saw 16,413 players buy into the $3.30 No Limit Hold'em freezeout, creating a prize pool of $49,239.00. Again this was a great tournament for UK players, Morier139 coming third for $3,200.53 and MUFC9999 taking down the event and winning a cool $5,769.96. Superb stuff.
You could be taking part in this fantastic festival and potentially win some life-changing money, but only if you have a PokerStars account. If even you needed an incentive to download PokerStars then surely the chance of MicroMillions glory is it. Download PokerStars via PokerNews, enter the marketing code UKPOKERNEWS and the bonus code STARS600 and you will not only be eligible for a 100% match up to $600 first deposit bonus, but you will also be able to participate in all future promotions PokerStars and PokerNews hold together – which since 2011 have had combined prizepools approaching $500,000!
Get all the latest PokerNews updates on your social media outlets. Follow us on Twitter and like us on Facebook now!