Marc-Andre Ladouceur Discusses Back-to-Back Deep Runs in WSOP Main Event

Chad Holloway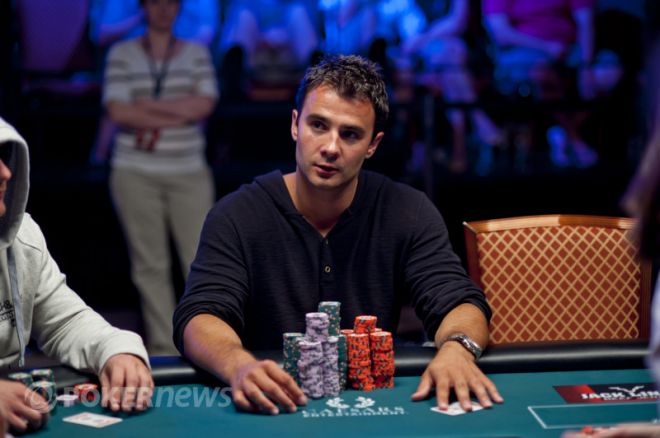 If you watched any of the 2012 World Series of Poker on ESPN this year, you no doubt remember Marc-Andre Ladouceur who made a deep run for the second year in a row. His dreams of the final table were crushed, however, when his


lost to the


of Andras Koroknai in a preflop all-in confrontation. With nearly 18 million in the pot, the board ran out





and Ladouceur was knocked down to just 5,025,000 in heartbreaking fashion. He exited a short time later in 13th place for $465,159.
Coming so close to the October Nine was bittersweet for Ladouceur, but he didn't become discouraged. Instead, he stepped away from the virtual felt, where he spends most of his time playing poker, to travel the circuit a bit. He found immediate success in August when he finished runner-up in the European Poker Tour Barcelona €10,000 Heads-Up Championship for €101,000 ($124,094), and then followed that up by winning the EPT Sanremo €5,000 High Roller for €132,400 ($170,951) to months later.
That gave Ladouceur three six-figure scores in a row and quickly established him as one of the breakthrough players of the year. PokerNews recently sat down with the pro from Quebec to talk about his start in poker, his deep finish in the Main Event, and his sick run over the past few months.
Can you tell us a little bit about yourself?
I'm from a small town called Mont-Saint-Hilaire on the south shore of Montreal. I lived there my whole life until the age of 19. I'm an only child and my parents are still together. Just like every kid in Quebec, I played hockey from age six and dreamed of being an NHL player, but that didn't quite work out.
I played most sports growing up but ended up turning to tennis when I was 14. I had a decent junior career making it up to No. 2 in Quebec. I went to a private high school where we wore a uniform and had to obey very strict rules. Definitely got some much needed discipline from it. When I turned 18, I ran really good and got hired as a bartender in one of Montreal's big nightclubs. I went down to college in North Carolina on a tennis scholarship, and since I graduated, I've worked/owned a nightclub down there.
How did you learn to play poker and what's your progression been like?
My first exposure to poker came in the summer of 2005 when my friend "Chilax Chuck," famous for his bankroll management skills, invited me to his $5/$5 game he was running. I had no idea what I was doing but neither did anyone else. I was a lot more interested in the business side of running the game and making rake.
When I went back to North Carolina in the fall, I started my own game and learned a little as time went by but never took it seriously until years later. It wasn't until 2009 when I randomly met Supernova Elite and coach at UltimateGrinders, Mike "MeleaB" Brooks, that I saw the real potential of online poker. I took his model of 24 tabling $1/$2 cash games and slowly moved up in stakes until I got to $10/$20, $50/$100 last year. I played a few live tourneys here and there but just now recently got on the live tournament trail.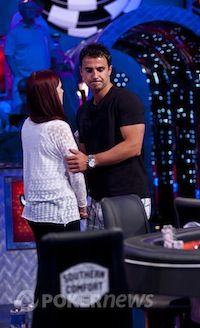 You play online under the screen name "FrenchDawg." What's the story behind that name?
This is gonna sound stupid — when I first went down to college at UNCG, I didn't speak any English, so I was quickly called "French Marc." It was also around the time where everybody overused the word "dawg" to call each other. So yeah, I was an idiot. Come to find out, how much more fishy can a screen name get? And that's totally fine by me.
Were you impacted at all by Black Friday?
Black Friday wasn't fun for anyone, but I guess Canadians didn't get it too bad. I've tried to limit my trips to the U.S. to the bare minimum, but it definitely messed up my ability to maintain Supernova Elite and it becomes costly not being able to grind for long periods of time. I was staking/coaching a few Americans as well so it totally crushed them. I'm probably one of the only players who didn't have a penny on Full Tilt Poker. Sick run there.
Did you play much poker while attending UNCG? If so, what was it like and what sort of games did you play?
I didn't really play at all when I was in college except the occasional $10 tournament at Ritter's, and when I started the home game my senior year. Even though I wish I would've started playing way sooner and would've been there for the glory online days when everybody printed money left and right, I'm also kinda glad I graduated from college before I got going. I see a lot of people struggling to balance school and poker which is very understandable. No matter how much success someone can have in the game, there is so much more to life than that and everybody should pursue school and/or have a plan B in case something goes wrong.
You have live results dating back to 2007, but it wasn't until this year that you've found tremendous success. How would you describe the 2012 you've experienced thus far?
Back in 2007, I would take an occasional three-day vacation from managing the club and fly out somewhere to go play cash games and maybe catch a tournament. I remember very well my first cash at the World Series of Poker Circuit in Indiana as I folded myself to a min-cash and was so proud of it.
This year, or should say these past couple months, have been fun on the live scene. I never was into live tourneys all that much but it's kinda crazy how one score or two will change your mind. Even though I think online cash games are still where I should put most of my time, I'll definitely play a lot more live now. Traveling around with friends to some cool places is definitely much better than being stuck behind a computer screen.
In 2011 you finished 63rd in the WSOP Main Event for $130,997, and then this year you improved upon that with a 13th-place finish for $465,159. That's quite the accomplishment, but it must have been tough making it so deep twice and missing out on the final table. Can you talk a little bit about that?
In 2011, it was very exciting to make the top 100, but the final table still seemed so far away. It was my first big live score and I was pretty happy with how I played and handled everything. This year was a different story. When I got to Day 7 with the chip lead, I felt like a lot of things needed to go wrong for me to miss the October Nine, and then it happened as we saw, but I also wasn't all that happy with my play.
Busting so close from poker's biggest stage was a major disappointment in my life. It took me weeks to see anything good out of it. Nonetheless I know you need some run good to make it this deep two years in a row, so I guess I'm grateful it was in the Main Event. It took me some time to recover but I ended up making the trip to Vegas to go support Greg Merson at the final table. At first it felt weird to see everyone there, but it was so amazing to see him take it down. Very happy for him and so well-deserved.
I think my biggest poker accomplishment comes from playing and beating online high-stakes cash games though. Battling with some of the best players in the world day in and day out is a lot of fun. It's no surprise to me that guys in those games have been scoring big on the live scene lately. Timothy Adams and Greg Merson are easy examples.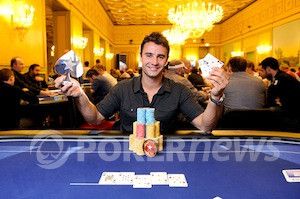 Last month you scored your first live victory in the EPT San Remo High Roller for $170,951, which made your last three scores all six-figures. It also came on the heels of finishing runner-up in the EPT Barcelona High Roller. What was it like winning in San Remo?
The last couple months in Europe were awesome. After everything in Vegas, finishing second in the $10,000 heads-up in Barcelona was gratifying but it was even better to take down the title at San Remo in such a tough field. Bunch of friends and guys from Quebec were there when I won which made it that much cooler. Jason Lavallee finished second in the main event and Philippe Boucher took down the pot-limit Omaha Event, so it may have got a little crazy at the end of the week. Lots of pics and videos to prove it.
You're from Montreal, Quebec, which is also home to 2010 WSOP Main Event winner Jonathan Duhamel. What the poker culture is like in Montreal?
Quebec is full of very talented players, way too many to name them all and some whose identities they would rather not have revealed. A lot of us are really good friends and hangout/go out all the time. I lived with Pascal Lefrancois for a year, and Samuel Chartier was our neighbor.
Pascal finished 11th in the WSOP Main in 2010 and won a bracelet the same year. Not sure how it's possible for two roommates to bubble the final table in three years. We obviously have the world champ in Jonathan Duhamel but also some nosebleed sickos in Philippe D'Auteuil and Will Molson.
You can add to that a bunch of solid American regulars who relocated to Montreal. With the nightlife scene here, it's pretty unlikely to go out any night of the week and not come across one of them.
What's next for you as far as poker is concerned?
Poker will most likely be a part of my life for many years to come though I don't want to be only doing that and need to work on other business and life projects to be fully happy. Winning bracelets, EPT and WPT Titles would be nice and I'll be playing a lot of live poker in the upcoming year. You'll see me at most major events with WPT Montreal, EPT Prague and PCA being next.
Stay up to date on all the latest news by following us on Twitter and liking us on Facebook.