Christopher Brammer Still Top But All Change In The UK & Ireland Rankings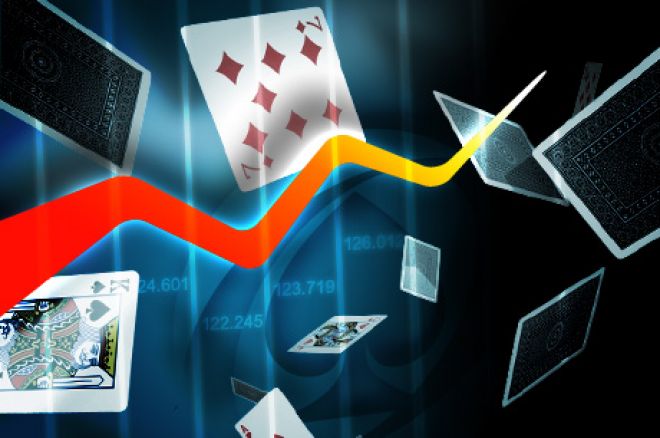 There has been some serious reshuffling in the UK & Ireland online poker tournament rankings this week, with two new additions and Rhys "floppinhel" Jones flying up the table from tenth to fourth place. Want to know more? Then keep on reading.
Still at the top of the tree is Christopher "NigDawG" Brammer who increased his points total from 6482.92 to 6598.86, extending his lead over second placed Marc "dean23price" Wright in the process; though that may change soon when Wright's win in the recent Big 109 on PokerStars comes into effect. In fact the top three ranked players are the same as last week, Chris "Moorman1" Moorman keeping hold of his third place berth.
The complete sicko that is Rhys "floppinhel" Jones climbed from tenth to fourth spot this week after the points from his third Triple Crown came into play. He could find himself in an even loftier position in the coming days as a fourth Triple Crown is on the cards! On November 6 Jones won the €200 6-Max Club on PokerStars.FR and the $50r $20,000 guaranteed on Titan Poker! He now has until Nov. 13 to win a third tournament, something we would put good money on him achieving.
In a recent interview with UK & Ireland PokerNews, current number one Brammer said Jones will be ranked first in the world by the end of 2013. On this form he looks to be correct.
Another player climbing up the standings was Rick "TheClaimeer" Trigg who has been putting in consistent results for as long as we can remember. The PokerStars regular helped himself to almost $10,000 when he finished second in a $109 rebuy and has since added another five four-figure scores to his already impressive tally of results.
James "jamerOK" Cawley of Cardiff finds himself back in the top 10 thanks in part to him winning the $40,000 guaranteed $11 rebuy on PokerStars for a cool $8,910.38 and he is rejoined in the top ten by another old face in Phil "Grindation" Mcallister. Mcallister finds his name among poker's elite thanks to a double deep run in the Sunday Warm-Up and Sunday Million where he finished 20th and 50th respectively, how different that could have turned out!
Keep your eye on Mcallister in next week's ranking update because he won the Hot $33 on PokerStars on Nov.6 and the 200+ points he picked up for that superb victory have not been added to his total yet.
UK & Ireland online poker tournament rankings
| Rank | Name | Points |
| --- | --- | --- |
| 1 | Christopher "NigDawG" Brammer | 6598.86 |
| 2 | Marc "dean23price" Wright | 6112.59 |
| 3 | Chris "moorman1" Moorman | 5757.25 |
| 4 | Rhys "floppinhel" Jones | 5540.76 |
| 5 | Rick "TheClaimeer" Trigg | 5504.02 |
| 6 | Mat "matfrankland" Frankland | 5428.65 |
| 7 | Ross "RLOG" Loggie | 5424.63 |
| 8 | David "davidv1213" Vamplew | 5332.64 |
| 9 | James "jamerOK" Cawley | 5283.67 |
| 10 | Phill "Grindation" Mcallister | 5251.45 |
Thanks to PocketFives.com whose data was used for this article.
Get all the latest PokerNews updates on your social media outlets. Follow us on Twitter and like us on Facebook now!