Best Of The British Isles: Christopher Brammer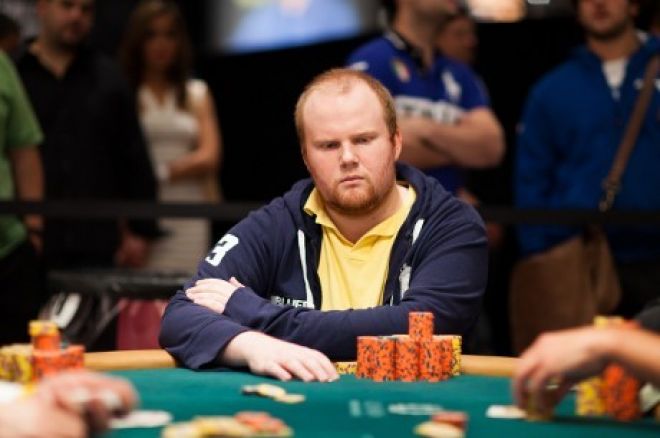 The UK & Ireland has some of the very best poker players in the world, and one of them decided to let our readers know a little bit about himself. Christopher Brammer is a multi-table tournament specialist from Southampton, who this year alone has reached the final table of the $10,000 No Limit Hold'em Six-Max event at the World Series of Poker and of the €10,000 WSOPE Main Event. Check out what makes Brammer tick.
Thanks for taking the time out to talk to our readers Christopher. For those of them who do not know who you are let them know a little about yourself.
My name is Christopher Brammer, I'm 24-years old and I'm from Southamption. Online people will known me as NigDawG or as lehonhonhon when I play on PokerStars.fr
What is your poker story? How did you get into this crazy game we all love?
I remember my dad was randomly watching a WPT on TV, so I sat down to watch that with him. Coincidentally, so had two of my college friends and we wanted to play ourselves. We used to play bridge and hearts during breaks anyway so had a deck of cards handy. Then on a lunch break we cashed in £5 each at the local newsagents for 10p and 20p coins to use as chips lol.
During the sixth form we had quite a lot of break time, so poker became really popular. We obviously had no clue what we were doing but there was always a game going in the concourse. One day the head of year caught wind of the money changing hands (even though it was only 10ps and 20ps) and clamped down on it. She did concede we could play with poker chips though for fun, so without her realising we ran a debt book and this went on for weeks with the deal being everyone had to settle up on the last day of term! With chips the game actually got more expensive, losing £5 in real money hurt us but we'd gamble on through if we could just reload with chips. I was something like £250+ in the book when someone left it lying around which the head of year obviously found. I was called into her office for that and given a stern telling off and poker was not allowed at all anymore! Only one guy paid up what he thought he owed since suddenly everyone swore they were winning in the book!
I carried on playing through university, mainly at the the Manchester G casino which had a decent tourney schedule and I'd also make the trip to Dusk Till Dawn (Nottingham) every now and again, but at the time I didn't play too much online. Then my dad won a satellite to the World Series of Poker Main Event and took me with him. I managed to satellite in myself, thanks to a $330 daily tournament held at The Rio and I went on to min-cash in the Main Event. It was a lot of money to me at the time and I never went back to university after that summer.
Your main game is MTTs. Is there any reason for this? Do you think your skills are better geared towards being successfull in tournament poker rather than cash games?
I'm definitely not cut out for cash games. I've dabbled here and there but I get bored and try to 3bet every hand being so deep and end up barrelling off. On other words I spew, LOL. MTTs interest me more because the blinds, stacks and situations are always changing. I enjoy "winning" tournaments too.
Full Tilt Poker re-opened (for play money games) yesterday and players can now withdraw their balances that have been tied up for what seems like an age. Did you have much tied up there? Will you play there again now that Stars own them?
I received an email the other day informing me I have $81 in my Full Tilt account even though I wasn't expecting waiting for me! I took everything off Full Tilt and PokerStars before heading over to Las Vvegas last summer. Black Friday had just happened and I wasn't confident enough leaving money online that I knew I couldn't get to whilst in Vegas. By the time I came home, Full Tilt was down so I just got lucky with timing there.
What does a typical day for you look like? When do you start registering for tournaments and what do you generally call it a day?
I haven't been grinding all that much lately. I played every day during PokerStars WCOOP and then played WSOPE/San Remo and just haven't quite got back into the online grind yet. When I'm in grind mode though, I like to start registering around 3pm-4pm and I will play on through until I feel tired (or usually tilted) which is around midnight. There is nothing good on the European sites beyond 10pm and even PokerStars starts to dry up too. Maybe with Full Tilt coming back this may change.
I like to play between 6 or 12 tables of PokerStars on my main screen and 6-12 Euro tables on my other two screens, depending on my mood. I'm comfortable 18 tabling, but can just about stretch to 24 if I have to.
Toby Lewis recently said being able to bounce hands off you has helped his progression as a poker player. Is the feeling mutual? Are there any other heroes who have influenced your own development as a poker player?
Nah he's terrible! Not sure how he has any money to be honest! joking aside, I started travelling to live tournaments with him and he's been one of my best friends since. He plays a bit different to me (he's a filthy nit really) but he has helped me immensely in my poker career and even backed me from Dec '10 - Feb '12.
Speaking of filthy nits, I talk a lot of hands with Craig McCorkell who is very technically proficient in a poker hand and great banter. I actually played on his table in a couple £20 comps at the Southampton Grosvenor maybe six years ago without realising it, but in the last two years I've talked to him probably every other day about poker and I respect his opinion an awful lot. Three other players who have had a huge influence on my game are Chris "moorman1" Moorman, Tom "hitthehole" Middleton and Marc "dean23price" Wright. I've talked over thousands of hands with them since I quit university to play poker three years ago and I wouldn't of had the success I've had if it wasn't for them.
I love the boom feature on PokerStars and we are always using that on Skype to each other to talk about hands now.
Being ranked No.1 in the UK and being a former No. 1 in the world for online poker means you obviously know your way around the virtual felt, but you've also made some big splashes in the live arena this year ( anear miss in the UKIPT Notts, WSOP Six-Max and WSOPE ME). Have you made any major adjustments to your game recently or have you just started to run a little better?!
I'd like to think I'm constantly changing my game in parts to try and improve, I shudder to think how bad I was in 2010! But maybe being more patient when playing live has helped. Sometimes it can be awfully tempting to just try and win every pot when you're one-tabling a slow-going live event.
Everyone says the games are getting tougher and tougher each year but you keep winning! Although the games are harder to win in, what are the most common mistakes you see players making in your games?
There is more information out there than ever before so the games are getting tougher, but I think MTTs are still great value. The most common mistakes I see are calling too wide off of shallow stacks. In tournaments preserving a stack can be just as important as building one and you need to keep your fold equity for restealing without premium hands, and you simply can't afford to call a raise from the blinds with a garbage hand. Playing out of position is a common mistake in general actually. Everyone knows it is wrong yet they still do it.
Yourself aside, who do you think the top UK players are? Who do you think has the potential to really push on in 2013?
At a risk of brown nosing my friends here but moorman1 and hitthehole really are in another league. They might not always bring their A-game, but it's awesome to watch when they do. I'm really lucky to be able to rack their brains and learn from them every day.
For 2013 I'd look out for Rhys Jones (floppinhel). He's surrounded by the same group of friends that have helped me, and seems to have a natural hunger to win tournaments. I can see him getting to No. 1 on Pocketfives.com if he doesn't leave the game to take up a professional go-kart driving job on offer!
What are your plans for the rest of the year / start of 2013?
I'm going to play a couple live events like the Amsterdam Masters Classics, GUKPT Grand Final and EPT Prague, plus I'm really looking forward to Full Tilt Poker coming back. I loved the software and that used to be the only site I could win could win on before Black Friday! I just booked a trip to Melbourne in January to play the Aussie Millions and watch the tennis, so that's something to look forward to, but no plans beyond that.
Any tips for Brammer wannabes?
Play and talk as much poker as you can, but you have to love the game too!
So there you have it, an insight into one of the best tournament players in the world. Look out for him on our Live Reporting pages at EPT Prague and in our weekly rankings reports.
Get all the latest PokerNews updates on your social media outlets. Follow us on Twitter and like us on Facebook now!