Top Ten Moments of the 2012 WSOP Main Event: Negreanu's Bust and Gee's Mistake

Rich Ryan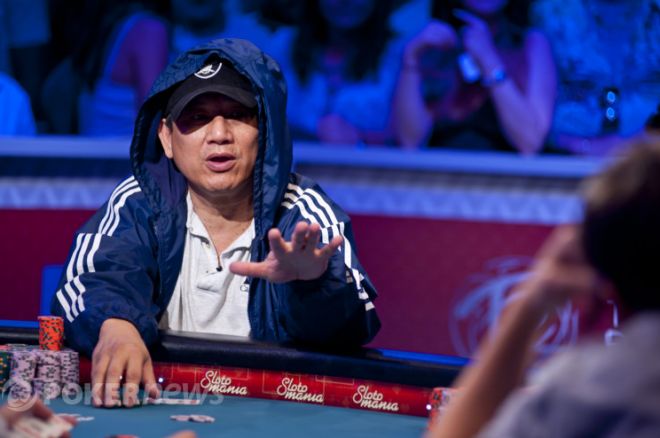 Our look at the top-10 moments from the 2012 World Series of Poker Main Event rolls on with two key elimination hands. In moment number eight, one of the most popular poker players in the world hit the rail, and in moment number seven, an Octo-Niner made a not-so-costly mistake.
8. No More Negreanu
In 2009, Daniel Negreanu finished runner-up to Barry Shulman in the World Series of Poker Europe Main Event. He earned $817,035 for his efforts, and it's currently the fourth-largest score of his career. Negreanu finished 11th in the WSOP Main Event in 2001, but at the time, with only 613 entries, he netted only $63,940.
The Main Event has been a nightmare for Negreanu in the post-Moneymaker era, and despite cracking the top 200 in 2012, Kid Poker couldn't make it past Day 5:
Daniel Negreanu moved all in for his last 240,000 from early position. Action folded around to Kevin Pollak in the cutoff, and after tanking for about 90 seconds, he moved all in for about 500,000.

Everyone else folded, and the cards were tabled.

Negreanu:

Pollak:
Negreanu was in a world of hurt, and he was looking for a king or diamonds going to the flop. He got no help from that, as it came . Pollak was standing up, rubbing his hands on his head, while Negreanu sat in his chair to await his fate. The turn brought the , and Negreanu was looking for a king, and a king only.

River:

It's another Day 5 bust out for Daniel Negreanu, who wished the whole table good luck before making his exit. As always, Negreanu was extremely gracious in defeat, and is still posing for pictures with fans who are lining up in the mothership as we are typing this.

Kevin Pollak said before the tournament that Negreanu was one of his poker idols, and while he loves to have the chips, he surely didn't want them to come from Negreanu, who will have to wait for next year to have another shot at the Main Event Final Table.
7. Gee's Oops Busts DiVella
In a later edition of this top-10 series we will delve into the biggest blunder made during the 2012 WSOP Main Event (hint: it involves another Octo-Niner), but when Steven Gee accidentally called Nick DiVella's all in, there was no escaping his mistake. More than a third of his stack was at risk with a dominated hand, but Gee spiked a lucky seven on the turn:
Nick DiVella has been eliminated. Like all who are knocked out of the Main Event, he's probably wondering what might have been, although in his case the last hand in particular is likely foremost in his thoughts.

DiVella announced he was all in from early position, setting out a stack of orange chips as he did, and the dealer repeated his declaration. Action was folding around the table when one player asked how much DiVella was in for, and it was clarified he was all in for 675,000 total.

Then, action folded to Steven Gee on the button who tossed out 75,000. He'd missed the all-in declaration, and had thought the raise was only for 75,000 (actually less than what the minimum raise would be during this level) and he was calling. The floor was called over, and it was determined that Gee had called the all-in raise. The blinds folded, then DiVella showed his . Gee's hand was turned over to show he had .

The flop came and DiVella was still ahead, but the landed on the turn to pair Gee. The river was the , and DiVella was eliminated.
Keep checking back for more of the top-10 moments from the 2012 WSOP Main Event.
Follow PokerNews on Twitter for up-to-the-minute news.