Five Thoughts: Brandon Cantu's Complaint, Daniel Negreanu's Goals, and More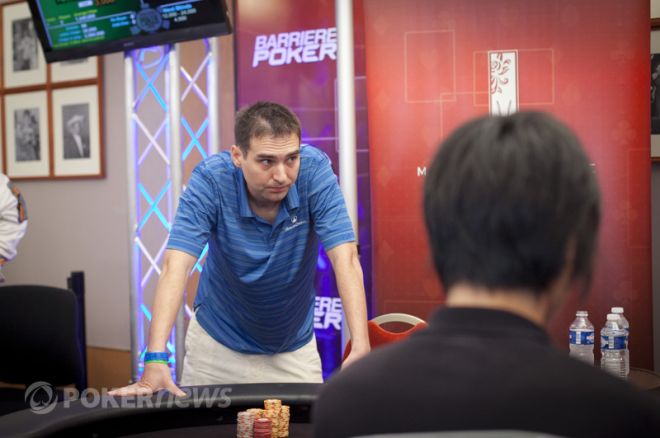 On Saturday, Jonathan Aguiar and Brandon Cantu defeated Faraz Jaka and Roger Hairabedian respectively in the semifinals of the 2012 World Series of Poker Europe Event #5 €10,450 Mixed Max — No-Limit Hold'em. Aguiar won his match first, so he took a break while Cantu and Hairabedian battled for over eight hours. Cantu eventually defeated Hairabedian, and after a short break, the final match began.
Unfortunately, the match did not conclude before the casino doors closed at 5 a.m., and play was postponed. Cantu wanted to resume the match as soon as possible, but according to Aguiar, the decision was made to postpone it until both players were eliminated from the Main Event prior to the start of the match.
Cantu skipped the Main Event to rest, Aguiar played and busted, and the match resumed on Monday.
Cantu had a slight chip lead, but Aguiar snatched it away on the second hand and never looked back, winning his first career WSOP bracelet. Cantu, who has two WSOP bracelets, fell just short for the third time this year — he finished second in Event #30 and third in Event #18 at the World Series of Poker this summer.
Cantu was very upset with the loss and tracked down Sarah Grant to do a little venting.
1. Cantu complains
Nobody wants to finish runner-up in a WSOP bracelet event — just ask Phil Hellmuth, who finished second in three events during the 2011 WSOP. It's brutal. You go so far, you avoid so many coolers, you place so many coolers on others, and then you fall just short of the finish line.
There is no greater tease in the poker world.
However, just because you fall short, that doesn't give you the right to blame others for the loss. And that's exactly what Cantu did.
Cantu makes valid points, but they're masked by his accusations that the World Series of Poker "robbed" him of his third WSOP bracelet.
"It was one of the best performances maybe in the history of the World Series."
Who can take you seriously after a statement like that?
Momentum plays a huge role in heads-up poker, a point that heads-up legend Olivier Busquet made on Twitter on Monday, and Cantu had all the momentum in the world at 5:00 a.m. CEST on Sunday morning, but the decision had been made prior to the match.
Cantu, who evidently showed up late, could've put his foot down right then and there and made sure that neither player entered the Main Event until the match was over. He didn't.
Cantu could've ranted during the break, when he had the chip lead, because he didn't want to wait to resume the match. He didn't.
Cantu could've talked to people about Aguilar's game and discussed strategy with his group of poker friends. From what it sounds like in the interview, he didn't.
Cantu could've rested, slept, and recuperated while Aguiar played in the Main Event. Oh wait, he did do that. And then he complained that Aguiar won solely because he was well-rested.
In the TwoPlusTwo thread about Cantu's rant, some posters are blaming the WSOP because it didn't have a contingency plan. This is true, there may not be a plan in writing, but a precedent was made at the 2010 WSOPE when Gus Hansen and Jim Collopy had their match suspended the night before the Main Event. Both players entered the Main Event, busted, then resumed the match at a later date.
The WSOP should probably amend the structure for this event to include this clause, or move the event so that it doesn't conflict with the Main Event, but the WSOP is not to blame for Cantu's loss.
Cantu proceeded to melt down on Twitter after the interview, and asked Aguiar to uphold a challenge he made during the first session of heads-up play. Aguiar accepted the challenge, and the two plan to play for the difference between first and second at Festa al Lago.
@jonaguiar I beg you to hold true to your word that you said on the live stream that you will play me heads up (as you offered during

— Brandon Cantu (@brandoncantu)
I would like to play for at least the difference of first and second that was rightfully stolen of mine and I swear on a stack of

— Brandon Cantu (@brandoncantu)
@brandoncantu ironically enough you're going to have to wait til I bust the festa main

— Jonathan Aguiar (@JonAguiar)
I look forward to the rematch and perhaps another epic rant.
2. Negreanu making predictions
Prior to the World Championship of Online Poker Main Event, Daniel Negreanu tweeted about his love for the game. And he really does love poker. Nine months ago at the 2012 PokerStars Caribbean Adventure, Negreanu appeared on the PokerNews Podcast and was very excited about the upcoming year. He said that he was going to play more side events at festivals, and that he wanted to make a run at a Player of the Year title.
Well, Negreanu is out of the WSOP, BLUFF, and Global Poker Index POY races for 2012, barring an absolutely insane finish, but he wants to wager that his GPI ranking will rise by the time the 2013 WSOP begins.
I'd like to bet that I crack the top 20 in the GPI http://t.co/ZXWaumPC by WSOP 2013. I'm currently ranked 31st. Get at me for action.

— Daniel Negreanu (@RealKidPoker)
I'm also willing to take 3.5-1 that I crack the top 10. You can also have action on ANYONE behind me.Whoever ranks higher by WSOP wins #GPI

— Daniel Negreanu (@RealKidPoker)
The ascent from #31 to #20 won't be easy because the GPI's rankings are calculated based upon six half-year periods. Negreanu can't do anything about his results from the last two years, though they were very impressive. All he can do is try and accumulate as many points as possible from now until May of 2013.
Oh yeah, and the players ahead of him are really awesome poker players. Here are the bottom five members of the top 20 and Negreanu:
| Rank | Player | Points |
| --- | --- | --- |
| 16 | Erik Seidel | 2259.55 |
| 17 | Mohsin Charania | 2242.37 |
| 18 | Samuel Chartier | 2235.87 |
| 19 | Bryn Kenney | 2230.50 |
| 20 | Tommy Vedes | 2218.54 |
| | | |
| 31 | Daniel Negreanu | 2040.91 |
That's not going to be easy.
Negreanu's challenge regarding players ranked behind him his more enticing, because the playing field if much more level. Still, it's going to be very hard to outrun players like Tobias Reinkemeier (32nd), Phil Hellmuth (33rd), Chris Moorman (34th), Josephy Cheong (41st), and Kyle Julius (42nd).
I contacted Negreanu on Monday, and he told me he has yet to field action on the bet. We'll keep our ears and eyes open for any further information, and pass it along if anything comes to fruition.
3. Fernandez ships LAPT Panama Main Event, Fish the High Roller
Last week, for the first time in its five-year history, the PokerStars Latin American Poker Tour made a trip to Panama. A total of 338 players descended upon the Veneto Wyndham casino, creating a total prize pool of $700,000, and the final table was headlined by Team PokerStars Pro Leo Fernandez. Fernandez won, becoming the second Team PokerStars Pro to win an LAPT title — Jose "Nacho" Barbero took down LAPT Lima in 2010.
The Argentinean pocketed $171,930 for the victory, and now has over $1.4 million in career lifetime earnings. Fernandez's biggest score was in 2011 when he finished second in the $25,000 High Roller at the 2011 PCA.
In the LAPT Panama High Roller, a $5,000 buy-in event, Darryll Fish was victorious. The Florida native earned $90,000 according to his Twitter account, and was ecstatic about the win.
I won! @laptpanama high roller champion weeeee! Finally got a live tourney win!

— Darryll Fish (@The_DFish)
Several live tournament grinders will tell you that the fields are softer in Latin America, and I've always thought that those tournaments were great alternatives for American players who don't have the budget to travel to Europe and grind the European Poker Tour. Hopefully the LAPT will continue to expand moving forward, and tournament grinders will recognize the great opportunity they have to make a little bit of money without having to cross the pond.
4. PCA schedule released
On Monday, PokerStars released the schedule for the 2013 PCA. To celebrate the historic 10th anniversary of the poker festival, PokerStars is offering $10 buy-in tournaments that will award 10 PCA packages every week for the next 10 weeks. That's a total of 100 prizes worth $16,000, adding up to $1.6 million.
That's great for both micro-grinders and the PCA Main Event prize pool.
The promotion will run from Oct. 1 to Dec. 9, and if you live outside of the United States you would be crazy to not take a shot.
The 40-event festival will begin on Jan. 5, and it includes a $100,000 Super High Roller (with unlimited reentries), a $25,000 High Roller (with one optional reentry), and of course, the $10,000 Main Event. To stay with the theme, 10 of the events will be considered "Signature Trophy Events." The winners of these events will receive a trophy to celebrate the anniversary.
Shaun Deeb, who won three stud events during the 2012 Spring Championship of Online Poker, will be very happy to know that there's a triple stud event this year. Event #32 is a $1,000+$100 buy-in event, and will include seven-card stud, razz, and seven-card stud high-low 8 or better.
The 10-day festival is still three months away, but I'm already getting excited. Which events are you looking forward to playing or reading about? Check out the entire PCA schedule, and let us know.
5. Nadal runs a bluff
We're still waiting to see tennis legend and PokerStars Team SportStar Rafa Nadal play an actual hand of poker, but in the meantime, PokerStars is doing a great job promoting him.
In the first commercial that was released, Nadal is playing on a mobile device and a crowd of people gather around to watch him. It's visually appealing, but we don't get much from Nadal. In this second commercial, Nadal practices bluffing by pretending to work at a golf course.
This. Is. Awesome.
For people who don't watch tennis or don't understand how popular Nadal is, imagine Kobe Bryant working at an In-and-Out in Los Angeles. Or how about LeBron James serving popcorn at a movie theater in Miami. Better yet, picture Aaron Rodgers actually selling insurance at a State Farm branch in Green Bay.
This video is hilarious, it's brilliantly produced, and Nadal is a trooper for going along with the joke. Despite playing zero hands of poker, #NadalPoker is a hashtag we've all seen and probably used or retweeted. If that's not marketing genius than I don't know what is.
If PokerStars.tv continues to release gems like this, I can patiently wait for Nadal to show up to a tournament. But eventually, I want to see him try and actually bluff on the felt, not at the pro shop.
Follow PokerNews on Twitter for up-to-the-minute news.