Tom Alner And David Vamplew Last Brits Standing In Controversial Partouche Poker Tour Main Event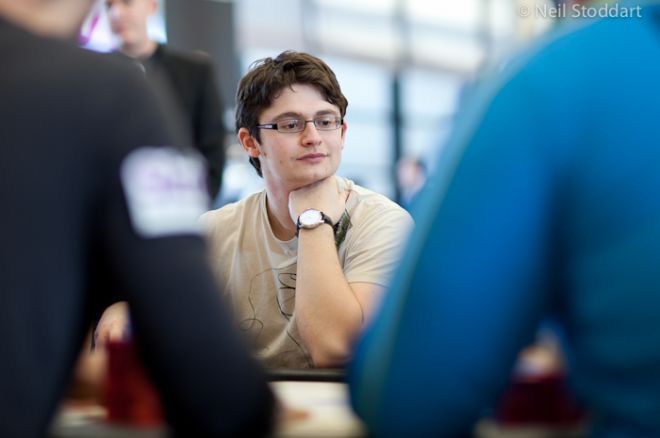 Tom Alner and David Vamplew are the last British players remaining in the field of the Partouche Poker Tour Main Event, they are among the 121 players who will return to their seats this afternoon. Alner will start Day 3 with 199,400 chips, enough to place him in the top 25 chip counts, whilst Vamplew's 117,500 stack is still enough for a top 50 ranking.
Rather ironically Alner and Vamplew will be seated at the same table when play resumes, though looking at the table draw for Table 8 they will be quite pleased with their table.
| Seat | Name | Chips |
| --- | --- | --- |
| 1 | Yannick bonnet | 185,300 |
| 2 | Tom Alner | 199,400 |
| 3 | Jose Latorre | 147,700 |
| 4 | Pierre Husson | 111,500 |
| 5 | Tobias Reinkemeier | 54,400 |
| 6 | Gabriel Britton | 89,800 |
| 7 | Leo Margets | 142,500 |
| 8 | Jose Atima | 57,800 |
Obviously having Leo Margets on their table is not exactly ideal but the fact Tobias Reinkemeier is very short on chips and the rest of the table are relative unknowns they cannot be too worried. Their seat draw could have been far worse as there are a whole host of well-known and talented poker players still in the field including Simon Ravnsbaek, David Williams, EPT Berlin champion Davidi Kitai, Philippe Gruissem, Andrew "LuckyChewy" Lichtenberger, Justin Bomono, Fabian Quoss, Johan Van Til and Michael "The Grinder" Mizrachi to name just a few.
Usually with so many big names still left in the field the media's attention would be focussed purely on the players and the potential battles between them but the entire tournament has been overshadowed by reports the organisers have reneged on the €5,000,000 guaranteed prize pool – they are now stating there was never such a guarantee.
Obviously this news has spread through the poker community like wildfire and with many stars taking to Twitter to vent their frustration and anger towards the Partouche management team. The Global PokerNews Team touched on some of the tweets in their Nightly Turbo article and have reached out to a number of people connected to the Partouche Poker Tour including renowned tournament director Matt Savage but there has been no official word from the camp as of yet.
Savage has reached out via the Two Plus Two forum where he said;
I am still trying to get the remaining players something and in discussions with the Partouche management to do so. Once they have made a decision I will be sure to let everyone know. I also promise I will give answers to 2 + 2 and poker community as soon as possible and will cover some of the issues raised in the thread. Unfortunately, being in the middle of the tournament certain issues can't be discussed yet and will have to wait a few days. My priority right now as it has been from the start which is to run the tournament as I was hired to do.
Hopefully this situation will be rectified sooner rather than later because poker does not need another scandal on it hands. As soon as PokerNews has the full story from the Partouche management we will break it to you.
Back to the tournament, as mentioned 121 players are still in the Main Event and they are being lead by Frenchman Paul Tedeschi with 384,200 chips. Hot on Tedeschi's heels are former November Nine member Antoine Saout (374,700) the aforementioned Ravnsbaek (370,800) and Aaron Lim (348,100).
Partouche Poker Tour Top 10 Chip Counts
| Position | Name | Chips |
| --- | --- | --- |
| 1 | Paul Tedeschi | 384,200 |
| 2 | Antoine Saout | 374,700 |
| 3 | Simon Ravnsbaek | 370,800 |
| 4 | Aaron Lim | 348,100 |
| 5 | David Williams | 321,200 |
| 6 | Kyle Julius | 303,600 |
| 7 | Karem Laquini | 300,000 |
| 8 | Max Greenwood | 280,100 |
| 9 | Gaston Onana | 271,000 |
| 10 | Harry Loria | 266,900 |
Get all the latest PokerNews updates on your social media outlets. Follow us on Twitter and like us on Facebook today!