Stanley Choi Wins Macau High Stakes Challenge;Sam Trickett Cashes For Another Million!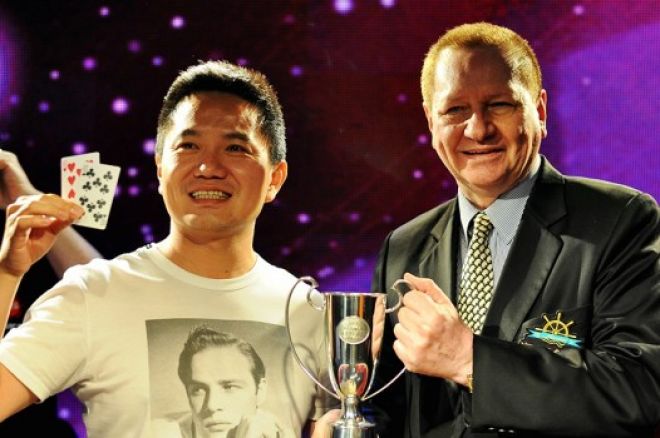 The massive buy-in Macau High Stakes Challenge got under way on Friday and it was a spectacle for the ages. Following reports that upward of 80 players registered for the event the night before and 30 more on the alternate list, the fast-paced, HK$2,000,000 (US$260,000) event attracted 73 players. Of those 73, 21 fired a second bullet with a rebuy and brought the total prize pool to a whopping HK$182,360,000 (US$23,511,000). Our very own Sam Trickett managed to finish seventh for a prize just shy of one million US dollars.
Walking away with the HK$50,149,000 (US$6,465,746) first-place prize was Stanley Choi, and it only took one day for him to win it. Other notables finishing in the money were Phil Ivey, Philipp Gruissem and JP Kelly.
Final Table Payouts
| Place | Player | Prize (HKD) | Prize (USD) |
| --- | --- | --- | --- |
| 1 | Stanley Choi | 50,149,000 | 6,465,746 |
| 2 | Zhu Guan Fai | 33,737,000 | 4,349,735 |
| 3 | Nicholas Wong | 25,530,000 | 3,291,601 |
| 4 | Tang Zheng | 17,324,000 | 2,233,596 |
| 5 | John Juanda | 12,765,000 | 1,645,800 |
| 6 | Lap Key Chen | 9,574,000 | 1,234,383 |
| 7 | Sam Trickett | 7,750,000 | 999,213 |
| 8 | Phil Ivey | 6,383,000 | 822,965 |
Plenty of marquee players were in attendance for this event, including notables Tom Dwan, Gus Hansen, John Juanda, Erik Seidel and Sam Trickett. Due to the fast-moving structure with 30-minute levels, plenty of names hit the rail early.
Andrew Robl was one of the first eliminated. Following his bust-out, Brian Rast, Joe Hachem and Brian Powell were included in the group of players eliminated before the money. Upon busting, the three posted the following tweets:
Andrew "Andrew_Robl" Robl: 2nd out in Macau 2mill HKD (250k usd) - goes nicely with my being 2nd out of one drop this summer! :/
Brian "@tsarrast" Rast: Busto. Structure was demon fast and despite a fast start, I ran out of gas... cards went bad and blinds went up to fast to fade the bad run.
Joe "@JosephHachem" Hachem: Shipped it with a 3 bet for 100k with AQ and bb wakes up with QQ bye bye hash....it was fun whilst it lasted. We got 73 players with 21 rebuys. The upside is I still have 5% still alive and healthy. First prize $6m usd.
Brian "@snagglechud" Powell: just got allin with KQ vs K2 allin preflop. river 2 :( down to 46k
Brian "@snagglechud" Powell: and out the next hand w K5dd vs 66 on 294dd. thanks for all the good lucks and rooting. pretty pretty frustrating day
As the day progressed, the average stack became smaller and smaller. This was a direct result of the fast structure in this event. With 18 players remaining, the blinds were up to 15,000/30,000/3,000 and the average stack was just over 520,000, or slightly more than 17 big blinds. Then, Yu Deng Feng fell in 18th place and Zhang Liang was eliminated in 17th place to bring a redraw to two tables.
At that point, Tang Zheng reportedly had the lead with slightly over one million in chips. Others with healthy stacks included Lap Key Chen, Alan Sass and Zhu Guan Fai. Here's how the players stacked up:
| Seat | Player | Chips |
| --- | --- | --- |
| 1 | Lap Key Chen | 900,000 |
| 2 | Lo Shing Fung | 465,000 |
| 3 | Di Dang | 700,000 |
| 4 | Alan Sass | 850,000 |
| 5 | Lo Yih Hei Issac | 300,000 |
| 6 | Tang Zheng | 1,060,000 |
| 7 | Zhu Guan Fai | 750,000 |
| 8 | Du Yi Chen | 450,000 |
| | | |
| 1 | Erik Seidel | 204,000 |
| 2 | JP Kelly | 530,000 |
| 3 | Phil Ivey | 400,000 |
| 4 | Sam Trickett | 700,000 |
| 5 | Philip Gruissem | 750,000 |
| 6 | Nicholas Wong | 650,000 |
| 7 | John Juanda | 400,000 |
| 8 | Stanley Choi | 180,000 |
After the redraw, Seidel was the first to fall. According to reports, Seidel was all-in with


against Choi's


. Choi held as the board ran out





to eliminate Seidel in 16th place. Following Seidel's exit, Lo Shing Fung and Lo Yih Hei Issac were eliminated in 15th place and 14th place, respectively, to set the tournament up on the bubble.
Brian "@snagglechud" Powell: they are on the money bubble, sass and di dang doing well. 3 short stacks on the other table, blinds huge, bubble busting soon
With the blinds up to 25,000/50,000/5,000, Di "Urindanger" Dang and Du Yi Chen raised back and forth preflop before pushing all the chips in the middle. Dang held the best of the best with two aces and had Chen on the ropes with pocket tens. The flop came down



and Chen pulled into the lead by spiking a ten, but the

followed on the turn and put Dang back out in front. The river failed to deliver the case ten that Chen needed, and he was eliminated in 13th place as the tournament's official bubble boy.
Brian "@snagglechud" Powell: bubble bust in sick fashion. aa for di dang vs TT. flop T high, turn Ace!
After the bubble burst, JP Kelly fell in 12th place and Dang headed to the rail in 11th. Those two earned HK$4,559,000 (US$588,000) apiece. According to Kelly's Twitter, two all-in pots resulted in his demise. First, he lost with pocket nines to Gruissem's


. Then, he lost with


to Juanda's


to finish off the job.
JP "@JP_Kelly5" Kelly: Busted in 12th.....99 down to philbort's AJ and A5 lost to Juanda's JT....both decent sized pots....was a fun tourney, ran bad deep...again!
After Kelly and Dang bowed out, Ivey decided it was time to make a move, which resulted in two double ups. With the blinds at 30,000/60,000/5,000, Ivey moved all in for 150,000 with


and was called by Fai holding the


. Ivey's ace-high held up as neither player connected with the board and he doubled. Shortly thereafter, Ivey was all-in again, this time with pocket aces versus the pocket nines of Sass. A board of





secured the second double for Ivey and he was back in the game.
Gruissem and Sass were the next to go, heading out the door in 10th and ninth place, respectively. Gruissem was finished off after moving all in preflop with


and getting called by Choi's


. Choi went on to make a pair of kings to win the hand and bust Gruissem. Sass busted at the hands of Zheng after his


couldn't fend off


offsuit. Zheng hit a jack on the flop and went on to make two pair to win the hand.
Final Table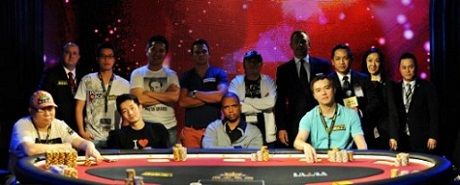 | Seat | Player | Chips |
| --- | --- | --- |
| 1 | Lap Key Chen | 480,000 |
| 2 | Stanley Choi | 1,595,000 |
| 3 | Tang Zheng | 3,265,000 |
| 4 | Zhu Guan Fai | 1,285,000 |
| 5 | Phil Ivey | 490,000 |
| 6 | John Juanda | 1,185,000 |
| 7 | Sam Trickett | 645,000 |
| 8 | Nicholas Wong | 255,000 |
Shortly into the final table with the blinds at 40,000/80,000/10,000, Ivey was all-in preflop with the


against the


for Zheng. The flop, turn and river ran out





and Zheng's nine kicker played for the best hand to eliminate Ivey in eighth place.
Next to go was young, high-rolling superstar Trickett after the blinds had increased to 60,000/120,000/20,000 and he just couldn't beat pocket fives – twice. First, Trickett lost with the


to Nicholas Wong's


after the money went in preflop. He was then eliminated after moving all in with


and being called by Choi's pocket fives. A flopped full house gave Choi a monster as it came down



, but just for good measure the turn improved his hand to to quads, and Trickett was gone.
Falling in sixth place was Chen. His


couldn't stand strong against the


for Fai as the board ran out





. Then in fifth place was Juanda. He was crippled when his


fell to Wong's pocket nines before going all in on the next hand with the


and doubling up against Zheng's


. The comeback would end there, though, as Juanda then put his money in with


, but Zheng made the call holding pocket nines and held.
Hitting the rail in fourth place was Zheng, who began the final table with a very big chip lead. He went out after moving all in preflop for his final 1.2 million with the


and failing to defeat the


for Choi. The board ran out





and Zheng was drawing dead on the turn.
With 9.4 million chips in play altogether, Choi held just about half of those heading into three-handed play following his elimination of Zheng. Then, with the blinds up to 100,000/200,000/20,000, Choi busted Wong in third place to take a near three-to-one chip lead into heads-up play.
Choi raised on the button and Wong called from the big blind to see the flop come down



. Upon seeing the flop, Wong moved all in but was met by a quick call from Choi, who held the


for a pair of aces. Wong was all in and at risk with the


for a pair of tens. The turn brought the

, leaving Wong drawing dead as the river completed the board with another deuce to give Choi a full house.
On the first hand following a brief pause to set up heads-up action, Choi and Fai found all the money in the middle. Fai min-raised on the button to 400,000 and Choi reraised all in from the big blind. Fai made the quick call to put himself at risk holding the


. Generally, a pocket pair heads up is a good thing, but this time Fai was crushed as Choi turned over the


.
The dealer ran out the



flop and Choi's tens held so far. The turn brought the

to pair the board and left Fai needing to find one of the two remaining sixes on the river to stay alive. One final burn card was placed down and then the

was slapped on fifth street. Choi's pocket tens had successfully held up, giving him the title.
Get all the latest PokerNews updates on your social media outlets. Follow us on Twitter and like us on Facebook today!
Photos and data courtesy of Poker Portal Asia and Poker Ace.