Sam Trickett Has The Best Online Poker Session Of His Career!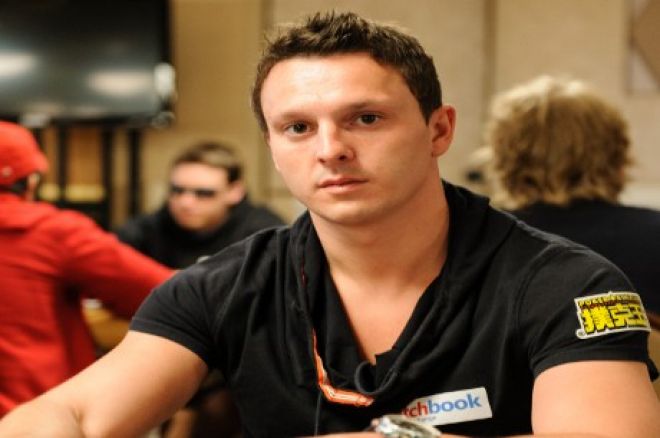 Since 2011 Sam Trickett has won almost $16,000,000 from live poker tournaments around the world and uncounted millions from playing in the biggest cash games in Macau. From time to time Trickett swaps the live arena for the virtual felt and usually terrorises his opponents there too.
Earlier today Trickett was crushing all that dare to stand before him in the high stakes Pot Limit Omaha games on PokerStars. Play a mixture of $50/$100, $100/$200 and $200/$400 Trickett, under the alias "tr1cky7" logged a session that spanned 2,171 hands, which when it was completed Trickett said of it:
That best ever day online turns out to be "just" $265,315! Must be nice huh? Over a quarter of a million dollars in 2,171 hands. For those of you who are reaching for the calculator, don't bother as we have worked it out for you. During Trickett's golden session he won $122.21 for each hand he played! Pretty ridiculous really, is he even real?
One of the largest pots Trickett won topped the scales at an impressive $100,415; more than most people earn in a single year in their day jobs. The hand took place at a $100/$200 table and saw Ilari "Ilari FIN" Sahamies fold under the gun, patpatman (rumoured at the moment to be Tom Dwan) was next to act and he made it $600 to play only to see Trickett three-bet to $2,300. Jens "Jeans89" KKKKKK folded his small blind, 1IL|1IL|1IL| mucked from the big blind and patpatman call for the additional $1,700. The first three community cards came down



, patpatman checked, Trickett continued with a $2,000 bet into the $4,900 pot and patpatman called. The turn was some more paint, the

. Now patpatman lead into Trickett, setting the price to play at $9,095. Trickett called. The river was the

and the pot had swelled to $27,090 and as patpatman had $36,605 behind it was likely this was all going to end up in the middle. And that is exactly what happened. Patpatman bet $27,285, Trickett raised to $54,570 and patpatman called off his remaining $9,320.
Both players had made a straight on the turn, though patpatman held the nuts at that time, but the river completed Trickett's flush and the monster pot slid his way.
This latest winning session comes just days after Trickett revealed he was no longer being sponsored by Matchbook. The short tweet says the deal was always temporary but what a deal for both parties it was!
Finished my Temporary Deal with Matchbook today.What a ride that was! #goodtimes

— Sam Trickett (@Samtrickett1)
Whilst sporting the Matchbook patches Trickett had some amazing results, the highlight being his second place finish in The Big One for One Drop that netted him a not-too-shabby $10,000,000!
Surely it cannot be too long before one of the major players in the industry picks up Trickett and the golden horseshoe that he obviously has lodged firmly somewhere!
Session data and hand history were provided by the HighStakesDB, thank you
Get all the latest PokerNews updates on your social media outlets. Follow us on Twitter and like us on Facebook today!