Sam Razavi Wins APPT Melbourne Main Event For $326,175!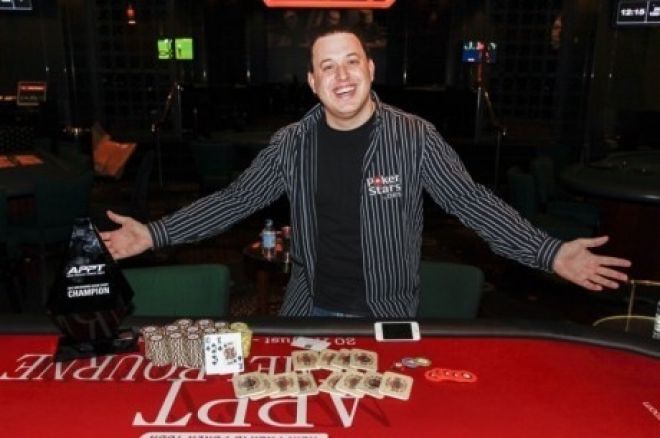 Popular pro Sam Razavi has just taken down the PokerStars APPT Melbourne Main Event for a cool $326,125. Razavi had played a tournament in Mauritius and looked like he was going to miss the Melbourne tournament due to his flight being over-booked. However, Lady Luck and some may say Fate was shining down on him as he made the flight and the rest, as they say, is history.
APPT Melbourne Final Table Seat Draw
| Seat | Name | Chips |
| --- | --- | --- |
| 1 | Wayne Bentley | 610,000 |
| 2 | Brendon Rubie | 1,002,000 |
| 3 | Kristian Lunardi | 352,000 |
| 4 | James Bills | 322,000 |
| 5 | Nigel Andrews | 138,000 |
| 6 | Tom Grigg | 2,271,000 |
| 7 | Gary Benson | 631,000 |
| 8 | Sam Razavi | 1,318,000 |
| 9 | Keith Walker | 1,048,000 |
The nine-handed final table got off to a blistering start, with five quick-fire eliminations from the word go. Amazingly it was Brendon Rubie who was the first to be eliminated, despite him starting the day with over one million chips and as one of the favourites to walk away with the title. 
Rubie lost a huge percentage of his stack after a clash with Britain's Wayne Bentley. The latter opened to 70,000 from the small blind and Rubie made the call. The duo shared a flop reading



, a flop that Bentley bet 70,000 on and Rubie called. The turn was the

and Bentley bet 70,000 once more and Rubie again called. Bentley seemingly shutdown upon the arrival of the

on the river. Rubie was not done though because he announced he was all-in, sending Bentley into the tank. Just as everyone thought Bentley was going to fold he found a call and showed


. Rubie mucked, shook his head and found himself down to 375,000.
Moments later he was down to dust. He got his chips into the middle holding


versus the


of Kristian Lunardi. A third queen on the flop was more than enough to win the hand for Lunardi and Rubie was left with just 32,000 chips.
Rubie doubled up soon after when his


beat the


of Razavi but Razavi found pocket jacks soon afterwards and they held against Rubie's


to send the online poker tournament specialist to the rail much earlier than anyone anticipated.
Next to go was Nigel Andrews who started the day with the shortest stack. He three-bet shoved over the top of Lunardi's opening raise whilst holding a pair of sevens and was unfortunate to run into Lunardi's much better pocket kings. No drama from the community cards and the final table was down to seven players.
Seven became six with the elimination of Lunardi. Bentley opened to 60,000 from the button and Lunardi three-bet to 165,000 from the small blind. Bentley then moved all-in and Lunardi made the call with his


to find himself in a coinflip against


. Lunardi could not win the flip as the board ran out





and he became the seventh place finisher.
The fast pace continued, first with the bust out of the highly talented James 'supanova99' Bills followed by Gary Benson's exit. Bills had moved in from under the gun with what turned out to be


and Bentley made the call with


in the big blind. Bentley's call was rewarded with not one but two kings on the flop and Bills was gone.
Benson's demise also involved trips but nowhere near as high as kings. Tom Grigg opened to 50,000 from the cutoff and both Benson (button) and Keith Walker (big blind) came along for the ride. The rio shared a



flop and Walker lead for 76,000 chips. This was enough to fold out Grigg but Benson stuck around. Now heads-up, the players saw the

make an appearance on the turn and again Walker lead, increasing his bet to 150,000 and again finding his bet called. The fifth and final community card was the

and this is where the fireworks were lit. Walker bet 175,000 only to see Benson make it 350,000 and then call as Walker moved all-in. Benson showed


but he was crushed by the


of Walker. "Are you kidding me?" came the cry from a dejected Benson but there was no messing around, he was eliminated as he had just 52,000 chips less than his opponent.
After the spate of eliminations there was no surprise when the action — or at least the exits — slowed down. There were more than two hours between Benson's elimination and that of Bentley, Bentley falling victim to Grigg when he made an move with


on a board reading




only to be called by Grigg's


. No club or queen on the river and Bentley was sent to the cashier's cage for $87,575.
Grigg was the next player to lose his stack, this time to Razavi. Grigg opened the betting to 100,000 from the small blind and Razavi called. A flop reading



saw Grigg continue to 105,000 and Razavi called. The

turn saw Grigg bet again, making it 215,000 to play and again Razavi called. The

on the river was greeted with a check from Grigg but Razavi moved all-in. 
"Really?" asked a puzzled Grigg before going into the tank. After a minute or so Razavi smiled and said , "I must be winning then," before the clock was called on Grigg. "Call!" said Grigg but no sooner had he done so Razavi had turned a pair of red fives onto their backs to show his flopped full house. The dangerous Grigg was gone and Razavi was just one player away from winning another major title.
His win was confirmed after just one hand of heads-up play. Razavi opened to 100,000 then called as Walker three-bet all-in for around 1,600,000. Razavi flipped over


and needed to hit the board as he trailed to Walker's pocket jacks. Our hero caught a flush draw on the



flop and the

on the turn locked up the hand for Razavi; leaving the

on the river meaningless. With the hand complete, Walker was eliminated and Razavi won the APPT Melbourne Main Event for a cool $326,125.
APPT Melbourne Main Event Final Table Results
| Position | Name | Prize (AUD) |
| --- | --- | --- |
| 1 | Sam Razavi | $326,125 |
| 2 | Keith Walker | $205,345 |
| 3 | Tom Grigg | $114,750 |
| 4 | Wayne Bentley | $87,575 |
| 5 | Gary Benson | $72,475 |
| 6 | James Bills | $57,375 |
| 7 | Kristian Lunardi | $45,300 |
| 8 | Nigel Andrews | $36,240 |
| 9 | Brendon Rubie | $27,175 |
Get all the latest PokerNews updates on your social media outlets. Follow us on Twitter and like us on Facebook today!