Robin Keston Wins GUKPT London Main Event For £84,310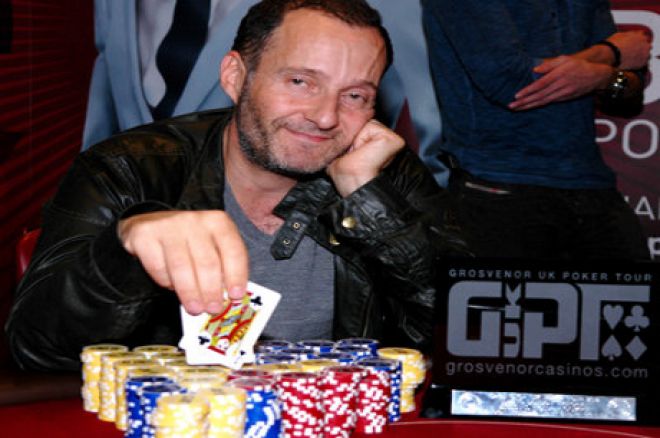 Robin Keston is the latest name to be written into the Grosvenor UK Poker Tour history books after he took down the GUKPT London Main Event, a result that added £84,310 to his already impressive list of live tournament winnings.
This year's GUKPT London main event attracted a massive field of 315 players, each of who had exchanged £1,070 for the chance to become a GUKPT champion and to win a slice of the £315,000 prize pool. With such huge prizes up for grabs, the tournament attracted some of the country's most familiar names and faces including Jeff Kimber, Team PokerStars Pro Victoria Coren, James Akenhead, Praz Bansi and a whole host of other well-established professional poker players.
The final day's play saw the surviving 22 players return to the famous Grosvenor Victoria Casino and after four 60-minute levels of play the final table was set.
| Seat | Name | Chips |
| --- | --- | --- |
| 1 | Andrew Seden | 279,000 |
| 2 | Robin Keston | 659,000 |
| 3 | Daniel Rudd | 1,044,500 |
| 4 | Matthew Davenport | 1,362,000 |
| 5 | Simon Deadman | 477,500 |
| 6 | Huseyin Hussein | 372,000 |
| 7 | Nathan Lee | 678,000 |
| 8 | Elliot Panyi | 638,000 |
| 9 | Ramsey Ajram | 817,000 |
The first casualty of the final table was Elliot Panyi who was extremely unfortunate to run pocket kings into the aces of Andrew Seden – this would not be the last time aces were seen at the final table – then getting the rest of his stack in with


and finding himself dominated by the


of Daniel Rudd.
Huseyin Hussein was the next play to fall, again running into "Big Slick." Hussein had been nuring a short stack for a while and got his remaining chips into the middle holding


and Ramsey Ajram had an easy call with his ace-king.
Seventh place went to the dangerous Simon Deadman who was making his fourth GUKPT final table. Deadman has a fantastic reputation right now and although he picked up more than £10,000 for this latest finish, he will be disappointed with not winning; he is just that sort of player. He got his stack into the middle with


and couldn't beat the pocket sevens of Ajram, despite taking the lead on the turn.
With Deadman out of the way the surviving players could rest a little easier but with the money starting to become more and more serious with every bust out, we do not think anyone was relaxing. Sixth place eventually went to Seden who had faced two all in bets from Ajram and when he shoved on his for a third time he made a stand with


This time Ajram had a legitimate hand in


and when neither player improved Seden was sent home for the proverbial early bath.
Five handed play was dragged out for some time before Matthew Davenport found himself on the sidelines after running into back-to-back pocket aces held by Keston. Davenport was chip leader until the pokers gods decided to gift Keston with the best Hold'em starting hand twice in a row, and give Davenport a hand strong enough to take on Keston on each occasion. This obviously left Davenport short stacked and he then committed his decimated stack with


and ran into Nathan Lee's


. It really was not meant to be for Davenport.
Ajram was the next player to go, again running into aces that belonged to Keston! His chips went in on a turn of a very draw heavy board and when Ajram missed his straight and flush draws it was game over for him.
The penultimate bust out hen to Nathan Lee. After doubling up Daniel Rudd he got his last 300,000 chips in with


against the


of Rudd. It looked like the chips Rudd won from Lee were going to be heading back to their previous owner but an eight on the river sent Lee to the rail and left Rudd and Keston to battle it out for the title.
What a battle it was too, a one-on-one encounter lasting a staggering three hours, during which time the chip lead switched hands on numerous occasions. The final hand took place at around 01:30 in the morning and saw Keston open to 200,000 with blinds at 50,000/100,000. Rudd moved all-in with what turned out to be


and Keston instantly called with his pocket jacks. The board ran out





and with that Keston had won the GUKPT London Main Event.
GUKPT London Main Event Final Table Results
| Position | Name | Prize |
| --- | --- | --- |
| 1 | Robin Keston | £84,310 |
| 2 | Daniel Rudd | £55,910 |
| 3 | Nathan Lee | £37,010 |
| 4 | Ramsey Ajram | £22,050 |
| 5 | Matthew Davenport | £16,700 |
| 6 | Andrew Seden | £13,540 |
| 7 | Simon Deadman | £10,400 |
| 8 | Huseyin Houssein | £7,880 |
| 9 | Elliot Panyi | £5,980 |
The GUKPT now heads to Luton on Oct.14 before heading to the seaside town of Blackpool on Nov. 04. It then returns to The Vic on Nov. 24 for the Grand Final, which is sure to be one of the most star-studded events of the year.
Congratulations to Robin Keston on his victory.
Lead image courtesy of GUKPT.com
Follow PokerNews on Twitter for up-to-the-minute news.