Five Thoughts: Howard Lederer Speaks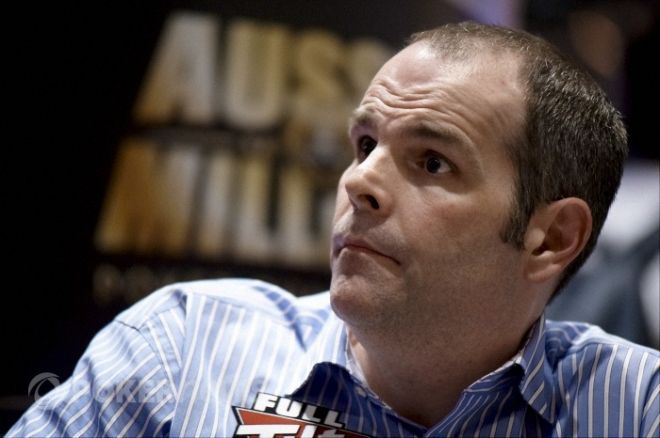 In the last 17 months, the Epic Poker League has come and gone, 128 World Series of Poker bracelets were won, the $1 Million Big One for One Drop was announced — and won by Antonio Esfandiari — and PokerStars paid all of its United States customers and purchased Full Tilt Poker.
However, in the last 17 months, we haven't heard a peep out of Ray Bitar, Chris Ferguson, Rafe Furst, or Howard Lederer (OK maybe we've heard a peep from Lederer) — until now.
On Saturday Sept. 8, 2012, PokerNews' Matthew Parvis sat down with Lederer for an exclusive interview. The interview lasted seven hours and is being released in edited segments this week. The first two parts of The Lederer Files went live on Tuesday, and having watched Part 1, I can safely say you're not going to want to miss it.
1. The Lederer Files
"I hadn't seen any of it…Maybe I was losing a little touch. Maybe it was getting too big for me…On the other hand, I felt like Ray [Bitar] had a pretty good handle on it."
In my opinion, the end of Part 1 is where Lederer is the most candid. He speaks of an instance when he went to a pub with an FTP employee in Dublin, Ireland, and the Irish employee tried to explain that there was a rift between the Irish and American workers. Lederer claims to have been in the dark about the issue, and it's apparent that he's telling the truth. He admitted that perhaps he "was losing a little touch" because he was more focused on software and promotions.
"Internal marketing" he calls it.
Predictably, Lederer describes Bitar as someone who was disliked within the company. According to Lederer, John Juanda, who was a very vocal member of Team Full Tilt, headed an "anti-Bitar" sentiment within FTP, and Perry Friedman stepped down as a board member because he didn't like what Bitar was doing.
Evidently this anti-Bitar sentiment wasn't large enough — according to Lederer, with a two-thirds vote, Bitar could have been removed.
He wasn't, and even though Friedman was "against Bitar," he remained with the company. He even wore a "Full Tilt" grill during the 2009 World Series of Poker Main Event.
When it comes to Ferguson, Lederer becomes quite defensive. He says Ferguson isn't greedy at all and that Ferguson never wanted any money from the company.
In next week's Five Thoughts, we'll continue to dissect The Lederer Files, and include reactions from notable players — hopefully some of whom were affiliated with FTP.
2. Salsberg ships WPT Grand Prix de Paris
I was fortunate enough to travel to Paris, France, for the World Poker Tour Season XI Grand Prix de Paris last week, and even more fortunate to cover an insanely sick final table. After registration was closed on Day 1b, the tournament had racked up 228 entries. Some players only entered once, but others busted Day 1a and fired off another bullet on Day 1b. By the time the money bubble burst, the field was concentrated with elite players, and even though Jason Mercier, Andrew Lichtenberger, Kyle Julius, Joe Serock, and Juha Helppi all busted before the official final table was set, there were no disappointments among the final six.
| Seat | Name | Chips |
| --- | --- | --- |
| 1 | Matt Salsberg | 1,757,000 |
| 2 | Philipp Gruissem | 776,000 |
| 3 | Theo Jorgensen | 1,169,000 |
| 4 | Fabian Quoss | 570,000 |
| 5 | Timothy Adams | 1,198,000 |
| 6 | Mohsin Charania | 1,435,000 |
Before the final table, the only player without more than one six-figure score was television producer Matt Salsberg. You may not know Salsberg's name, but you've probably seen his work — he was the executive producer of Showtime's Weeds, and coproduced three episodes of Entourage. Despite Salsberg being a relative unknown in the poker community, the rest of the players at the final table respected his game and enjoyed conversing with the Hollywood producer.
Salsberg entered the final table as the chip leader, and thanks to two brutal beats against Theo Jorgensen heads up, he was the last man standing.
Fabian Quoss, Mohsin Charania, and Timothy Adams were the first three players to bow out. Quoss open-shipped with


and was snapped off by Philipp Gruissem who held


, Charania lost a massive race with


against the


of Jorgensen and was later busted by Salsberg, and Adams was crippled during the first level, running ace-king into Jorgensen's aces. Adams limped along, climbing the pay ladder, but like Quoss and Charania, he couldn't reach three-handed play.
Gruissem, Salsberg, and Jorgensen battled for more than three hours, with most of the battles between Jorgensen and Gruissem. Jorgensen eventually busted Gruissem after he three-bet jammed over Jorgensen's button open with


, and Jorgensen was well behind with


. The board ran out





though, and Gruissem was out.
Jorgensen began heads-up play with a slight lead, and began chipping away slowly. Soon enough, Jorgensen had amassed a 4:1 chip advantage, and had Salsberg all in and at risk in a chop-pot scenario. Jorgensen held


and Salsberg held


. Luckily for Salsberg, the board came





. A few hands later, Salsberg was all-in, at risk, and dominated again. His


trailed Jorgensen's


, but the board came




—

!
Suddenly, Salsberg had the lead, and less than a half an hour later it was over. Jorgensen — who was especially frustrated because he won this event in Season IX, and was looking to become the first player to ever win the same WPT stop twice — limp-jammed with


and was snapped off by Salsberg who held


. The board ran out





, and Salsberg was the champion.
| Place | Name | Prize |
| --- | --- | --- |
| 1 | Matt Salsberg | €400,000 |
| 2 | Theo Jorgensen | €264,600 |
| 3 | Philipp Gruissem | €170,065 |
| 4 | Timothy Adams | €125,775 |
| 5 | Mohsin Charania | €95,615 |
| 6 | Fabian Quoss | €75,765 |
Salsberg earned €400,000 (which includes a $25,000 seat to the WPT World Championship) for the win, and like a true grinder he was on a flight the next day to the United States to play in Day 1b of the WPT Borgata Poker Open.
3. Poker Hall of Fame
Last Wednesday, the World Series of Poker announced the 10 finalists for the 2012 Poker Hall of Fame. Up to two of the nominees will be inducted as part of the Octo-Nine festivities, and all 10 were nominated by the public on WSOP.com and were then approved by the Poker Hall of Fame Governing Council.
Here are the nominees: Jennifer Harman, John Juanda, Tom McEvoy, Scotty Nguyen, Chris Bjorin, David Chiu, Eric Drache, Thor Hansen, George Hardie, and Brian "Sailor" Roberts.
The 18 living Hall of Famers and 18 members of the poker media will select the inductee/s, and according to Doyle Brunson, Brian "Sailor" Roberts is a lock. So let's take a look at my two favorites to get the second spot:
Jennifer Harman: At the end of the day, no matter what anyone says, voting competitions are glorified popularity contests. In poker, few people are nicer than Jen Harman.
During my first summer at the WSOP with PokerNews, I was covering an event in which Harman had made Day 2. At the start of most Day 2s at the WSOP, when the field is a manageable size, we take the player list provided by the WSOP staff and import it directly into the Live Reporting blog. All the players are listed based on the name on their Total Rewards card (their government name), and we had imported Harman as "Jennifer Traniello."
Rather than storm up to the Live Reporting desk and demand a change, or better yet fire off an angry Tweet "@PokerNews," Harman pulled me aside and kindly asked me to change her name. She even used the word "please."
Poker players and members of the media like Harman. Oh yeah, and she has over $2.6 million in career tournament earnings (sixth among women), two WSOP bracelets, and two top-four finishes in WPT Main Events.
Eric Drache: Drache is a perfect example of what a Poker Hall of Fame candidate should be. He's had success on the felt, off of the felt, and has attributed the growth and success of the game.
Drache has appeared at five WSOP final tables, including a second-place finish in the 2009 $10,000 World Championship of Seven Card Stud, and has served as Tournament Director of the WSOP. He's credited with creating satellites so that players with lesser bankrolls and amateurs can compete for WSOP bracelets — imagine the Main Event without satellite qualifiers — and after his stint with the WSOP, Drache managed several card rooms in Las Vegas, helping directly grow the game on a grassroots level.
Drache also has a hand in the televised poker boom — he served as a consultant for poker productions like Poker After Dark and Face the Ace.
There is a dent in Drache's résumé, however. According to Anthony Holden's book Bigger Deal: A Year on the New Poker Circuit, Drache was busted for tax fraud in the mid 90s and lost his Nevada gaming license.
Personally, I'd like to see 65-year-old Thor Hansen get voted in, but there seems to be a lack of non-American representation in the Poker Hall of Fame. The last 15 people inducted were all born in the U.S., and the last European-born inducted was Russian Joe Bernstein (1983). The biggest omission on this list is 53-year-old Bruno Fitoussi, who has over $2.3 million in career tournament earnings and has played a big role in the French poker boom.
If Hansen isn't elected this October, then I am going to personally begin the Hansen/Fitoussi '13 campaign. There must be more European representation in the Hall of Fame.
4. Harry Reid and Jon Kyl join forces
Quietly, Sens. Harry Reid (D-Nev.) and Jon Kyl (R-Ariz.) have joined forces. Unlike in years past, where the two have butted heads with regard to online poker, the two are now joined to authorize, license, and regulate online poker.
The catch? (You knew Kyl wouldn't budge without a catch)
The proposed bill would strengthen the UIGEA against other forms of online gaming except for horse racing. As a fan of sports betting — the Pigskin Diaries aren't just for kicks and giggles — this is alarming, but if it's a necessary compromise then so be it. Besides, just because the laws are strengthened now, that doesn't mean that the land-based casinos won't find a way to sneak their books online in the future to complement their poker rooms. It's all about the money.
The summary of the text also includes a 15-month blackout period, which was also included in Sen. Reid's 2011 poker bill, and websites like PokerStars that violated the UIGEA would be prohibited from acquiring a license for five years.
This is why websites like PokerStars that violated the UIGEA were teaming up with land-based casinos before Black Friday.
Also, playing online poker on unlicensed sites will become "explicitly illegal with winnings subject to forfeiture." That part is interesting, because never before has the player been targeted by legislation, only the websites themselves.
We're getting close — I can almost taste it. With last year's reversal of the Wire Act, Judge Jack Weinstein ruling that poker is a skill game, and now this, we are on the brink of what we've been desperately waiting for. Online poker in the U.S. is on the horizon, and perhaps a second boom will follow.
5. On your bike
No, really. On your bike!
The boss man, Tony G, and the "Poker Brat" Phil Hellmuth are set to compete in a triathlon at World Poker Tour Malta. The three sports: basketball, swimming, and, of course, bicycling.
The news broke in Paris when Tony G told PokerNews' Kristy Arnett that he would be taking on Hellmuth in Malta. According to Hellmuth, two legs of the triathlon have been completed, but neither player has leaked the results:
Run of champions - time to permanently bike @phil_hellmuth at 12pm at hilton #wptmalta #triathlon

— Tony G (@TonyGuoga)
Filmed 1st two legs of Triathlon against @tonyguoga here in Malta: 1st to make 10 3 point shots getting our own rebound & 100 Meter swim

— phil_hellmuth (@phil_hellmuth)
Here is a video of the negotiations between Tony G and Hellmuth:
Without knowing the results (I promise), I have to say that Tony G is a clear favorite. Knowing that Tony is a much better basketball player, all he has to do is keep up with Hellmuth in the swimming event. If they're even after the swim, then Tony G will crush Hellmuth on the bike because no one has more "hart" and commitment than Tony G — especially when bikes are involved.
Regardless of the result, we should all thank Tony G and Hellmuth for trying to inject a little more fun back into poker. They both understand that entertainment is just as important as results and have done a great job providing what will be must-watch content.
Follow PokerNews on Twitter for up-to-the-minute news.