Chris Ferguson Wins UKIPT Newcastle; Takes Home £87,640!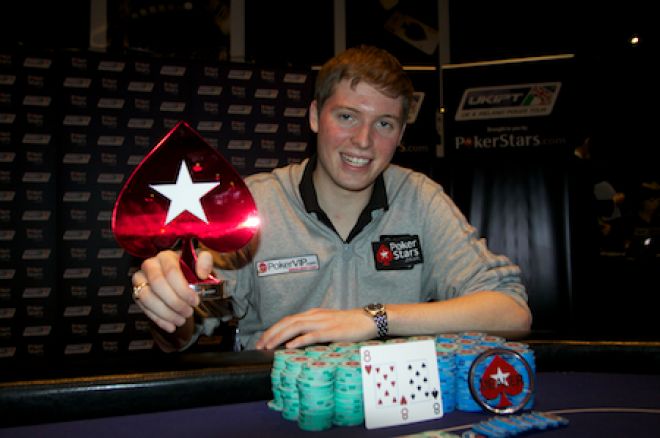 The PokerStars sponsored UKIPT Newcastle Main Event has been completed and it is Chris Ferguson who has been crowned its champion. Do not worry, it is not "that" Chris Ferguson, this one is much nicer we are sure!
When the eight-handed final table got under way, the prying eyes of the poker media were fixated on Sam Holden and rightly so because he was the highest profile player to have reached a UKIPT final table in quite some time. Young Holden started the day fourth in chips and in with a real shout of UKIPT glory.
UKIPT Newcastle Final Table Seat Draw
| Seat | Name | Chips |
| --- | --- | --- |
| 1 | Anthony Shields | 402,000 |
| 2 | Jack Sambrook | 2,413,000 |
| 3 | Sam Holden | 1,122,000 |
| 4 | Dan Hemingway | 446,000 |
| 5 | Ewan Brown | 832,000 |
| 6 | David Knight | 683,000 |
| 7 | Alexander Jobling | 1,198,000 |
| 8 | Chris Ferguson | 2,045,000 |
Within 15 minutes of the fourth and final day's play resuming Dan Hemingway found himself sat on the sidelines. Hemingway started the final table with a shade over 20 big blinds, so when he saw Ferguson open to 48,000 under the gun and Holden three-bet to 115,000 from middle position he decided


was the right hand to four-bet all-in for 425,000 chips. Ferguson quickly got out of the way but Holden made the call and had done so with a dominating


. Both players paired their ace when the

was the first card onto the flop but there was no queen present by the time the board ran out and Hemingway was eliminated.
It took almost two hours for the next player to bust out, that dubious honour going to Jack Sambrook. Just minutes before his untimely demise Sambrook had seen his pocket aces cracked by the jacks of Alexander Jobling and he just never managed to recover. Finding himself down to 300,000 chips and with blinds now 20,000/40,000/4,000a, Sambrook moved all-in with


and was called by Ewan Brown and his


. By the river the board read





and Sambrook's tournament came to an end.
Just ten minutes Anthony Shields was sent for the proverbial early bath. Finding himself in push-or-fold mode, Shields had already pushed two consecutive hands but was called on the last occasion. He had moved all-in for 430,000 with what turned out to be


and was looked up by a bouyant Jobling who had


in his possession. As in the first elimination, an ace was the door card, the

and it was followed by




, the river simultaneously improving Shields to a set of treys but Jobling to a hand-winning flush. With that the tournament was down to five players.
The next man to hit the rail was Brown and once again it was that man Jobling who was the executioner. Jobling opened from under the gun to 110,000 and the snap-called when Brown three-bet shoved for 650,000 in total. Brown had made his play with


and was in a whole world of trouble against the


of the hot-running Jobling. Neither player improved on a





board so Jobling's king-kicker played and was enough to eject Brown from the UKIPT Newcastle Main Event.
Jobling's one-man wrecking ball impression continued as he took David Knight out of the game. The action folded to Knight in the small blind and he duly made it 200,000 to play, only to see Jobling set the price to continue at 450,000. Knight was having none of it and promptly moved all-in for 1,500,000 but Jobling was not messing around and quickly called before tabling


. Knight could only muster the


and when the community cards fell





it was game over for Knight and Jobling was well and truly in the lead with just three players remaining; holding 4,900,000 of the 9,200,000 chips in play.
Twenty-five minutes of three-handed plays were all that were needed to despatch of the dangerous Holden. First he was left nursing a short-stack when he called Ferguson's 1,010,000 shove with


and found himself up against the lowly


. The flop missed both players but Ferguson paired his eight on the turn to double up through Holden.
A few hands later and Holden pushed his remaining 950,000 chips into the middle from the button whilst holding


and when Ferguson woke up in the big blind with


the writing was on the wall. The



flop failed to help Holden but the

turn catapulted him into an unlikely lead but any hopes of doubling up soon ended when the

landed on the river.
Holden's demise left Jobling and Ferguson to battle it out heads-up for the title. Jobling held a 6,095,000 to 2,975,000 chip lead but that was soon cut when Ferguson's


flopped two pair and turned a boat to best the


of his opponent. Shortly after that hand the duo struck a deal that saw Jobing lock up £82,190 and Ferguson £77,640, leaving the trophy, title and £10,000 for the eventual winner.
Ferguson's late surge was not over as he and Jobling got their stacks into the middle n a



flop. Jobling held pocket sevens – no heart – whilst Ferguson held


and had flopped the flush! Jobling needed running cards to win the hand but they failed to materialise and he was left facing a three-to-one deficit.
This huge difference in chip stacks proved too much to overcome and the tournament was settled soon after. Ferguson opened to 200,000, Jobling three-bet to 475,000 and then called as Ferguson moved all-in for an effective stack of 2,300,000. Jobling flipped over


and saw he was up aginst the pocket eights of his sole opponent. The



flop kept the snowmen of Ferguson in front and in front they stayed as the turn and river were the

and

respectively, busting out Jobling and leaving a delighted Ferguson with each and every one of the chip in play.
UKIPT Newcastle Final Table Results
| Position | Name | Prize |
| --- | --- | --- |
| 1 | Chris Ferguson | £87,640* |
| 2 | Alex Jobling | £82,120* |
| 3 | Sam Holden | £39,030 |
| 4 | David Knight | £28,780 |
| 5 | Ewan Brown | £22,240 |
| 6 | Anthony Shields | £17,880 |
| 7 | Jack Sambrook | £13,520 |
| 8 | Dan Hemingway | £10,250 |
*denotes deal struck whilst heads-up
Lead image courtesy of the excellent Mickey May, who retains full rights to the photo.
Get all the latest PokerNews updates on your social media outlets. Follow us on Twitter and like us on Facebook today!