Yucel "Mad Turk" Eminoglu Wins Genting Poker Series Stoke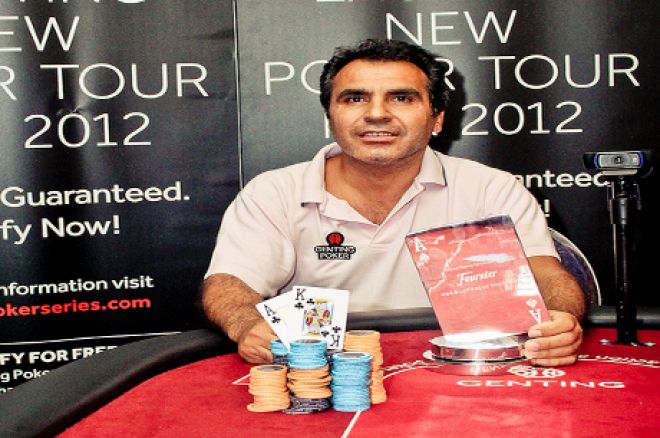 A massive crowd of 478 players descended on Stoke this weekend for the Genting Poker Series Stoke Main Event, a £430 deepstacked tournament that has captured the imagination of the UK poker community. At the end of the three days (including two starting days) it was Yucel Eminoglu who walked away with the trophy and £30,000 in prize money.
Eminoglu's style of play earned him the nickname "Mad Turk," a title he took in good spirits. He could have walked away with more prize money but he and Simon Deadman struck a deal heads-up that saw them take £30,000 each.
Nineteen players returned to their seats for the second and final day's play and it did not take long for the nine-handed final table to be set. When the final table was decided the players lined up as follows.
| Seat | Name | Chips |
| --- | --- | --- |
| 1 | Steve Warburton | 2,421,000 |
| 2 | Neil Ryder | 1,830,000 |
| 3 | Simon Deadman | 1,827,000 |
| 4 | Yucel Eminoglu | 725,000 |
| 5 | Rob Swindells | 1,827,000 |
| 6 | Long Pham | 500,000 |
| 7 | Yui Chung | 2,485,000 |
| 8 | Karl Mahrenholz | 930,000 |
| 9 | Damian Hitchin | 700,000 |
Just a couple of hands were played before Neil Ryder headed for the rail. On the first hand Long Pham doubled up through him then the very next hand Pham got his chips in again with


against Ryder's kings and when the board ran out





Pham had made a straight and Ryder was sent packing much earlier than he would have planned given his chip stack at the start of the final table.
Next to go was Damian Hitchins who clashed with Eminoglu. The latter opened to 125,000 with blinds of 30,000/60,000 and Hitchins three-bet all-in for not many more chips. Eminoglu made the call and showed


which has the


of Hitchins dominated. Neither player improved by the river but Eminoglu's king kicker came into play and Hitchens was gone.
Seventh place went to the most experienced player on the final table, Poker Encore's Karl Mahrenholz. The popular pro struggled to get any momentum going throughout the second day and when his shove with


was called by Deadman's pocket kings there was never going to be an ace on the board. There wasn't and Mahrenholz exited the tournament area.
Steve Warburton was the next player busted out, again at the hands of Deadman. Warburton was trying to find that all important double up and had gone into push-or-fold mode. His final hand saw him push with what turned out to be just five-six and Deadman woke up with pocket jacks, No drama from the community cards and the tournament was down to five players.
Five became four when Long Pham got his stack into the middle holding a pair of eights only to discover that the "Mad Turk" was sat with a pair of queens. The board was no help to Pham and he headed to the cashier's cage to pick up fifth place money.
Rob Swindells was the next player to be eliminated when his


ran foul of the


and when Yui Chung got his chips in with


versus Eminoglu's


on a




board he was drawing very thinly. A four on the river sent the tournament into the heads-up stages.
Thanks to agreeing to split the remaining prize pool the final three players each of them took home £30,000 each (leaving £8,000 for the eventual winner), which lead to heads-up being a brief affair. Eminoglu will go into the history books as being the champion after his


stayed ahead of


when the board ran out





.
Genting Poker Series Stoke Final Table Results
| Position | Name | Prize |
| --- | --- | --- |
| 1 | Yucel Eminoglu | £38,000* |
| 2 | Simon Deadman | £30,000* |
| 3 | Yui Chung | £30,000* |
| 4 | Rob Swindells | £17,950 |
| 5 | Long Pham | £14,250 |
| 6 | Steve Warburton | £10,800 |
| 7 | Karl Mahrenholz | £7,700 |
| 8 | Damian Hitchins | £5,200 |
| 9 | Neil Ryder | £3,300 |
The Genting Poker Series take a short break from the live arena as the next leg takes place online! The £430 Main Event takes place on Sunday 30 September and should be a fantastic tournament as it will follow a similar blind structure to its live counterpart and see players start with 25,000 stacks!
Get all the latest PokerNews updates on your social media outlets. Follow us on Twitter and like us on Facebook now!