Martyn Frey Wins GUKPT Coventry Main Event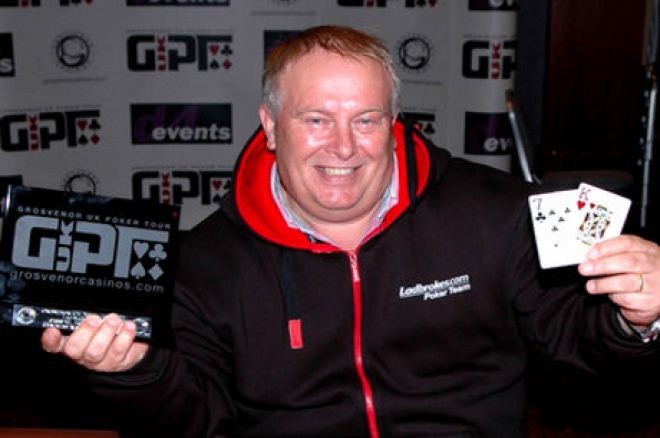 Whilst Les Fenton was well on his way to taking down the Grosvenor UK Poker Tour (GUKPT) Goliath tournament there was another major event taking place in the room next door!
Leg 9 of the 2012 GUKPT took place in the Ricoh Arena, Coventry alongside the Goliath but with the main event commanding a £1,070 buy-in the field was much lesser than it's £120 buy-in cousin. Still, 122 players exchanged £1,070 for the chance to become a GUKPT champion which is a decent turnout in its own right.
By the third day of play just 11 players remained and when two of those lost their stacks the nine-handed final table was set.
GUKPT Coventry Main Event final table seat draw
| Seat | Name | Chips |
| --- | --- | --- |
| 1 | Ray Power | 168,400 |
| 2 | Ainis Radauskas | 140,600 |
| 3 | Simon Deadman | 430,000 |
| 4 | Dean Aldred | 192,300 |
| 5 | Terry Mitford | 222,800 |
| 6 | Matthew Davenport | 368,800 |
| 7 | Alan Taddei | 246,900 |
| 8 | Martyn Frey | 513,500 |
| 9 | Lee French | 184,700 |
The blinds started off at 5,000/10,000/1,200a and as a result there was plenty of action and the eliminations came in thick and fast. First to succumb was Terry Mitford who after a preflop raising war with Lee French found himself all in and at risk of elimination as his pocket queen had run straight into his opponent's kings. Mitford caught a queen on the turn but his joy soon turned to despair as French hit a third king on the river to send Mitford home in ninth place.
Mitford was joined on the sidelines by Ainis Radauskas who made an ill-timed short-stacked shove with


from the button. Ordinarily, this all in bet would have won the blinds and antes but not when someone – Simon Deadman – is sat there with a pair of kings! The board ran out without any drama and the final table was down to seven players.
It was down to six shortly after when Ray Power got his money in good against Martyn Frey but could not get his hand to hold. Frey had opened to 35,000 and then called when Power three-bet shoved for 146,000 in total. Power turned over ace-queen and was in front of the king-jack of Frey. Power paired his queen on the flop but Frey reclaimed the lead when a king turned. There was no ace or queen on the river and Power headed home earlier than he would have wanted to.
Alan Taddei was the next player to lose his chips after a tangle with Frey. Taddei moved all in for 160,000 and Frey made the call, turning over pocket sevens as he did. Taddei could only muster ten-three but he was not dead and buried. That all changed as Frey flopped a set of sevens then improved to a full house on the turn when a second five made an appearance. Taddei exited the tournament area; via the cashier's cage of course.
All too often a poker players tournament comes to a conclusion with a coinflip scenario, and that is exactly what happened to Dean Aldred; the fifth place finisher at GUKPT Coventry. His chips went into the middle with pocket fives and he found a caller in the shape of Matt Davenport and his ace-jack. An ace was the first card out on the flop and when Aldred could not find one of the other two fives in the deck he was sent to the sidelines.
The dangerous Deadman was the next player out, much to the delight of his former opponents. Deadman is a very talented player who recently finished second in the Genting Poker Series Stoke Main Event and now he can add fourth place at GUKPT Coventry to his list of poker accomplishments. Deadman saw Frey open to 45,000 and he got his 300,000 stack into the middle. Frey tanked for three minutes before making the call. Deadman had made his move with ace-king whilst Frey had called with pocket eights. Deadman picked up an inside straight draw to go with his two overcards on a



flop but he was soon drawing to just the straight when a Frey turned a set. The five on the river was no help to either player and Deadman busted out.
Heads-up was reached when French clashed with Davenport in a massive pot. French opened to 52,000 from the small blind, Davenport three-bet to 136,000 only to see French snap-shove for 633,000 in total. Davenport eventually made the call with his


and discovered it was a good call as French had tried to win the pot with just


. Davenport's call was rewarded further when the flop came down



and these cards were followed by the

and

to send French to the rail.
Davenport lead Frey by 1,400,000 to 1,000,000 chips but was soon down to next to no chips when the pair got their stacks in on a board reading




. Davenport held ten-four for an open-ended straight draw whilst Frey showed trey-deuce for two pair. The river card was an eight and Davenport was left with just 200,000 chip to Frey's 2,200,000!
As you would expect it was all over soon afterwards. Davenport's last few chips went into the middle with a pair of fives and were called by Frey and his


. A king on the flop was more than enough to win the hand and with that Frey had become the GUKPT Coventry champion.
GUKPT Coventry Main Event results
| Position | Name | Prize |
| --- | --- | --- |
| 1 | Martyn Frey | £36,610 |
| 2 | Matt Davenport | £25,920 |
| 3 | Lee French | £16,160 |
| 4 | Simon Deadman | £10,060 |
| 5 | Dean Aldred | £7,930 |
| 6 | Alan Taddei | £6,100 |
| 7 | Ray Power | £4,880 |
| 8 | Ainis Radauskas | £3,660 |
| 9 | Terry Mitford | £2,740 |
| 10 | John Young | £2,140 |
| 11 | Peter Veale | £2,140 |
| 12 | Simon Trumper | £1,830 |
| 13 | Tom Langley | £1,830 |
Lead image courtesy of the GUKPT blog
Get all the latest PokerNews updates on your social media outlets. Follow us on Twitter and like us on Facebook today!