Les Fenton Wins GUKPT Goliath; Takes Home £31,210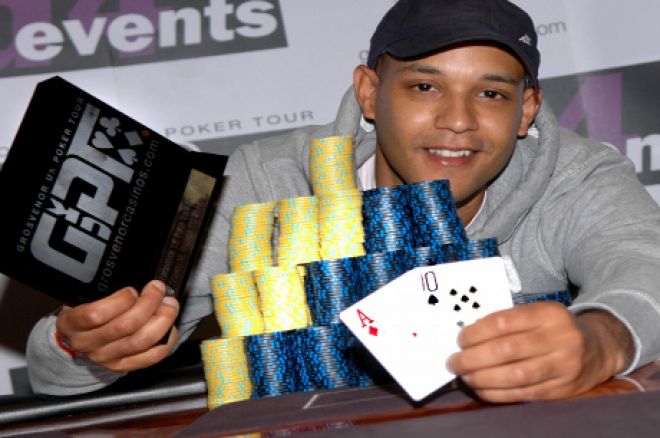 The Grosvenor UK Poker Tour (GUKPT) Goliath tournament came to a thrilling conclusion yesterday afternoon when Les Fenton outlasted his eight opponents to walk away with the title of 2012 GUKPT Goliath champion.
GUKPT Goliath Final Table Seat Draw
| Seat | Name | Chips |
| --- | --- | --- |
| 1 | Phillip Froggatt | 8,300,000 |
| 2 | Jacqueline Burrows | 1,365,000 |
| 3 | Les Fenton | 13,630,000 |
| 4 | Mark Harding | 6,030,000 |
| 5 | Gavin Manley | 3,765,000 |
| 6 | Jon Caplan | 5,085,000 |
| 7 | Kris Graham | 3,570,000 |
| 8 | Sung yee Hun | 1,910,000 |
| 9 | Colin Inskip | 5,530,000 |
With the blinds at the start of play being 100,000/200,000 with a running ante of 30,000 it is easy to see why the action was fast and furious; in fact from start to finish the final table took less than four hours to complete.
The first casualty of the day was Kris Graham who was eliminated at the hands of Mark Harding. The latter opened the better then called when Graham moved all in with what turned out to be a pair of nines. Unfortunately for Graham, Harding had opened with pocket queens and had a very easy call to make. Call he did and after flopping a set on a



flop followed by the

turn and

river the table lost its first player.
Graham was joined on the rail by the first of the two female players to reach the final table. On the very first hand back from the break Jacqueline Burrows open-shoved from the cutoff with


and was rather unfortunate to run into the dominating


of Harding. The board ran out





and Burrows' bust out left Sung yee Hun as the last woman standing.
Seven became six with the demise of Phillip Froggatt. Finding himself short-stacked – down to five big blinds – Froggott pushed all in when the action folded to him on the button. Fenton was the small blind and he isolated Froggatt with a three-bet. Harding folded his big blind and Froggatt showed


, which was up against the


of Fenton. Both players made one pair on the



flop but Fenton retook the lead when the

landed on the turn. The river was a blank and Froggatt's tournament was over.
Next to head for the exits was Gavin Manley who had become increasingly short-stacked and had reverted to moving all in. In his penultimate hand he open-shoved from early position with


and picked up the substantial blinds and antes. The very next hand, from under the gun, he put his stack into the middle once again, this time with


. Harding made the call from the big blind with


and Manley was a favourite to double-up. That was until Harding flopped the buts on a



flop! The turn and river did not fill Manley's unlikely boat and he was busted out in sixth place.
Colin Inskip was the next player to lose his chips, this time Harding took a break from hoovering up chips and passed that duty onto Fenton. Inskip opened with


and after Fenton moved all in, Inskip tank-called off the rest of his stack. Fenton turned over


and when no player had improved by the river Fenton's ace-high was enough to claim another scalp.
Fenton then sent Jon Caplan to the rail with a pair of sixes. Fenton opened the betting from the button only to see Caplan move all in. Fenton made the call and discovered Caplan had three-bet all in with


. Fenton's sixes held and he was edging ever closer to the GUKPT Goliath title.
Sung yee Hun – the last female player in the tournament – was the next unfortunate soul too feel Fenton's wrath. She looked down at


and decided that it was more than adequate to gamble her tournament life with. Fenton peeled back his hole cards, found


staring back at him and he quickly called. The dealer got to work putting out the five community cards, which by the river read





, sending Hun to the rail in third place.
Despite holding a 30,000,000 to 18,000,000 lead over his opponent Fenton agreed to a deal where both he and Harding took home £26,610, leaving the Champion of Champions seat and the extra £4,600 the Grosvenor casino added to the prize pool to play for. The heads-up battle lasted just one hand and saw all the chips go into the middle, Harding holding


and in big trouble against Fenton's


. The



flop made a chop more likely but the

turn made it very interesting as if either player paired their non-ace hole card they would improve their opponent to a straight. After burning a card the dealer put out the

on the river, gifting Fenton a straight and the win.
GUKPT Goliath final table results
| Position | Name | Prize |
| --- | --- | --- |
| 1 | Les Fenton | £31,210* |
| 2 | Mark Harding | £26,610* |
| 3 | Sung yee Hun | £15,000 |
| 4 | Jon Caplan | £12,000 |
| 5 | Colin Inskip | £9,200 |
| 6 | Gavin Manley | £6,600 |
| 7 | Phillip Froggatt | £4,800 |
| 8 | Jacqueline Burrows | £3,740 |
| 9 | Kris Graham | £2,880 |
*denotes deal struck heads-up. Original payouts were £35,800 and £22,340
After picking up his trophy and his comedy cheque Fenton spoke to the GUKPT Goliath blog who asked him how he felt about his win.
"Good. Really good. It's about time. I've entered a few big ones but I haven't really gone deep for a while, not since my last final table, but fortunately it's finally come round." Fenton was referring to his final table appearance in the 2010 GUKPT Luton Main Event.
Congratulations to Fenton on his win and of course to everyone else who managed to make it into the money. A round of applause to the GUKPT Goliath blogging team, D4 Events and everyone else who was involved in making the 2012 GUKPY Goliath the biggest and best one yet. Roll on 2013!
Get all the latest PokerNews updates on your social media outlets. Follow us on Twitter and like us on Facebook today!
Lead image courtesy of the GUKPT Goliath blog