Five Thoughts: Mad Marvin Wins Back-to-Back WPTs and More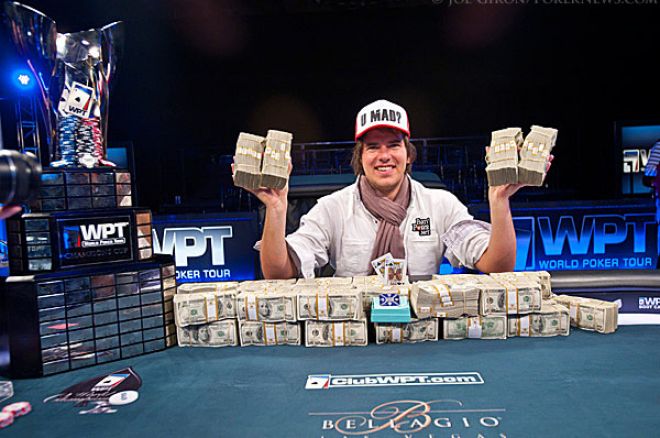 Just before the start of the World Series of Poker in May, the World Poker Tour wrapped up its season with the $25,000 WPT World Championship. A total of 152 runners descended upon the Bellagio to play in the prestigious event, and after six days, the final table was set. "Mad" Marvin Rettenmaier was the chip leader with 44 percent of the chips in play, and five hours into Day 7, he found himself heads up with Frenchman Philippe Ktorza. After 43 hands of heads-up play, Ktorza led Rettenmaier by less than three big blinds, and Rettenmaier doubled on the 44th hand when he flopped two pair. Ktorza proceeded to double through Rettenmaier three hands in a row, and less than 15 minutes later, he was chip leader again.
Rettenmaier — in full celebration mode after the monster double up, high-fiving his rail, hugging his girlfriend, and donning his red "U Mad?" hat — looked distraught on the live stream. Ktorza quickly extended his lead, and before you knew it, Rettenmaier was left with just 20 percent of the chips in play — less than what he started the final table with. Rettenmaier found a double with two tens against the ace-four of Ktorza however, and four hands later he found two kings. Ktorza was dealt a monster, as well, two jacks, and the money went in preflop. Rettenmaier's kings held, earning him the WPT World Championship, and a cool $1.2 million.
Rettenmaier cashed six times during the WSOP, including a fifth-place finish in Event #6: $5,000 No-Limit Hold'em – Mixed Max ($68,151), and then he did the unthinkable; he reached the final table of the WPT Merit Cyprus Classic.
Spoiler alert: he won.
1. Rettenmaier wins back-to-back WPT titles
Rettenmaier didn't have the chip lead entering the final table of the first WPT Main Event of Season XI, but two hours into the day, he was atop the leaderboard. Four hours later, Rettenmaier had more than half the chips in play with four players remaining. About an hour later, he had 100 percent of the chips in play, $287,784 in his pocket, and a second WPT title to put on his mantle.
Mad Marvin is the first player to win back-to-back WPT Main Events, and the 17th player to win multiple WPT Main Events. If he should win a third WPT Main Event, Rettenmaier would join Carlos Mortensen and Gus Hansen as the only players to win three WPT Main Events. Rettenmaier has the third lowest WPT career earnings among the 17 multiple winners, however. He's cashed five times for $1,537,239, while only Randal Flowers (two cashes, $1,246,141), and Howard Lederer (seven cashes, $703,783) have earned less.
Rettenmaier also became the first player to win multiple WPT Main Events in fewer than 20 tries. Only the aforementioned Flowers (20) and Tommy Vedes (22) have played in fewer than 30 events.
After the win, Matt Glantz, who is among the main subjects for thought number two here, jokingly called Rettenmaier the "new Jason Mercier" on Twitter, and several other pros tweeted at @MadMarvin saying that they were indeed, "Mad."
Rettenmaier flew to Philadelphia immediately after winning to try and win a third consecutive WPT Main Event but failed to do so. He's expected to ascend to the top of the Global Poker Index, however, and take the lead in the GPI Player of the Year race.
2. The City of Brotherly Love
OK, so Parx Racing and Casino isn't really in Philadelphia, but Bensalem, Pennsylvania, is just a stone's throw from Independence Hall, South Street, Pat's and Geno's, the South Philadelphia Sports Complex, and, most importantly, Philadelphia International Airport.
In 2006, the Pennsylvania Gaming Control Board approved construction of a casino at Philadelphia Park, and within months, slot machines were installed. Three years later, on Independence Day, the name "Parx" was unveiled, and on Dec. 22, 2010, after a soft open, there was a ribbon-cutting ceremony at "Parx East," an adjacent building with a massive poker room.
Over the last year and a half, the poker room has thrived. Instead of driving over an hour to Atlantic City, New Jersey, to grind, players in central New Jersey and Pennsylvania can now drive 15 to 20 minutes to Parx and play in a big, friendly, comfortable room. As a New Jersey native, I've visited Parx numerous times, and I absolutely love the room. The dealers are skilled, the staff is invested in the players, and the location is unbeatable.
When the WPT announced that Parx would be a stop in Season XI, East Coast players were elated. Among those East Coast players was Matt Glantz, who was later revealed as the Parx Poker Ambassador in June.
"I am very proud to have reached this milestone in my poker career and honored to be partnering with Parx Casino," Glantz said.
Preliminary events began on Aug. 1, and the $3,300 WPT Main Event kicked off on Friday. On Monday, Mike Sexton told me the staff expected around 300 players, but the final player count turned out to be 500.
"We're excited to be here in Philadelphia," Sexton added. "This is an amazing property."
Right now, Parx doesn't have hotel rooms, but three nearby hotels have partnered with the casino, and shuttle service is available. If Parx adds hotel space, the casino will blow Atlantic City out of the water. Borgata has a great poker room, but the airport in Atlantic City is extremely small, and flight service is limited. Parx's access to PHL is paramount, and I expect the poker room to continue to grow.
3. Marafioti accused of conspiring to cheat
This one's a doozy.
Last week, someone named "cbt5000" started a thread on TwoPlusTwo titled "Matt Marafioti and Samer Rahman allegedly conspire to hack other poker players." The original post was two conversation logs, one on Skype and the other on Facebook, and they included discussions about "trojans," gaining "access" to Will "molswi" Molson's computer, and the "big, Italian mafia."
This is "cbt5000's" first and only post on TwoPlusTwo.
To no one's surprise, the thread blew up but was temporarily locked so moderators could review the information. Normally, I'd say the mods were being too controlling, but this kind of thread is eternally damning. It was smart to ensure this wasn't a hoax, and after less than four hours, the thread was re-opened.
Rahman has been linked with fellow Swede Mohamed Kowssarie, who allegedly stole millions of dollars from Patrik Antonius and Johnny Lodden in 2007. The 281st post in the thread came from "samerrahman" (first post), and it was a lengthy one. The poster denied the accusations, saying that "Matthew is a truly great poker player who has been around long is this and cannot understand why he would want to do this."
The poster also explains that, "I have not met Matthew more than once in my life."
There are several photos in the thread of Marafioti and Rahman together, indicating that either Rahman is lying or that "samerrahman" is a phony account.
Marafioti has tweeted roughly 300 million times (not confirmed) since the thread was posted, and all he's done is further damage his image. Even if he's found innocent, no one will forget arrogant statements like, "I am poker."
I'm not going to comment on the accusations because there are no facts available, but this is just another black eye for the poker community. This thread has over 1,300 posts and over 360,000 views. Lawmakers, legislators, and regulators are reading this trash. At the negotiating table, individuals lobbying against online gaming will be able to point to this controversy and say, "Look, they cheat. This is unsafe."
Controversies like this make me embarrassed to be a member of the poker industry. When is it going to stop? Will the high-stakes community ever be safe? Can anyone in poker be trusted?
These questions need to be answered if poker is ever going to be taken seriously. If they aren't, then poker, especially the high-stakes community, will never be seen as legitimate.
Likewise, Marafioti's spewing is making the poker industry look more and more unprofessional. ESPN supposedly shot a feature with him after his deep run in the WSOP Main Event, but for the good of the game, I hope it's left on the cutting room floor.
4. Shannon Eastin ≠ Tim Donaghy
The preseason of the National Football League began earlier this month, and because there is a contractual dispute going on between the NFL and its referees, the games are being officiated by replacements. One of those replacements is Shannon Eastin, who became the first female to officiate an NFL game during Thursday's nationally televised game between the San Diego Chargers and the Green Bay Packers.
Before the game, Pro Football Talk's Mike Florio was very critical of Eastin. Not because she's a woman, however, but because she played in a preliminary event during the 2007 WSOP.
The NFL released a statement saying that Eastin, who has two WSOP cashes, passed an extensive background check:
"The NFL does extensive background checks on prospective officials, including the current group of replacement officials. "All of them have passed the NFL's rigorous screening process, including Shannon Eastin. Past participation in an event such as a poker tournament does not disqualify a person from consideration as an NFL game official."
Florio loosely compared Eastin to Tim Donaghy, an NBA official who was sentenced to 15 months in prison for participating in a gambling scandal, but the two shouldn't even be mentioned in the same breath. Eastin participated in a legal event, playing a game of skill that has nothing to do with professional football, while Donaghy was paid to influence professional basketball games and pleaded guilty to conspiracy.
We know that Eastin and Donaghy aren't even in the same ballpark, but if major sports writers are grouping poker players with conspirators, then we're way behind the eight ball. It's no wonder fewer and fewer athletes are playing in WSOP events, and when they do, they only want media attention from ESPN or other mainstream sports media outlets.
It's nice to see that the NFL is becoming a little less stringent about poker though — last March they wouldn't even let players participate in a charity event.
Depending upon the ongoing negotiations, Eastin may or may not officiate a regular season NFL game. If she does, I hope her two WSOP cashes are listed as accomplishments on her résumé and not as federal crimes. I'd like to see Florio make a Day 2.
5. Back to basics for Negreanu
In 2009, Team PokerStars Pro Daniel Negreanu began building a bankroll from scratch. He started with just $10, and his goal was to reach $100,000 in three years. Well, three years have passed, but Negreanu is picking up where he left off and trying to build his roll once again. On Monday, Kid Poker sat down at a $.25/$.50 no-limit hold'em cash table to grind.
Negreanu's challenge was designed after Chris Ferguson's $0 to $10,000 challenge, and the full rules can be found over on FullContactPoker.com.
This challenge is interesting, because poker is one of the few games where a professional can drop in the ranks and it's not completely outrageous. For example, if LeBron James played in a high school basketball game, he could score 150 points. If Patrick Willis played in a Pop Warner football game, there would be more broken bones than points scored. Usain Bolt can run 400 meters faster than an elementary school child can run 100 meters.
This could only happen in poker, and that's one of the reasons poker is amazing. Dozens of players joined the waiting list for a shot to play against Negreanu on Monday night, and those who had a shot to play a few hands against him have a story to tell their friends — even if they lost. It's a win-win for Negreanu, his fans, and PokerStars.
Follow PokerNews on Twitter for up-to-the-minute news.