Overlay Of Around €40,000 Expected In The DTD Grand Prix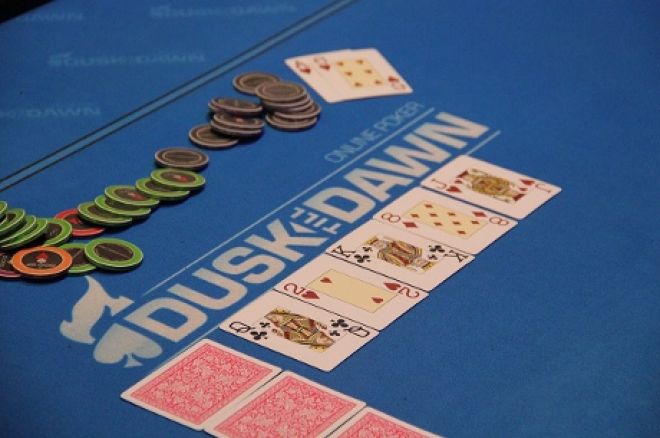 The Dusk Till Dawn Grand Prix has seen four of its seven starting flights be completed and if the number of entrants continues in the same volumes for the last three Day 1's then the Nottingham-based club is going to be facing a shortfall of their €200,000 guarantee by around €40,000.
Last year's Grand Prix cost a little less to enter (€60) and attracted a massive field of 2,089 players but this year the entry fee has increased slightly (£100) but the attendance so far is down by around 40%. As you can see from the table below the figures are way down.
| Day | July 2012 Attendance | January's €60 Attendance |
| --- | --- | --- |
| 1a | 265 | 413 |
| 1b | 128 | 263 |
| 1c | 119 | 194 |
| 1d | 134 | 218 |
Dusk Till Dawn's supremo, Rob Yong, predicts the total entries will stand at 1,578 meaning their will be an overlay of €42,200. Ouch. Yong explained his his blog on the Dusk Till Dawn site, that he has been receiving plenty of "Overlay Looks" from the players as he does his rounds at the venue, a look he believes says,
Rob, you know that I have not come here for the chance of any overlay, I would be playing this tournament anyway - rain/sleet/snow/hurricane, sxxt happens mate, keep the faith - you are doing a decent job - really you are.
Despite facing this huge overlay Yong is already looking towards the next big tournament, which will again have a big guarantee slapped on it! Here's what Yong is thinking about.
say you made it through Monday with 75k chips and also Thursday with 150k chips, you start with 225k on Day 2, how cool - we could call it "The Accumulator" - and put a massive £GTE on - okay, okay, just lock me up please!
Whilst UK & Ireland PokerNews have no affiliation with Dusk Till Dawn we are a huge fan of the venue and applaud the management team and their constant attempts to push the boundaries in UK live poker. Day 1e, f and g take place tonight, Thursday and Friday and we would urge you to head to the Nottingham-based club and support them as much as you can; even if you are only going their for the value.
Get all the latest PokerNews updates on your social media outlets. Follow us on Twitter and like us on Facebook now!