Five Thoughts: The Octo-Nine, Jason Mercier's $25K Fantasy Win, and More

Rich Ryan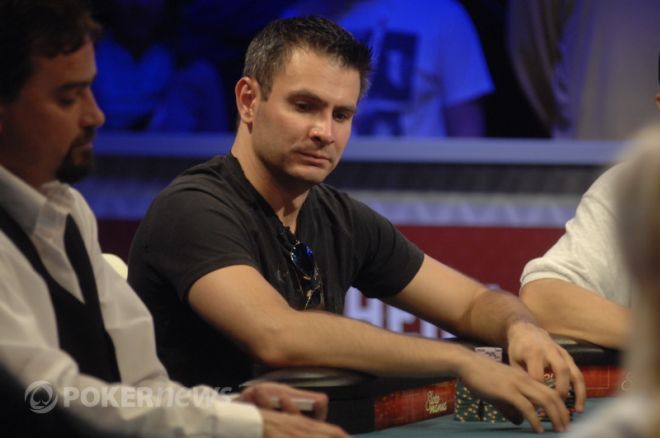 Feast your eyes on Rich Ryan's latest instalment of his excellent Five Thoughts series. Each week he gives his opinion on a number of subjects from the previous week of poker. Enjoy it; we certainly did.
When the

completed the board, eliminating Gaëlle Baumann on the bubble of the 2012 World Series of Poker Main Event official final table, most spectators and players on the mother ship celebrated. Jeremy Ausmus, who enters the "Octo-Nine" as the short stack with just over 9.8 million chips (49 big blinds), was especially happy when Baumann was eliminated and jumped up and down in disbelief. Baumann's French contingent was not happy, however. Neither were the countless poker fans who wanted to see either Baumann or fellow female Elisabeth Hille at the Main Event final table.
Andras Koroknai, who created a buzz in the poker community when he moved all in then mucked his cards on Day 5 of the Main Event, eliminating Hille and Baumann in 11th and 10th place respectively. Barbara Enright's record as the only woman to ever make a Main Event final table is safe.
Koroknai will return to Las Vegas in October second in chips, trailing only the chip leader, Jesse Sylvia.
| Seat | Player | Country | Age | Chip Count |
| --- | --- | --- | --- | --- |
| 1 | Russell Thomas | USA | 24 | 24,800,000 |
| 2 | Jacob Balsiger | USA | 21 | 13,115,000 |
| 3 | Jeremy Ausmus | USA | 32 | 9,805,000 |
| 4 | Steven Gee | USA | 57 | 16,860,000 |
| 5 | Greg Merson | USA | 24 | 28,725,000 |
| 6 | Jesse Sylvia | USA | 26 | 43,875,000 |
| 7 | Robert Salaburu | USA | 27 | 15,155,000 |
| 8 | Andras Koroknai | Hungary | 30 | 29,375,000 |
| 9 | Michael Esposito | USA | 43 | 16,260,000 |
1. A look at the Octo-Nine's top stories
After eliminating Scott Abrams in 12th place, Sylvia rocketed above 40 million chips, taking the chip lead on Day 7. During the last break of the evening, a colleague and I overheard him telling a friend, "This better not be a f***in' dream."
Thankfully for him, it isn't.
Sylvia, who's largest career cash entering the Main Event was for $15,078, flagged down yours truly on Day 2c of the Main Event because he wanted to give a shout out to his dad, Wayne. The producers and editors at Poker PROductions should have no trouble depicting Sylvia as the final table's white knight — a lovable kid looking to win poker's biggest prize.
Conversely, Koroknai may be poker's first super-villain. Sure, Phil Hellmuth's "Poker Brat" act drives viewers crazy, but that's all it is — an act. Koroknai, who by all accounts is just as nice as Sylvia, axed both women on the final table bubble, is the only non-American remaining, and some people believe that his chips should've been forfeited when he moved all in and folded his hand. Everything is working against him, and outside of his home country, Hungary, everyone will be rooting against him.
Personally, I think this is great and Koroknai should embrace it. Hell, if I were him, I'd blow off the opening ceremonies in October, and 10 minutes after the cards were in the air, I'd come through the tunnel wearing all black with the "New World Order Theme Song" blasting. I'd also be tempted to spray paint "nWo" on the bracelet if I won, but perhaps that would be taking it a little too far.
2012 bracelet winner Greg Merson enters the final table third in chips and is leading in the WSOP Player of the Year race. World Series of Poker Europe counts toward the POY race, however, so Phil Ivey, John Monnette, Antonio Esfandiari or anyone else in firing range can possibly pass Merson in Cannes. They'll have to do so by a wide margin if they want to win, though, because Merson holds a 13-point lead over his nearest competitor (Ivey) and can earn up to 500 points if he's fortunate enough to win the Main Event.
Merson shot up the list when he won Event #57: $10,000 No-Limit Hold'em — Six-Handed, earning him over $1.1 million and 360 POY points.
Former bracelet winner Steven Gee and Michael Esposito are the only remaining players older than 40. The age factor is only relevant to Barry Greenstein and anyone else who made age bets, and on the other side of the spectrum, the aforementioned Balsiger has a shot at being the youngest player to win the Main Event.
2. Fewer players, same meaning
Coming off of the heels of the $1 Million Dollar Big One for One Drop, some people in the industry worried that the Main Event would feel lackluster. My fellow PokerNews Podcast host Donnie Peters even said it felt like the WSOP should've been over when Antonio Esfandiari defeated Sam Trickett heads-up because the atmosphere at the final table was electric and the prize pool was so massive.
Thankfully, the WSOP didn't end with Esfandiari's monumental win, and 6,598 players ponied up $10,000 to play in the fifth largest Main Event in history. To no one's surprise, the field was smaller than at last year's tournament, but the excitement was unchanged. Norman Chad once said that the Main Event is the "last American gold rush," and he's right. The average player can't sell enough action to play in a $1 million tournament and can't even sell enough action to play in a $25,000 satellite. And the Big One for One Drop was capped. It was a made-for-TV spectacular that delivered, but it didn't cater to the everyman or woman who dreams of making it big.
The Main Event is an opportunity for anyone who loves to play poker to become a superstar. If you're entertaining and the cameras catch you, then you could become the next Dmitri Nobles or Silvio Formica. Go deep and take a horrendous bad beat and you'll be remembered forever the way Matt Affleck is. Get lucky enough to make the final table and you become one of the most popular players in poker for the better part of three months. Win the Main Event and you become a legend. Your banner will hang from the ceiling in the Amazon Room forever, and you also take home a breathtaking $8.5 million.
Everyone dreams of it and anyone can achieve it. The Main Event is like nothing else and should remain that way for the foreseeable future.
3. Jason Mercier wins the $25K Fantasy League
For the second year in a row, Jason Mercier's team won Daniel Negreanu's $25K Fantasy League. In 2011, Ben Lamb's 403-point performance led Mercier's team to victory, earning him and his co-owner, Jason Somerville, $225,000. This year, Monnette (244 points) led Mercier's team in points, and for finishing in first, he earned $178,750. Here's a look at the final standings:

| Place | Team | Points |
| --- | --- | --- |
| 1 | Jason Mercier | 605 |
| 2 | Robert Mizrachi | 564 |
| 3 | Todd Brunson, Frank Kassela, and Doyle Brunson | 556 |
| 4 | Eugene Katchalov | 464 |
| 5 | Brian Hastings | 459 |
| 6 | Bryn Kenney | 396 |
| 7 | Cary Katz | 346 |
| 8 | Daniel Negreanu | 310 |
| 9 | Justin Smith | 227 |
| 10 | David Back and Josh Arieh | 216 |
| 11 | Sorel Mizzi | 137 |
Ivey led all players in points, scoring 272, and the only other players to cross the 200-point mark were the aforementioned Monnette and Phil Hellmuth (208). Of the top 10 point scorers, only Ivey, Brock Parker, and Ali Eslami failed to win a bracelet. Among the bracelet winners, only Brian Hastings won an event that featured just hold'em.

| Rank | Player | Points | 2012 Bracelet |
| --- | --- | --- | --- |
| 1 | Phil Ivey | 272 | None |
| 2 | John Monnette | 244 | Event 10: $5,000 Seven Card Stud |
| 3 | Phil Hellmuth | 208 | Event 18: $2,500 Seven Card Razz |
| 4 | Michael Mizrachi | 175 | Event 45: $50,000 Poker Players Championship |
| 5 | David Baker | 150 | Event 37: $2,500 Eight-Game Mix |
| 6 | David "Bakes" Baker | 142 | Event 32: $10,000 H.O.R.S.E. |
| 7 | Brock Parker | 131 | None |
| 8 | Vanessa Selbst | 127 | Event 52: $2,500 10-Game Mix – Six-Handed |
| 9 | Ali Eslami | 117 | None |
| T-10 | Nick Schulman | 113 | Event 60: $10,000 2-7 Draw Lowball (No-Limit) |
| T-10 | Brian Hastings | 113 | Event 12: $10,000 Heads-Up No-Limit Hold'em |
Fantasy poker is rather uneventful outside of the WSOP, so we'll have to wait until next summer to see whether Mercier can three-peat, or whether someone can finally knock him from the top spot.
4. 2012-13 WSOPC schedule announced
The WSOP announced the 2012-13 WSOP Circuit schedule on Monday, and for the first time ever, the WSOPC will cross the border into Canada. River Rock Casino in Vancouver, British Columbia, is one of four new stops — the WSOPC will also make trips to Horseshoe Cleveland, Foxwoods Resort Casino, and Harrah's Cherokee in Cherokee, N.C.
The biggest news is that the championship event has been rebranded to the Southern Comfort 100 World Series of Poker National Championship, and it will take place at Harrah's New Orleans before the start of the 2013 WSOP. This is smart for a multitude of reasons, the first being that the New Orleans Main Event will now attract more players. This year, Bryan Devonshire was among a group of circuit grinders who opted to skip the New Orleans stop because they had already qualified for the National Championship. Next year, not only will those players feel the need to get there early and play in the Main Event, but a majority of the 50 WSOP players eligible to buy in for $10,000 may also play the Main Event, as well.
The WSOP-C is it's own beast, and despite the fact that it culminates in a bracelet event, it should remain separate from the WSOP. The National Championship got lost in the mix this summer in Las Vegas, and the final table had to be postponed so as not to conflict with the beginning of the Main Event. Now that the National Championship will take place on the heels of the final circuit stop, it will share the spotlight with no one. The players who earn their seats at least deserve this courtesy.
Ty Stewart and the rest of the WSOP have successfully extended their brand across the country during the last two years, and this schedule looks to be as jam-packed as ever. The action begins on Aug. 9 in Biloxi, Mississippi, and you can find a full schedule here.
5. Seat Open: Ronnie Bardah
2012 WSOP bracelet winner Ronnie Bardah shares a little of his life story in part one of his edition of "Seat Open."
Follow PokerNews on Twitter for up-to-the-minute news.