Charles McCarthy Secures APAT Irish Amateur Title

Des Duffy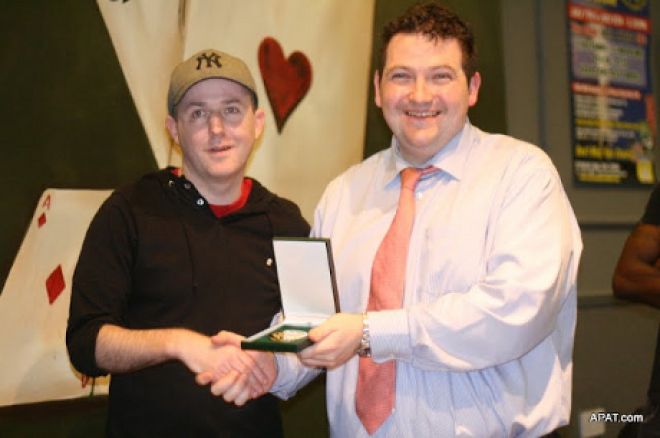 Glorious weather came to Cork over the weekend, alongside an influx of leading amateur poker players from Ireland, the United Kingdom and further afield. The occasion was the sixth annual Irish Amateur Poker Championship; the stage - Cork's Macau Sporting Club.
Players started the tournament with 15,000 chips and a 45-minute clock, but the excellent structure bared its teeth as early as the sixth minute when the kings of Don Roberts ran into the aces of fellow English player Paul Gildea. Roberts' hand failed to improve and the Londoner was sent to the rail as the tournament's first casualty. Roberts wasn't alone and several big hands clashed during the opening levels as the field began to whittle down.
A feature of the tournament throughout however was the good humour shown by all competitors and that banter reached a crescendo when stripper Abens Maurice announced that he had to leave his stack to blind for the last hour of play on day one, due to 'work commitments' on the south coast. Needless to say the two ladies at his table were merciless in their teasing, but Maurice had the last laugh, making the end of day one chip counts with an average stack of 50,000. In the melee of the final level, Welsh Amateur Championship runner up JP Round lost his opportunity to assume the lead in the National Amateur Rankings when his pocket sevens were beaten by Ed Roycroft's rivered ace.
Off the baize, many of the players enjoyed the craic at several of Cork's colourful bars before returning to the Macau on Sunday, their focus set on securing the prestigious Irish Amateur title. Twenty players remained as the chips were un-bagged. Amongst them were two Frenchmen Remy Rollon and Benjamin Abbou, English players Ken McBride and James Ellis, Davie Croke – a runner up in the previous year's Irish Classic, and female players Rita Galvin and Valerie McGrath. At the head of the pack was Jason Buckley, holding 132,000 chips.
The structure allowed for some wonderful poker throughout the second day and while lots of flops were being seen, bets were carefully measured with few players willing to commit their tournament lives early. Inevitably most of the action was driven when large opening hands like ace-king or ace-queen, found opponents with medium pocket pairs.
The aforementioned Ellis fell in 17th, his big slick losing to Abbou's pocket Sixes. Rollon went on the same hand a position later, losing to Henry Port's pocket eights. Galvin exited in 14th, leaving Valerie McGrath as the tournament's leading lady. McBride went in 12th, his ace-queen beaten by Croke's dominated ace-nine, a nine arriving cruelly on the river. Croke himself bubbled the final table, when his Big Slick couldn't improve against John Quinn's pocket queens.
The final table, which was streamed live and supported by a large rail at the Macau, was set as follows:-
| Seat | Name | Chips |
| --- | --- | --- |
| 1 | Charles McCarthy | 107,200 |
| 2 | John Quinn | 291,200 |
| 3 | Abens Maurice | 111,600 |
| 4 | Henry Port | 118,000 |
| 5 | Valerie McGrath | 77,200 |
| 6 | Jason Buckley | 134,100 |
| 7 | Benjamin Abbou | 107,600 |
| 8 | Ronan Milner | 168,200 |
| 9 | Dean Murray | 95,400 |
McGrath was the first out, losing to Port's pocket aces – with both players hitting trips on an action board - to leave the tournament an all-male affair. Dean Murray went next, to Abbou's trip sevens. Port exited in seventh to Quinn's pocket aces – with both players again hitting trips on the board as in Mcgrath's exit hand. Short-stack Milner exited shortly after to Jason Buckley, a lone ace doing the damage.
Play was five handed for a couple of hours with the chiplead passing amongst the players in a great demonstration of fluid poker.
Buckley was the next to exit, his hand no match for the quad fours of the male stripper Maurice. Quinn went in fourth, Charles McCarthy hitting two pair on the flop. Frenchman Abbou went in the Bronze medal position; his turned nine-high flush no match for Maurice's turned king-high version.
Play ebbed and flowed during a two hour heads up battle but it was Skibereen player McCarthy who took the title when hisace-king out-kicked his American opponent's ace-nine in the pivotal hand of the tournament. McCarthy had received a lot of support locally and his win was a fitting end to a great tournament at the Macau. In addition to the title, the Corkman also won an APAT National Gold Medal, €2,200 in prize money and a seat at a Genting Poker Series main event.
APAT will return with the five event European Championship of Amateur Poker at Nottingham's Dusk Till Dawn cardroom in late August. Details can be found at www.apat.com.
APAT Irish Championship Final Table Results
| Position | Name | Prize |
| --- | --- | --- |
| 1 | Charles McCarthy | €2,200, Gold medal, GPS seat |
| 2 | Abens Maurice | €1,400, Silver medal |
| 3 | Benjamin Abbou | €800, Bronze medal |
| 4 | John Quinn | €600 |
| 5 | Jason Buckley | €350 |
| 6 | Ronan Milner | €250 |
| 7 | Henry Port | €200 |
| 8 | Dean Murray | €150 |
| 9 | Valerie McGrath | €125 |
Get all the latest PokerNews updates on your social media outlets. Follow us on Twitter and like us on Facebook now!