Best Of The British Isles: Ross "RLOG" Loggie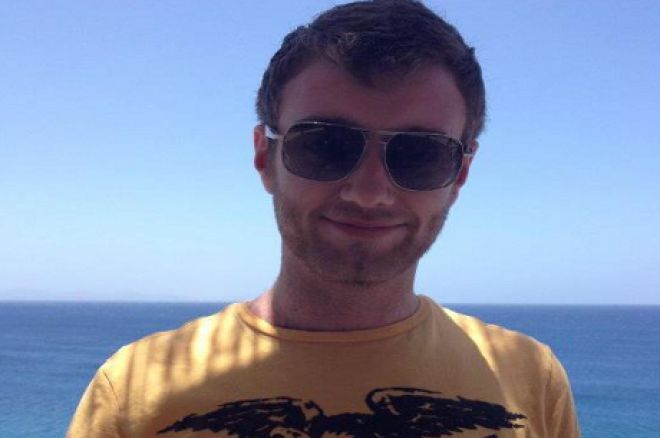 A common question we see banded around poker forums and one this writer has been asked at least half of a dozen times is "who is RLOG?" We reached out to RLOG and asked if he would be interested in answering a few questions about himself and poker in general and we are delighted that he said yes. Ladies and gentlemen we give you RLOG.
Thanks for agreeing to talk to us. Could you tell us a little bit about yourself such as your name, age and where you are from. Also, the alias' you are best known as in online poker circles.
My name is Ross Loggie, 23 from Scotland. My online names are RLOG on Stars (where I play predominantly and am most well known), RLOGGLED on .fr, and RDLOG on Party. Those are the main ones really at the moment.
A question we have to ask everyone is how did you get into poker?
I got into poker in my last year of school (5 - 6 years ago), it was quite popular at lunch times etc to play for fun. One of the maths teachers at school (thec@t) came into our game one day and he told me what hand I must have before the cards were turned over and he was right. That got me hooked. Started out playing a mix of tournaments and cash on Stars and started playing a bit at the local casino once I was 18.
You have come some way since then and are now a professional player. When did you decided to become a poker pro?
I became pro about 3 years ago (although I was still at Uni to start with), firstly playing cash for a couple of years on euro sites before moving over to MTTs last May.
What does a typical day look like for you? When do you start and finish registering for tournaments and how many tables do you usually play? Are there any tournaments you never miss? We think the Super Tuesday would be won with your fantastic record in it!
It can vary but I try to get started by around 16:00 and stop reging usually at the 0300 $215 2x chance turbo, although sometimes I'll stop around midnight. On Sundays I always start at 1pm for the Sunday Kickoff and always bust it early and wish I'd stayed in bed longer! I'll always try and play on Tuesday and Sunday (Super Tuesday weeeeee) and usually play a couple of other days when I'm not busy. Usually I play 12 - 16 tables, all the high stakes games on most networks and the majority of the turbos above 20$ that run.
You are almost certainly going to be ranked 1st in the UK and in the top 20 soon in the world. Do the rankings mean anything to you? Do they motivate you?
I never used to pay much attention to them but I started to get competitive with David Vamplew in the Edinburgh rankings for rubs mainly and now I do want to be number 1 yes, and they do motivate me I guess too.
Many players say the game has become much tougher but you seem to be crushing! Why do you think that is? Do you play a ton of volume? Study a lot away from the tables?
I play a decent amount of volume although not as much as I used to. I don't really study away from the tables as such but I spend a lot of time thinking about things and I do coach a few players which I think is good, as I learn things from watching other peoples games.
I also have a good group of people who I constantly discuss hands and situations with and have done for years, which I think is a huge benefit. I think I'm good at picking up on things that other players are doing and then figuring out why they do it and implementing it myself, and I also think my cash background makes me better at hand reading than most tourney grinders.
What do you think the most common mistake(s) is/are you see on a regular basis?
People being too afraid to see flops when they are deeper and getting themselves in silly spots by inflating the pot unnecessarily springs to mind as something which is often overlooked.
Are there any players who you credit with helping your game improve?
Well I have never had any formal coaching but over the years spending countless hours discussing hands with my friends Martin and PJ who are both midstakes cash grinders, as well as many tournament players over the last year and a half has helped me the most. Also entim who taught me 180 mans which in turn got me into tournaments.
Who do you rate as the best MTT players (online) in the world? Are there any up-and-coming players we should keep an eye on?
I think there's a bunch of very good players who play a mixture of very different playing styles, which is good for the game.
Have you got any tips for any wannabe poker pros / MTT grinders out there?
I'd say stay away unless you have a real desire to get very good and be successful (or alternatively just play for fun). Have fun, play tight to begin with until you get more comfortable then open up, make sure you're properly bankrolled or you'll never succeed.
Looking at your Hendon Mob you have a few cashes in the live arena. Do you have plans to play more live events?
Yeah I played a couple of EPTs last year and enjoyed that, will probably go to most of them next season. Whilst I enjoy the travelling I do like to spend a lot of time at home too so I'll still play predominantly online.
Is it difficult to apadt to the slower pace of live once you have played online?
I wouldn't say it's that difficult although I have seen a lot of online pros make hilarious spews live (I know I've done this before too!). You just have to remember to be open minded and not always just take the first spot you get, and also towards the end of the day make sure you keep playing your A-game and not make silly mistakes.
----------
So there you have it, RLOG speaking to UK & Ireland PokerNews. If you are a regular in the biggest tournaments online then there is no doubt at all you will have run into this your Scot at some point. He is currently ranked second in the UK, 27th in the world and has less than $4,000 to go before he has cashed for a cool $1,000,000.
If you would like to feature in the Best of the British Isles feature then just drop an email to matthew.pitt@pokernews.com and we will take it from there. Thanks for reading!
Get all the latest PokerNews updates on your social media outlets. Follow us on Twitter and like us on Facebook now!