Rankings Challenge: Not The Start I Wanted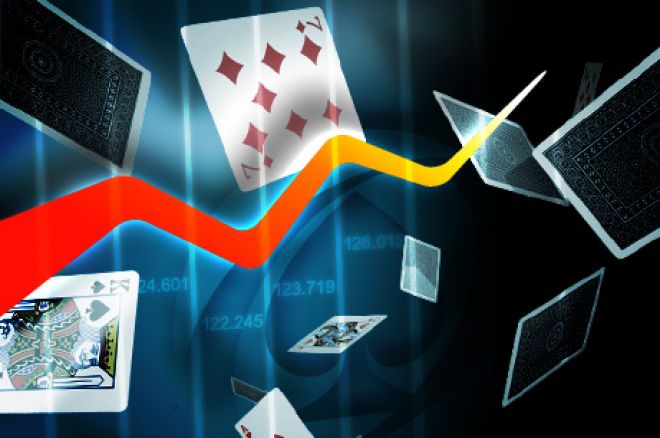 A week has passed (OK it is a little over a week but whatever) since I embarked on my quest to climb up the rankings on PocketFives so it is time for an update on my progess, or lack of it.
You see, I have not started as I had envisaged. I had planned to reach numerous final tables and spend the vast majority of this blog entry bragging away like I was some sort of micro-balla but instead I am having to tap away at the keys of my trusty Toshiba with my tail firmly between my legs.
Over the course of the past week I played in 48 multi-table tournaments, cashed in 16.7% of them but my Return On Investment (ROI) was a rather disappointing -76.3%. Despite this I stayed in 17th place in the Leeds rankings, improved to 521st in the UK and soared to my highest worldwide ranking of 5,397. I guess other players sucked more than I did this week!
The reason for my poor results is twofold; I have not exactly been playing to the best of my ability and I appear to have pissed of the Poker Gods (amen) somehow. Not a good combination at all, trust me on that. The latter seems to exacerbate the former quite significantly so Friday and Saturday have been poker-free days in an attempt to break the vicious circle I have found myself in at present.
Whilst I do not want to, nor plan to, turn this blog into a series of bad beat stories I have to mention a few hands of note and a few bankroll-sapping situations I put myself in. The first hand of real note came in just the second MTT I played in, a $5.50 buy-in tournament on PokerStars that attracted 2,480 players. Things were progressing quite nicely and there were 151 players remaining when I managed to get my stack in on a




board holding


against villain's


for a top 20 stack. The river was a queen by the way; a sign of things to come perhaps.
This sparked off an unwanted 17 non-cash streak that included a $33 rebuy that I entered by accident. How? I was scrolling down the lobby on an iPoker skin and saw a $33 tournament with a $15,000 guaranteed prizepool. Although towards the top of my buy-in (BI), I had played in a number of lower buy-ins so my average BI was still well within the constraints of my bankroll. As soon as I was seated I realised my mistake; it was a bloody rebuy tournament! FML! By hook or by crook I made it through to the break (thanks to having a set of fours paid off handsomely) so bit the bullet and bought the add-on. As the time headed towards midnight I was rapidly approaching the money places and it looked like my mistake would not be such a mistake after all. That was until this hand happened.
Armed with a stack of 25,580 and with blinds of 1,200/2,400/240a the action folded around to me on the button. The tournament poker officiadoes amongst you will be screaming "shove you fish" and that is what I did with my


. One of the world's best players in banditpandaa1 folded the small blind but the big blind, who was tighter than duck's ass, used up nearly all of his timebank before calling – he had 45,310 chips – with


. I'm pretty sure his call is pretty standard but being outkicked my a single card seems to have been a common theme over the past seven days. For those of you who are interested the board ran out





so at least I was drawing dead by the turn and I busted 31/299 when 27 were paid. Thanks for that.
It is not all doom and gloom though because I did manage to win a small tournament but it did not count towards the rankings because it did not meet the criteria of having a prize pool of at least $1,000. Sod's Law. The tournament in question was really fun, a $2 knockout turbo on iPoker that only attracted 94 runners. It was obviously a crapshoot but it was good to throw chips around and not care, then win, during a time when villain's only hold the very top of their ranges when in pots against me! Typical though, win the smallest tournament of the lot!
Plans for this week are as follows:
Run better
Play better
Stop running into the top of villains' range
Profit
As the meercats say, simples. The week has the potential to get off to a flying start because I am considering playing in the half price Sunday Million on PokerStars so watch this space.
Until next week, watch this space!
| World Ranking Start | Current World Ranking | UK Ranking Start | Current UK Ranking | Local Ranking Start | Current Local Ranking |
| --- | --- | --- | --- | --- | --- |
| 5,481 | 5,397 (+84) | 534/1874 | 521/1879 (+13) | 17/39 | 17/38 |