Proving The Poker Media Aren't Fish!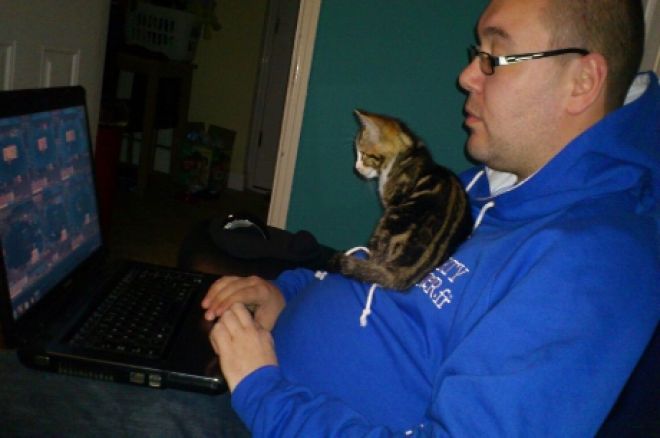 The following statement may be a sweeping one but I also think it is quite an accurate one. Here goes. "Behind every poker tournament reporter or poker media person is a frustrated poker player." I believe this statement is pretty accurate judging by the people I have met from the poker media and based on my own feelings towards this game too.
"Frustrated poker player" is often misinterpreted as being a fish by the actual players we write about; I don't think they take us seriously at all when it comes to us playing poker rather than producing articles about it. Much like when your favourite bar person is seen on the opposite side of the bar having a beer, or you see your boss or former teacher dressed down in jeans and a T-shirt it looks odd seeing poker media peeps actually sat at the felt riffling chips. But we are not all fish and I am going to try and prove that.
Each week we compile the Top 10 UK & Ireland players in regards to online poker tournaments. We do this by using the PocketFives Sliding PLB and guess what? My own play is tracked on there. Whilst I am nowhere near the top 10 place in the UK and if I am 100% honest I don't think I ever will be due to the sheer volume needed – let's try to forget about skill here for now – but I do think I can make it to the top 10 in my region and the top 100 players in the UK & Ireland.
At time of writing I have a whopping 481.79 points on the Sliding PLB, which is enough to rank me 17/39 in Leeds and 534/1874 in the United Kingdom. For those of you who are interested my pitiful points tally places me 5,569 in the world down from my "high" point of 5,481 a few weeks ago. My lower than a snake's belly score is a little deceiving because it does not take into account that I have played less than 120 multi-table tournaments since the start of 2012 so to say my volume is low is the understatement of the month and is something I will need to change if I am to meet my goals by 01/01/2013.
If Father Time stood still then I would need to drag my SLB points tally to at least 813.72 in order to crack the top 10 in Leeds and get my serious grind on if I am to have a hope in hell's chance of pushing through the top 100 barrier in the UK because you need just over 2,400 points right now. The top 100 is definitely an outside shot given the time scale but the top 10 in Leeds is definitely doable.
The formula used to calculate the points uses prize pool and your finishing position so it makes sense to focus most of my play on PokerStars where the prize pools are far larger than anywhere else but I don't like to do things normally as a general rule. Whilst I will be playing some tournaments on PokerStars I am also going to spread my bankroll around a little and play on PokerStars.fr, 888, iPoker and Betfair where there are still some decent sized prize pools but the field sizes are much smaller. My thinking is that I stand a better chance of picking up plenty of smaller points hauls – read that as cashes – in tournaments that have smaller fields than going for a big knockout blow on PokerStars.
I'll try to update this little piece of the internet with my progress, or lack of it, every Friday up to January 1st. Fingers crossed it will turn into a brag blog instead of one proving the poker players correct. Here's hoping.
Follow UK & Ireland PokerNews on Twitter and like us on Facebook to stay up-to-date with all of the latest poker news.
You could be jetting off to the World Series of Poker if you managed to bag yourself one of scores of packages on offer from our leading partners. Check out this article highlighting some of the amazing WSOP promotions currently running.