Five Thoughts: Verbal Drama, Breaking Records, Bloch's Bracelet, and Ivey's 0-Fer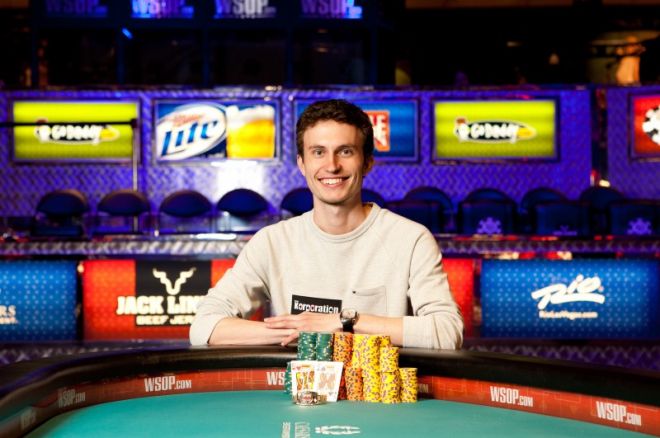 The World Series of Poker and drama are far from mutually exclusive. Every year, something rubs the players the wrong way. Whether it's a 10-level hard stop or not serving alcohol in the mothership, there's always an issue. This year, the drama began at the final table of Event 5: $1,500 Pot-Limit Hold'em where there was an issue with the new verbalization rule. The players, led by Jonathan Augiar, the central focus of retweet-gate, did not want to verbalize their bets and were allegedly threatened with penalties.
A few days later, rumors began to circulate about beef — no pun intended — between the vendors at the Rio All-Suites Hotel & Casino and the popular health food delivery man, All American Dave. When will the drama end? It will never end because it's impossible to accommodate everybody. All the WSOP staff can do is take each issue in stride.
1. Quoting the famous words from the 1976 movie Network: "I'm as mad as hell, and I'm not going to take this anymore!"
Each WSOP, when I see the players get angry about something, I think of Peter Finch's epic speech in Network, or the "rabble rabble" scene from South Park. Usually, one, two, or a handful of players have a solid, well-thought out objection to something that's being done, and then an angry mob of people begins bashing every person who wears a badge at the Rio. That doesn't mean I don't sympathize with the players though, nearly three weeks ago I wrote that the verbalization rule was a bad idea. Unfortunately, it took the players until the fifth event of the series to say or do anything about it, and a lot of them acted like they had never heard of the rule change until that time. Even Daniel Negreanu:
The @wsop retweet was unprofessional and having to verbalize bets at FT is silly and adds nothing. Can't imagine that rule will last a week.

— Daniel Negreanu (@RealKidPoker)
The verbalization rule has since been reduced to a "suggestion," but we could've avoided this whole mess if the players acted before the series started. The well-publicized WSOP conference call took place on May 8, giving the players plenty of time to file formal complaints with Jack Effel and the rest of the WSOP staff. And they should have because the rule made no sense. If enforced, verbalization changes the way some poker players act entirely, and it doesn't add that much to the broadcast because all of a sudden there's a third or fourth announcer in the booth.
If you've ever watched a broadcasted sporting event, then you know that there's usually one play-by-play announcer and one color commentator. Poker is no different, so on the WSOP live stream, David Tuchman will guide the viewers through the action and ask his broadcast partner to break down the action. There's already a tournament director on hand to announce the action for spectators, so if you force the players to verbalize their actions, you're going to get information repeated twice, once by the TD, and once by Tuchman. That's not great television. Thankfully, this rule has been tossed out, and, hopefully, the drama that came with it will begin to die down.
The All American Dave issue is different because it has nothing to do with the Effel or any other decision- maker for the WSOP — it's the vendors at the Rio who are unhappy, and rightfully so. They're trying to maximize profits while someone who may not have a license, and probably doesn't have to pass a health inspection, is running around the halls delivering meals to their potential customers. The customers aren't at fault — they're just looking for a more healthy option at a more reasonable price.
Tune in next week for more drama from the floors of the Rio, where maybe someone will find Sasquatch offensive because they themselves have too much body hair.
2. The longest heads-up match in WSOP history
In 2006, David "Chip" Reese and Andy Bloch played heads up in the $50,000 H.O.R.S.E. Championship for seven and a half hours. Eventually, Bloch moved all-in with


and was called by Reese who had


. The board ran out





, and Reese was crowned champion at 9:15 a.m. — 19 hours after the session began.
On Sunday, that record was broken by nearly two hours when Aubin Cazals — the eventual winner of Event 6: $5,000 No-Limit Hold'em Mixed Max — battled Warwick Mirzikinian in the semi-finals for well over nine hours. Play began at 1 p.m. local time, and each player was 300 big blinds deep. Additionally, Mirzikinian spent most of the match limping blind on the button, so there were only a handful of three-bets and even fewer four-bets. The other semi-finals match between Hugo Lemaire and Joseph Cheong ended after only three hours, and Cheong decided to hop into Event 9: $1,500 No-Limit Hold'em Re-Entry.
As play was closing in on the ninth hour, the match was even. Cazals had 1.53 million chips (63 big blinds), and Mirzikinian had 1.488 million (62 big blinds). Cazals made top pair at the end of the level, however, taking a third of Mirzikinian's stack, and in one of the first hands at the new blind level, Mirzikinian called a four-bet shove from Cazals with


. Cazals'


held, and with that was off to play Cheong — we just didn't know when.
We almost saw two records fall in a 24-hour span, too, because Cheong and Cazals agreed to continue the match at 9 a.m. the next day, a start time that would have been the earliest final table in WSOP history. Cheong busted from Event #9, however, and they pushed the match back to noon, at which time Cazals was victorious. All in all, the players loved the mixed max event — some were even calling for a $1,500 version to be added to the schedule next year. The tournament staff just needs to make sure the structure is tweaked a bit. Players love deep-stack play, but 300 big-blind stacks is a little crazy.
3. Bloch's bracelet
Scratch the aforementioned Bloch off of your "best players to never win a bracelet list" because he got the job done in Event 7: $1,500 Seven Card Stud. Bloch entered the final table second in chips and was in the top half of the counts the entire day. His stack didn't really increase or decrease until play reached three-handed when it ballooned from 515,000 to more than 900,000. Eventually, Bloch busted both Stephen Su and Barry Greenstein, earning $126,363 and the overdue title of WSOP bracelet winner.
"No longer are people going to say he's one of the best players not to win a bracelet, so I'm just going fade off into the distance," he joked with PokerNews hostess Lynn Gilmartin after the match ended. "There were several times in the tournament where I was crippled, and I thought I might be busted…and that's what stud is. It's not just about making a few big hands, it's making a lot of little hands, and having them hold up."
Bloch has finished runner-up twice at the WSOP, once to Reese when he earned over $1 million, and two years later as runner-up to Nenad Medic in the $10,000 Pot-Limit Hold'em World Championship, earning $488,048. So, this win in Event #7 earned him less than 10 percent of the money he's earned finishing in second place in those events, but I'm sure it feels much sweeter.
4. Ivey's 0-fer, and Dwan's MIA
The return of Phil Ivey has been anticlimactic. Through seven events played, he has as many cashes as Howard Lederer, Ray Bitar, and Chris Ferguson combined.
In fact, the only entertaining thing Ivey has done during the first week of the WSOP, is sprint around the halls alongside Jason Mercier. With no Full Tilt Poker, Ivey has no media obligations and has no interest in talking to anybody about anything unless it has something to do with a prop or sports bet. And, if you are making a wager with Ivey, it's probably going to be for a substantial amount of money, so that whittles the number of people who've talked to Ivey to a dozen or so.
At least Ivey is in Las Vegas — Tom "durrrr" Dwan is missing in action. He's been confirmed in the Big One for One Drop, so he's going to grace everyone with his presence at some point, but for now it appears as though the cash games in Macau are just too juicy. Maybe Dwan fell off of the face of the Earth — he last tweeted on May 18. Or, perhaps Dwan has been hired as an ambassador to make sure Richard Yong and Paul Phua actually make the trip to Vegas to play in the Big One. The two are currently on the confirmed participants list, as well, but I'm quite certain that if they skipped the flight, it wouldn't be the first time they lit $50,000 on fire.
What is certain is that one of the game's biggest stars is absent, and the other is batting .000 through 11 events. That's not very good. It's still early, and we anticipate Dwan showing his face at some point, but right now the 2012 WSOP is looking like a huge bust for two of the most popular players in the world.
5. Matusow's Frustration
Kristy Arnett caught up with Mike Matusow to talk about FTP, and his life since Black Friday.
Follow PokerNews on Twitter for up-to-the-minute news.