Could The International Stadiums Poker Tour Actually Be Going Ahead?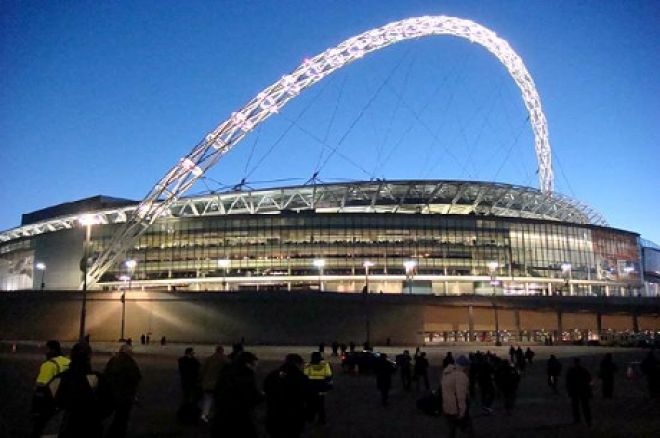 News has been circulating that the International Stadiums Poker Tour (ISPT) could actually become a reality with Wembley Stadium being the chosen venue for the inaugural event.
Details of the ISPT Wembley leg came to light earlier in the year but (at the time) after a number of phone calls to Wembley Stadium this writer found there were no plans at all to host such an event (according to the Wembley staff the ISPT had not booked the stadium). However, the ISPT have now updated their website (and have contacted UK & Ireland PokerNews to confirm) to show Wembley Stadium has been booked between May 31-June 6, 2013 and the tournament boasting a €20,000,000 prize pool could actually be going ahead.
There was a press conference on www.livepoker.fr that added some meat to the bones of this ground-breaking concept. During the press conference it was revealed that the tournament will take place in two stages; online and live. The first two days will be played online, though the players will be seated in the stands of Wembley, then once the estimated 30,000 have been whittled down to the final 3,000 the tournament will switch to live poker on the pitch of Wembley Stadium.
The buy-in for this tournament will be €600 and there will be €600 rebuys available throughout Day 1 along with a double add-on for €600. Players can also buy into Day 2 directly and receive the average stack but this option will cost you €6,000. For their money players will receive 5,000 chips and play to blinds that increase every 20-minutes but will start as low as 10/20 and will go up in very slight increments (15/30, 20/40, 30/60 and so on). Once the tournament switches to a live format the blind levels will be two hours long and 2,400 players will make it into the money. The €20,000,000 prize pool that has been banded around is thought to be guaranteed.
If this tournament goes ahead it will be an amazing spectacle but something just does not feel right. Despite throwing multiple millions of dollars at this project the website is still not full functioning, they initially showed 6,119 players already registered for the event on the ticker but later changed this to 2,119 amongst other things. We will continue to watch out for any developments in the coming weeks and months.
Follow UK & Ireland PokerNews on Twitter and like us on Facebook to stay up-to-date with all of the latest poker news.
You could be jetting off to the World Series of Poker if you managed to bag yourself one of scores of packages on offer from our leading partners. Check out this article highlighting some of the amazing WSOP promotions currently running.