Best Of British Isles: Luke "LFMagic" Fields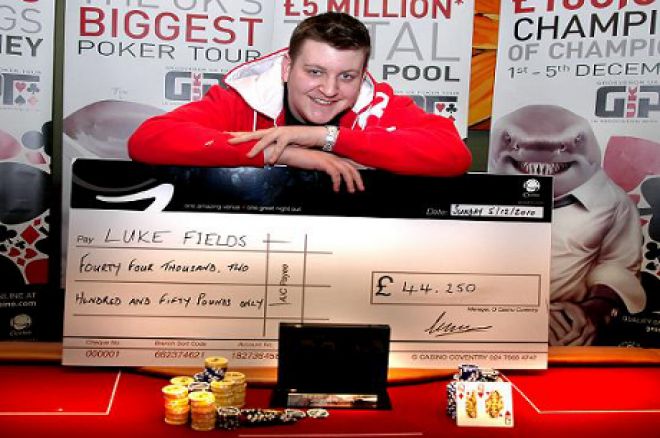 The United Kingdom and Ireland has some of the best poker players on the planet and also some of the most under-rated too. Over the next few weeks and months, UK & Ireland PokerNews are reaching out to poker players from the UK & Ireland and seeing what makes them tick. This latest instalment feature an online multi-table tournament grinder.
Hi and thanks for taking the time out to talk to us here at UK & Ireland PokerNews. Let's get things started with who you are, how old you are and what they call you online!
I'm Luke Fields, 22 years old and from Grimsby, England. I'm best known as LFmagic online.
The one question we have to ask everyone is how did you get into poker?
From the age of 13 I wanted to be a professional card magician and would spend pretty much every waking second manipulating and messing around with a deck of cards; so the fascination with cards/gambling/trickery is pretty deep rooted within me. Having always played cards with my family I also started dealing poker alongside casino games and doing card magic for a local events company as a teenager which is when I started wanting to do something involving cards or magic for the foreseeable future.
At about the same time my Grandfather took out a copy of 'How to play poker and win: The "Late night poker" guide' from the library for me which broke down the basics of poker and was written by the team behind the tv show. It is around this time I first remember playing the occasional freeroll on UltimateBet although it would be another year or so before I really started playing regularly.
You definitely play regularly now! What made you turn professional and how long hs poker been your main source of income?
Having attended a Grammar school it seemed like a natural progression to go onto university and get a degree. I basically had a blast during freshers year - like everyone else - and then when the workload got heavier and things got a little more serious in the second year I decided that it was time to make a decision one way or another despite having no bankroll, just an EPT San Remo package! This was back in March 2010 so just over 2 years ago.
What does your typical schedule look like? Are you one of the man mass-multitablers?
I play a lot less tables than most regs; mainly because I only used a Macbook Pro as my 'setup' for the best part of 2 years, so my standard weekday schedule usually comprises of somewhere in the region of 15-20 HSMTTs. I don't use any additional software at all anymore and instead make an insane amount of notes so playing a smaller number of tables and being more acutely aware of what is going on is definitely my preferred method of grinding. On Sundays I'll include a few more tables but never really find myself more than 10-tabling at any point in the session.
Of all the online poker sites available to you, which is your favourite to play on and why?
Hmm, although Full Tilt Poker has been kinder to me during my HS HU PLO adventures I'd still have to say PokerStars. Their software is by far the best and they offer the biggest guarantees and have the best brand.
Do you have any tournaments that are personal favourites? Are there any MTT you do not like to miss out on playing?
Basically anything HU, 4max or 6max is exciting but If I had to pick a couple of daily's I'd say the High Roller on Pokerstars.fr and the Big $162 though. Best not forget the $102 HU Hyperturbo as well!
You have had plenty of big scores in your career so far including an FTOPS #44 win for $200k and third in Sunday Million for $111k. How sick is it that you can win $111k and be disappointed? When you come so near to that huge win but fall just short how did you feel? I guess the $111k beans help get over the pain!
The Sunday Million bink on Xmas day was a fun one as I was basically all-in for my bankroll for the session and instead of selling 70% of my action, like I had done the previous few weeks, just decided to invest the HU SNG winnings from the previous days into a mini-schedule. I genuinely didn't feel disappointed in the slightest as I was just glad to have room to manoeuvre again, to be able to take shots at HU PLO or play a full Sunday schedule on my own. I turned down a deal when we were 4 or 5 handed which would have given me somewhere close to $150k if I recall correctly but genuinely didn't feel any regret or what not after busting, I just wanted to get some sleep and wake up with a little more financial freedom the next day!
Variance in tournament poker can be a complete bitch at times, how do you personally deal with it? Do you spend time away from poker after a bad session?
It's been quite an eye-opening past month or so for me and have realised that I basically haven't taken a single break away from poker for any time over 2/3 days for the best part of six years. I've been playing less than usual these past few weeks and have been focusing on getting healthier and have adopted a gluten-free diet. I've also started recording full sessions and watching videos back which has definitely helped. I feel that I've been pretty lucky with poker in that I seem to have developed a profitable game through basically experience only. I'm enjoying doing much more work away from the table as of late and know that the better I feel physically and mentally the better my game will become. I really feel that I'm maturing in myself and as a poker player right now so I'm happy to just keep playing and let my results speak for themselves. I intend on taking more regular breaks completely away from poker as well from now on.
You won the GUKPT Tournament of Champions in 2010 and had a few results in 2011 but why the lack of live scores in 2012? Have you played much live this year or mainly focussed on online games?
I haven't really played any live poker at all this year outside of a couple of UKIPTs although I love playing live poker more than online. Most of the things I want to do in poker are based around live tournaments or cash games but I only like to play when I'm feeling really on top of my game. I had a number of huge stacks turn sour in WSOP/WPT/EPT events last year which might have subconsciously curbed my desire to play live tournaments a little I guess. As it stands I feel that I have a better understanding of live tournaments than I do online so I won't be away for too long.
In your blog you say you are considering going to Vegas. Have you decided if you are going or not and are you enjoying the pro-less MTTs right now online!
I'm certainly enjoying online MTTs right now with the WSOP being on yer! The games really are so much softer, its been incredible playing over the past few weeks. I will be heading out to Vegas for the Main Event in a couple of week's time for sure, and may even go a little earlier if the next few sessions go well and warm-up with some of the $1/$1.5k's or Venetian events. Either way, I've realised that there will always be another big live event right around the corner come what may as last year I rushed into Vegas and ended up losing heavily in Bobby's room when I should have just made better plans and waited before taking shots
----------
So there you have it. One of the UK's best online poker players. Despite playing a much lower number of games than many of his peers, Fields has managed to rack up close to $1,000,000 in winnings in PokerStars MTTs alone. If you want to see what he has been getting up to then be sure to search for LFMagic on PokerStars and head over to his blog where is is very open about how he is feeling and how things have been going on.
Follow PokerNews on Twitter for up-to-the-minute news.