Tournament Reporting: An Introduction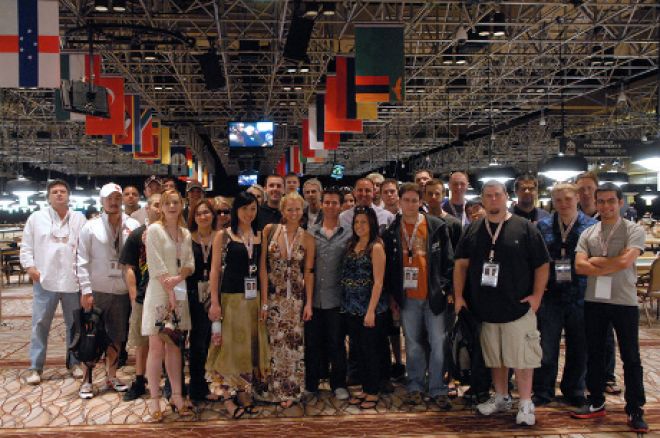 The World Series of Poker is just around the corner and many of the readers of these pages will be eagerly anticipating the feeds filtering through the PokerNews Live Reporting pages for each of the bracelet events taking place. There will be some of you who are envious of those reporters and bloggers in the field bringing you all the action from The Rio and there will be those of you who are heading to Sin City for the first time as a blogger. Whichever describes you the best here are some hints and tips on live poker tournament reporting.
Don't Just Expect To Be Able To Do It!
Some of my friends and acquaintances regularly tell me that reporting on tournaments is easy and that anyone with a pen and a notepad can do it. Whilst to some degree they are correct they will not be able to do it with any degree of satisfaction to the end reader.
You have to know about poker and be able to recognise action. If you play poker then you will know that a raise from under the gun followed by a three-bet from middle position is probably going to generate some action and therefore a worthy blog entry.
Befriend The Media Coordinators!
The media coordinators are usually found being bombarded with questions from all and sundry and for good reason too. These people know everything about what is going on. They are the oracles of the poker world. If a big-name player is due to play they will know what day they are playing and in which seat they are in. You generally find that they are a really good laugh too.
Befriend Everyone!
Without getting all hippy on you all you should try to make as many friends as possible within the media. Not only does it make your tournament progress better because of the more pleasant environment but your new friends will feel compelled to let you know about players from your country of origin. Let a Swedish blogger know Viktor "Isildur1" Blom has just doubled up and you will be supplied with Jake Cody updates from them for life. You scratch their back and they'll scratch yours.
Just Because You Know Players Don't Expect Them To Know You
Just because you have seen Player X on the television a hundred and one times does not automatically mean they are your new best friend. Most, if not all of the players, will be happy to talk to you (especially about hands they have just played in) if you introduce yourself to them. Within time you may become friends with some of them but don't expect to be best buddies with every one of them you meet.
NEVER Look At The Hole Cards
This is probably the number one golden rule of tournament reporting. NEVER look at the hole cards even if the player is literally rubbing them on your eyeballs. Most bloggers and I purposely look away if we even see the smallest hint of white playing card. If you see a players card, which sometimes does happen, then just stand in the same spot and try not to give anything away. If they have a monster hand don't start scribbling down notes to report on and on the flipside don't walk away when they have rags because you can influence the action.
You will be surprised at how much respect you gain from players by looking away whenever players are checking their holecards.
Respect The Players
These men and women are playing for vast sums of money so respect their space during and after hands. Don't be bobbing around in front of them trying to count their chips or see their bet size; try to blend into the background so they can concentrate on the action not the blogger doing a rendition of Swan Lake.
Use your common sense if you missed a big hand but want to report on it. Some players will instantly talk about it to you but if someone has just lost 905 of their stack on the World Series of Poker Main Event final table bubble they are less likely to be willing to chat about how the hand went down. The winner of those chips however....
Stick Around After Hands
Get into the habit of hanging around the table after the hand has finished because you often pick up some superb comments from the players. Count the chips of each of the active players in the hand once it has been completed and during that time keep your ears open for discussions taking place – you never know when they will give you a headline to write or something to come back to later on in the tournament.
Learn How To Count Chips
Unless you are very friendly with a certain player then I would say never ask a player for their chip counts simply because it is part of your job and the players have better things to be doing with their time. At first it seems daunting to say the least – I wrote down all the chip denominations on the top of each page of my notepad for the first two events I covered – but it gets easier. If a player sees you trying to count their chips they will often either tell you a figure, move their hands so you can see their stack or even start to count their stack out so you can follow along.
Trust me when I say within one or two tournaments you will be looking at players' stacks for mere seconds before knowing they have 379,500 chips in front of them.
Do Some Research
There is so much information available to everyone nowadays that there is no excuse at all for not knowing who players are. Whilst you won't be able to recognise everyone you come across you should know the so-called "Big Names," those who frequent the top spots of the Global Poker Index and anyone relevant to the tournament you are covering, i.e. former champions, sponsored pros etc
Enjoy Yourself
Above all enjoy yourself. You will meet some amazing people, you will be around poker fans and be able to watch close-up some of the best poker players in the world do battle in front of you!
Follow UK & Ireland PokerNews on Twitter and like us on Facebook to stay up-to-date with all of the latest poker news.
Time is running out to grab one of 100 seats to the Low SCOOP Main Event and one of 10 Medium SCOOP Main Event seats. Get involved today!