Simon Trumper Makes Some Changes To The DTD Chipleader Live Final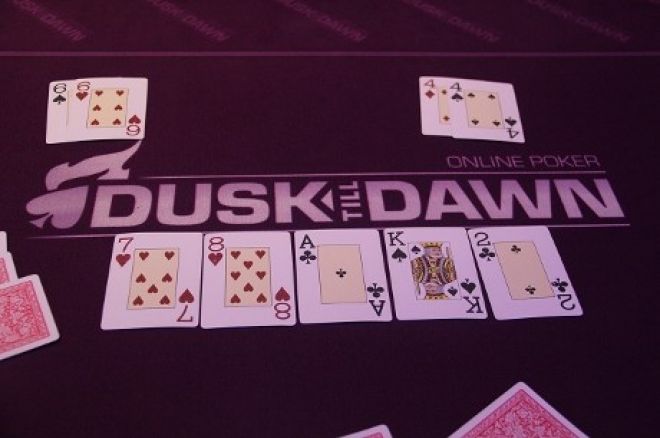 For the past few weeks the Dusk Till Dawn Poker Club have been running a unique satellite programme on their online poker site called CHIPLEADER. The gist of the CHIPLEADER format is that you can accumulate their own starting stack for the live final by winning multiple online CHIPLEADER satellites — the more you win the larger your starting stack will be.
Once you have accumulated 15,000 chips you will appear on the CHIPLEADER LEADERBOARD with your accumulated chip balance and the top 333 players will be invited to a live final in the Nottingham-based Dusk Till Dawn club that has a guaranteed prize pool of €100,000! Although the Live Poker Director of DTD is currently in New York for his daughter's birthday he has managed to release a statement highlighting a few changes to the live final. The statement is shown in its entirety below:
Based on the current players qualified for the Chip Leader I have decided to make some alterations to the live final.

There are 107 players qualified after 49 days with only 32 days remaining even with a potential uplift closer to the event we are unlikely to get anywhere near the 405 cap that I put on each of the 2 day 1's. We are projected to have an overlay circa €40,000 and I am not willing to add to this cost by opening Friday.

I have therefore decided there will be just one day 1 on Saturday 16th June and the cap will now be 333 players with 36 getting paid. This makes winning/cashing in this event a lot more achievable than when the cap was 810 and increases the value of each finalist.

With the €100,000 guarantee the value of each player who makes the final, assuming we hit the 333 cap, will be €300 and their minimum return should they cash will be €450 with the winner receiving approx €30,000!

It costs just €5 to play either a 40 runner max MTT where you could win 40,000 chips, or there is the option to play a 5, 10 or 20 seat STT. Once you have 15,000 chips you are in, once we reach the 333 cap only these players will be able to play to become the Chip Leader.

Even if you had 30 attempts to accrue chips for the final you will have effectively got in for half price.

Average stack with 107 qualified is 51,000 but with only 333 players I am now able to give you a 40 minute clock and the WSOP Main Event structure. The BB will start at 300 in relation to the average stack e.g. if average stack is 60,000 blinds will start at 100 200 so even though two players have 200,000+ stacks and 12 have 100,000+ these would represent only 4% of the field and even a minimum stack of 15,000 would have 75 BB.

I am going to start playing this week and set myself a minimum goal of 30,000 chips which is just 3 x 10 seat STT's or 6 x 5 seat STT's, I will also play a few MTT's and see how little I can qualify for.

I hope now you can all see the huge value this event represents, more of you will start playing and those that have qualified will be willing to fire a few extra bullets. This is a concept tournament so I apologise for having to make some changes but our goal long term is to run a Chip Leader with a €1,000,000 prize pool so first we need to perfect the format.
The promotion looks superb and whoever makes it through to the live final will surely be treated to a fantastic poker experience as the Dusk Till Dawn club run a tight ship there and we have always thoroughly enjoyed our time at their tables.
Get all the latest PokerNews updates on your social media outlets. Follow us on Twitter and like us on Facebook now!
Take part in freerolls with combined prize pools of $30,000 in the Winner Wednesday Dozen promotion!