PokerStars UKIPT Dublin Main Event: Richard Evans Is Crowned Champion!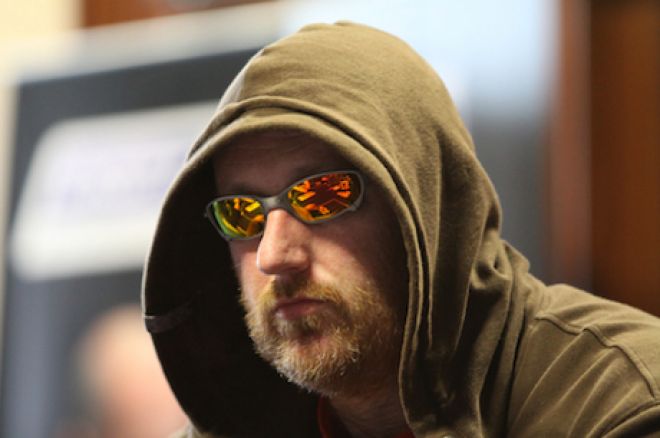 The PokerStars UKIPT Dublin Main Event has been completed and it is Richard Evans of North Wales that has been crowned champion and will no doubt be budded the Welsh Wizard for months to come. Evans claimed the lion's share of the prize pool, taking home €75,500 after a deal was struck three-handed.
UKIPT Dublin Final Table Seat Draw
| Seat | Name | Chips |
| --- | --- | --- |
| Seat 1 | Padraig 'Neill | 1,347,000 |
| Seat 2 | Keith Swain | 282,000 |
| Seat 3 | Lee Atherton | 846,000 |
| Seat 4 | Graeme Crozier | 1,949,000 |
| Seat 5 | Stephen McGrath | 992,000 |
| Seat 6 | Seamus Birt | 1,805,000 |
| Seat 7 | Vincent Buis | 253,000 |
| Seat 8 | Richard Evans | 1,090,000 |
It took just 30 minutes for the first player to be busted out from the tournament, that dubious honour going to Lee Atherton after a real cooler of a hand. Padraig O'Neill opened with a raise to 40,000 from middle position and found two callers in the shape of Atherton (cutoff) and Seamus Birt (big blind). The trio shared a flop that read



and it was checked to O'Neill who made a continuation bet of 63,000. Birt got out of the way but Atherton raised to 140,000. O'Neill moved all-in and Atherton snap-called before flipping over


for middle set but he was in serious trouble because O'Neill was sat their with pocket jacks for a higher set. There was no miracle one-outer for Atherton and he became the first casualty of the day.
Just 15 minutes later and he was joined on the rail by Keith Swain who just could not get going on the final table. He saw Vincent Buis open to 62,000 and decided that the best play for his pocket threes was to move all-in for 140,000. unfortunately for him Buis made the call with a pair of fives, which held, and Swain became the seventh place finisher.
That was the last of the eliminations for three hours — including breaks — but six did eventually become five when Graeme Crozier lost his stack to Stephen McGrath. With blinds at 20,000/40,000/4,000a Crozier opened to 90,000 with


and McGrath elected to smooth-call with a dominating


. The flop came down



and you already know what is going to happen! Crozier lead out for 140,000, McGrath raised to 290,000 then called his opponent's 700,000 shove. The turn and river were the

and

respectively and Crozier's demise was complete.
Another 90 minutes passed before another player busted out, O'Neill being that player. It was a battle of the blinds with Evans that finished him off. Evans open-limped his small blind and O'Neill checked his option in the big blind. The dealer put out the



flop, a flop that Evans bet 80,000 on, O'Neill raised to 210,000 and Evans called. The turn brought the

into play and Evans now checked but when O'Neill bet 460,000 Evans sprung into life and check-raised all-in. O'Neill made the call and showed


for a flush draw whilst Evans turned over


for top pair. The

on the river missed O'Neill and the table was down to just four players.
Four became three an hour later when Buis lost a crucial coinflip against McGrath. The blinds were now 30,000/60,000/5,000a and McGrath made a larger than usual raise to 250,000 from under the gun only to see Buis three-bet all-in for 965,000 in total. McGrath instantly called and tabled


and found himself up against


. The board ran out





and with that Buis' tournament had come to an end.
The three remaining players struck a deal amongst themselves that locked up €60,000 for each of them and left €15,500 for the eventual winner. The first of the men to pick up their prize money was Birt who opened to 215,000 then called when Evans moved all-in. McGrath claimed to have inexplicably folded ace-king which if true means he would have won a monster pot because Birt turned over


and Evans


. By the river the board read





and heads-up was set.
Going into the finale Evans held a 5,000,000 to 3,580,000 chip advantage and it took just 30 minutes for him to press this advantage home. The final hand saw McGrath limp in and Evans tap the table and check. A flop reading



saw Evans check-call a 300,000 bet from McGrath; leading the pair to the

turn. Evans check-called again, this time an all-in bet of 1,350,000. Evans showed


and found himself up against


. The river was the

and with that McGrath became the UKIPT Dublin runner-up and Evans announced as champion.
UKIPT Dublin Final table Results
| Position | Name | Prize |
| --- | --- | --- |
| 1st | Richard Evans | €75,500* |
| 2nd | Stephen McGrath | €60,000* |
| 3rd | Seamus Birt | €60,000* |
| 4th | Vincent Buis | €26,800 |
| 5th | Padraig O'Neill | €20,700 |
| 6th | Graeme Crozier | €16,400 |
| 7th | Keith Swain | €12,600 |
| 8th | Lee Atherton | €9,600 |
* Deal struck three-handed
Want all the latest UK & Ireland PokerNews straight to your favourite social media accounts? Then follow us on Twitter and like us on Facebook!
The UKIPT now has a small break before heading to Newcastle on September 6 and you can qualify for it only on PokerStars. Download PokerStars through PokerNews enter the marketing code UKPOKERNEWS and the bonus code STARS600 and help yourself to a 100% match up to $600 first deposit bonus.