Brits Flying High In First Two SCOOP Events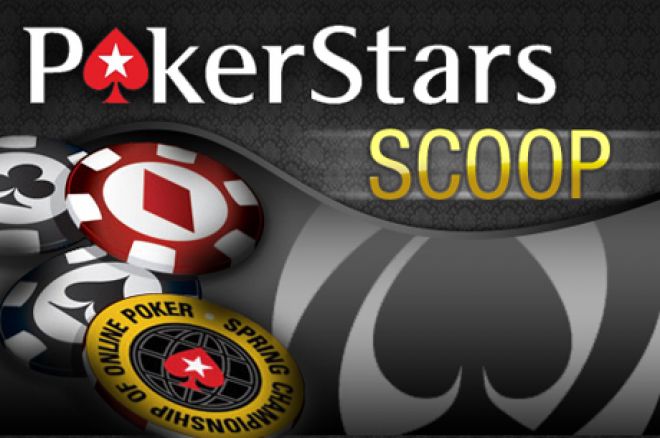 The 2012 Spring Championships of Online Poker (SCOOP) kicked off on PokerStars yesterday with the first two of 40 events. As is usually the case with the SCOOP events, there are three different levels of buy-in; Low, Medium and High. Both of the first two events were two-day events and UK & Ireland PokerNews are delighted to see a number of British players through to the second day of play and in with the chance of a big score.
SCOOP Event #1: No Limi tHold'em Six-Max
The inaugural tournament of this year's SCOOP is the No Limit Hold'em Six-max event that has buy-ins of $27, $215 and $2,100 for the Low, Medium and High respectively and e have players through in all three categories.
The Low boasted a guarantee of $400,000 but that was smashed as 25,520 players entered and created a prize pool of $638,000. This writer can remember the days when there were only 25,000 player on the entire PokerStars site never mind in a single tournament! Anyway, enough nostalgia for now.
These 25,520 were whittled down to just 42 players over the course of 41 levels and they are all guaranteed to walk away with $1,142.02 for their efforts but someone will pick up the $74,008.00 first place prize. Hopefully that will be thehempy, our sole UK & Ireland survivor, who will restart in 16th place.
The $215 buy-in Medium event more than doubled its $500,000 guarantee when 5,423 players entered and created a prize pool of $1,084,600.00. This huge field was reduced to 49 players and not only do we have a handful of our players amongst the finalists we have the overall chip leader! Heminsley is on course to pick up the $165,403.72 first place prize and he will be joined by currie7 (starts in fifth place), jonwayne69 (13th), dx2celt (35th) and NININI12345 (45th). Also still in the field is Team PokerStars Pro Online Mickey "mement_mori" Petersen who despite being Danish live in the UK so we will claim him as our own!
Last but certainly not least in regards to the first event is the $2,100 High tournament that attracted 784 players, more than doubling the guarantee. Forty-one of the starters will return to their virtual seats at 16:00 UK time and play out the the remainder of the $1,568,000 prize pool.
Fiskin1 is our best placed UK & Ireland player in fourth place and he will be joined flying the Union Jack by the likes of _JMCD_89 (15th), raidalot (16th) and JIZOINT (29th). Each of our heroes has now locked up no less than $6,742.40 but each will have at least one eye on the $282,240.00 first place prize.
SCOOP Event #2: No Limit Hold'em
Event #2 was another two-day event but this one played to full ring No Limit Hold'em. Like Event #1 this event had buy-ins of $27,$215 and $2,100 with guaranteed prize pools of $400,000, $1,000,000 and $1,000,000 respectively.
The Low event attracted 28,876, myself amongst them, and these hopefuls were reduced to just 70 by the time the tournament was paused; sadly without me amongst them!
You have to scroll down to 35th place to find the first of our players, Mafews, but he will be kept company by Ireland's reservoirak (39th), I_FLoaTUrBet (50th), Oi Frango (62nd) and only1westie (70th). Each of those players still has a chance of walking away with the $66,792.27 first place prize.
The Medium edition of Event #2's second day will start with 89 of the 8,240 players who began the tournament last night. Our highest placed player, if we discount the fact Lonndon-based Team Pro Viktor "Isildur1" Blom is actually Swedish is luckysir in 25th. He'll find the likes of doghowhow (49th), dean6745 (56th), Andrew "vikkyG85" Teng (69th), VeGeTTo89 (80th) and slim99slim (81st) as UK & Ireland players in with a shout of the $247,200.00 winner's prize.
The $2,100 High Event saw a 966 field create a $1,932,000 prize pool and a first place prize of almost $350,000! A whole host of our boys and girls are still amongst the final 50 players including scareface2911 (third), SamSquid (11th), pvas2 (23rd), Cejakas14 (26th), Toby "810ofclubs" Lewis (27th), VeGeTTo89 (28th), RLOG (43rd), and prrrak4783 (46th)
The very best of luck to all of the UK & Ireland players still in the game. Fingers crossed we have a whole host of brag posting to do by tomorrow morning!
Get all the latest PokerNews updates on your social media outlets. Follow us on Twitter and like us on Facebook today!
Time is running out to grab one of 100 seats to the Low SCOOP Main Event and one of 10 Medium SCOOP Main Event seats. Get involved today!