UKIPT Nottingham Day 2: Iqbal Ahmed Runaway Chip Leader, Chris Brammer In Top 10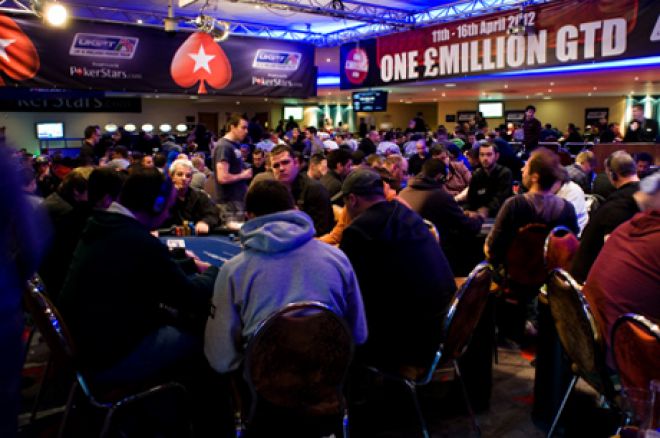 If matters weren't already then they are getting serious at the PokerStars UKIPT Nottingham Main Event where the gargantuan starting field of 1,625 has been whittled down to just 72 players. The man who 71 players are trying to catch up to is Iqbal Ahmed who will be spending longer than most unbagging and re-stacking his chips when the penultimate day's play kicks off this afternoon because he finished Day 2 with 1,580,000 of them.
Ahmed went on a real tear at the start of the day and was responsible for no fewer than five eliminations though it could have been more because he simply could not remember! His stack was that large at one point that it would not actually fit in front of him fully and the staff had to create some room for him. Yes, seriously!
The Brit has a number of small cashes to his name between 2006-2009 but last May he finished second in the €910 buy-in Main Event of the Estrellas Poker Tour in Alicante for €48,200. If he wants to surpass that totla then he will need to finish sixth or above here in Nottingham and with this monster stack you certainly would not bet aganit that happening.
The only other player to make it past the magical one million chip barrier was Grant Pirie. Pirie bagged up 1,019,500 chips at the end of the day and is now on course to go very deep in this event and crush his biggest live score, which currently stands at £2,130.
Other notables who have made it through to Day 3 include Chris Brammer (616,000), Ben "Fenix35" Dobson (212,500) and Kevin Iacofano (183,500).
Play resumes at 1200 UK time and will continue until just eight player, those who will make up the final table, remain. Play will then be paused for one last time and the players will then retake their seats on Monday and play out for the title of UKIPT Nottingham Champion.
UKIPT Nottingham Top 10 Chip Counts
| Position | Name | Chips |
| --- | --- | --- |
| 1 | Iqbal Ahmed | 1,580,000 |
| 2 | Grant Pirie | 1,019,500 |
| 3 | Liam Batey | 896,500 |
| 4 | Nathan Kiely | 869,000 |
| 5 | Devron Hasselnook | 782,000 |
| 6 | Jack McDermott | 766,000 |
| 7 | Keith Ridley | 638,500 |
| 8 | David Hudson | 635,000 |
| 9 | Chris Brammer | 616,000 |
| 10 | Jamie Dale | 604,000 |
Stay up to date on all the latest news by following us on Twitter and liking us on Facebook.
Sign up for a PokerStars account now and remember that by entering the marketing code UKPOKERNEWS and the bonus code STARS600 you will be able to claim a 100% match up to $600 first deposit bonus, be able to qualify for the $67,500 PokerStars PokerNews Freeroll Series, and be eligible for any future promotions we have on PokerStars.