The Winners and Losers of the PartyPoker Big Game VI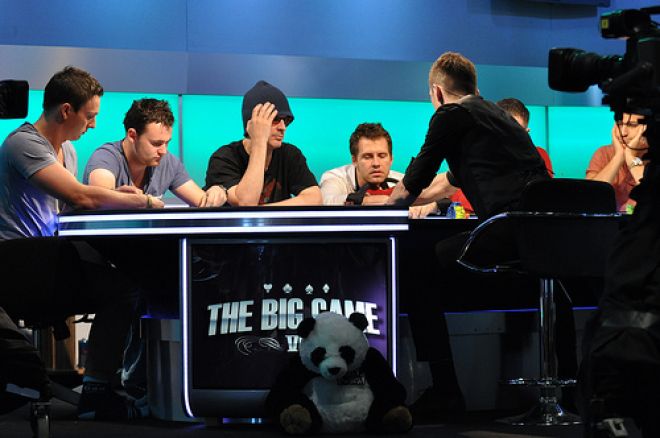 From April 11 through 13, the Montesino Casino in Vienna hosted the PartyPoker Big Game VI, a 48-hour cash game that was streamed live on PokerNews. The event gave a laundry list of pros, amateurs and locals their shots in the game, and Phil "Unabomber" Laak emerged as the biggest winner with over €160,000 in profit; not only that, he was the only player to play the entire 48 hours.
The cash game kicked off at 18:01 CET and featured a minimum buy-in of €5,000 and max of €20,000. The blinds were €25/€50 with an optional €100 straddle, and the following lineup kicked off the action: Laak, Eugene Katchalov, Bertrand "ElkY" Grospellier, Daniel "Jungleman" Cates, Sam Trickett, Alec Torelli, Ignat "0human0" Liviu and Iliodorous Kamatakis.
Within the first 40 minutes, Trickett, who had been playing almost every hand, became the first player to rebuy after losing his initial €20,000, most of which could be found in Laak's stack; in fact, after the first hour, the Unabomber was up €19,450.
The first notable pot came an hour and a half into the final table when Torelli held


and the flop fell



. His opponent, Liviu, led out holding


and Torelli just called, bringing about a

on the turn. Again Liviu, who had improved to a straight, led out and Torelli flatted, leading to the

river. With a straight on the board, Torelli moved all in and Liviu, no doubt expecting a chop, made the call. Torelli raked in the €30,700 pot.
One of the best twists of the PartyPoker Big Game is that the participants and viewers are given the opportunity to vote off players. The first elimination period came five hours in and was a player vote, meaning everyone at the table cast a vote for the player they'd like to see leave. It was close between Cates and Kamatakis, but ultimately the latter was dispatched, opening the door for the boisterous Tony G to enter the game with €20,000. It was also at this time that Grospellier and Katchalov opted to leave the game, giving Marc Gork, Roberto Romanello and Damir G the chance to take a seat.
At 2:58 a.m. CET, the largest pot up until that point developed when Cates raised to €800 after a double straddle and everyone made the call. When the flop came down



, Torelli led out for €3,100 holding


and Tony G moved all in with


. Torelli made the call after action folded back to him, and they decided to run it three times. The first brought the

and

, giving the pot to Torelli, and the


on the second run gave Tony G a win. It was at that point they were informed the rules stated they could only run it twice, so the €51,325 pot was chopped.
Damir G busted a short time later, leaving a €17,000 loser, and then 15 minutes after that, a huge hand took place. It happened when Torelli held


and was looked up by Laak, who was holding


. The



flop was gin for Laak, giving him the nuts. Laak check-raised, building the pot quickly. The

turn saw even more money go into the pot, before Laak moved all in for €36,000 on the

river. Torelli thought for about three minutes before making the call, only to lose the €100,000-plus pot.
Over the next few hours, JP Kelly took a seat, Romanello became the second person voted off (this time by viewers), and Yusuf Kurt and Vladimir Geshkenbein both came and went. By the time 7 a.m. CET rolled around, Laak was up €93,375 and was far and away the big winner.
As the day wore on, local pot-limit Omaha specialist Todirita Catalina took a seat, and Torelli, was the next victim of the player vote, leaving a €3,000 winner. That opened the door for Sorel Mizzi to join the game, and Liviu decided to rejoin.
Tony G took his leave about 16 hours into the cash game but didn't leave a winner. In fact, there were only four winners up to that points: Laak (+€118,550), Romanello (+€25,575), Liviu (+€15,575) and Grospellier (+€8,925). Catalina was the next to go after he ran


into the


of Mizzi on a queen-high flop, leaving the game six handed for a while.
Eventually Cates decided to take a leave of absence after dropping approximately €60,000, and his seat was filled with World Poker Tour host and PartyPoker Pro Mike Sexton. About a half hour later, the next viewer elimination took place and Mizzi was voted off, giving way for 20-year-old French pro Basil Yaiche to join.
Sexton got involved in one of the biggest pots up until that point, but it didn't go his way. With three limpers, Sexton raised to €2,000 with


. Trickett and Kelly made the call with


and


respectively, bringing about the



flop. Both players then called a bet from Sexton, the dealer turned the

, and Kelly fired out €8,000 after both his opponents had checked. Sexton responded by moving all in for €15,000 total, Trickett got out of the way and Kelly made the call. The

river changed nothing and the €50,000 pot was sent to Kelly.
From there, Sam Chartier took a seat and Mizzi was allowed to rejoin the action. Furthermore, Yaiche gave up his seat and allowed 2010 World Series of Poker Main Event champ Jonathan Duhamel to sit down, while Liviu was voted off by a near-unanimous player vote and was replaced by Tony G, much to Mizzi's dismay.
Big Game VI Eliminations
| Elimination Period | Player | Player/Viewer Vote |
| --- | --- | --- |
| #1 | Iliodorous Kamatakis | Players |
| #2 | Roberto Romanello | Viewers |
| #3 | Alec Torelli | Players |
| #4 | Sorel Mizzi | Viewers |
| #5 | Ignat Liviu | Players |
Mizzi and Tony G tangled a little later on when four players saw a flop of



, which inspired some betting and raising. With about €14,000 in the pot, the

hit the turn. Tony G proceeded to check-raise all in and Mizzi called off.
Showdown
Mizzi had been drawing dead and opted not to rebuy after the meaningless river card was put out. That allowed Saar Wilf to enter the game, though he would last less than 10 minutes as he quickly dropped two €5,000 buy-ins.
Sexton and Trickett each decided to quit the game a short time later, the former going to work the WPT Vienna booth while the latter's departure meant Laak was the only man from the original lineup remaining. That meant there were two open seats, but not for long as Torelli returned and high-stakes U.K. player Andy Moseley took a seat.
In the next notable hand, Torelli and Duhamel each put in €2,000 preflop and went to a



flop. Duhamel put out a bet of €3,000, Torelli called, and the

hit the turn. Torelli made a flush with his


but trapped with a check-call, leading to the

river. Again Torelli checked and Duhamel put out a bet. This time Torelli check-raised all in and Duhamel, who was committed, called of his stack with the inferior


. Torelli took down the €108,000 pot while Duhamel exited the Big Game.
The WSOP champ was replaced by Big Game veteran Bodo Sbrzesny, who had emerged a winner every time he played in years past, while Scott Seiver, who had won the PartyPoker Premiere League just two days earlier, bought into the game for €10,000.
As it got later, players began to exit including Chartier (who left with just €700), and action was left five handed. That's when perhaps the most memorable hand of the PartyPoker Big Game VI developed, one that Laak may never live down. He folded the winner at the showdown in a €60,000 pot.
During the early morning period, things slowed considerably as action dropped to three handed. It was during this time that Trickett managed to erase his losses in a single hand. It happened when all three players committed €1,000 preflop and saw the flop come down



. Torelli bet it with


, Trickett called holding


, and Laak folded his


.
When the

turned, Trickett check-called a bet of €6,000 and then watched Torelli fire out a huge bet of €25,000 on the

river. Trickett made a quick call, and just like that, he was nearly even in the game.
At 8 a.m. CET, Trickett and Moseley saw a flop of



with Moseley check-raising a bet with


, which was in great shape against Trickett's


. The

turn saw Moseley slow down with a check-call of €4,200 before the

river gave both a flush. Moseley checked, Trickett bet €12,100 and Moseley check-raised to €23,300. Trickett jumped out of his seat and seemed to know he was beat, even talking out the hand, but made the call nonetheless and Moseley took the €63,300 pot.
Hours later, the table started to fill back up for the final push of the Big Game VI. Cates rejoined the action looking to recoup some of his losses, but dropped another €25,000 in just an hour. Cates ended up being involved in one of the match's most memorable hands when he folded


to Tony G's inferior


on a king-high board.
Not only that, but Cates ended up the biggest loser of the Big Game VI, dropping $83,250.
Here's a look at the final results of the PartyPoker Big Game VI:
Big Game VI Results
| Player | Profit | | Player | Loss |
| --- | --- | --- | --- | --- |
| Phil Laak | +€160,100 | | Daniel "Jungleman" Cates | -€83,250 |
| Andy Moseley | +€96,050 | | Mike Sexton | -€40,425 |
| JP Kelly | +€43,050 | | Sorel Mizzi | -€30,000 |
| Ignat "0Human0" Liviu | +€33,075 | | Todirita Catalina | -€30,000 |
| Roberto Romanello | +€25,100 | | Basil Yaiche | -€30,000 |
| Sam Trickett | +€19,925 | | Jonathan Duhamel | -€30,000 |
| Scott Seiver | +€16,200 | | Samuel Chartier | -€29,950 |
| Dominykas Karmazinas | +€12,775 | | Alec Torelli | -€28,400 |
| Bertrand "ElkY" Grospellier | +€8,925 | | Damir G | -€20,000 |
| Scott Baumstein | +€6,450 | | Daniel Neilson | -€20,000 |
| Josef Cibicek | +€6,450 | | Mark Gork | -€15,000 |
| John Kabbaj | +€4,300 | | Vladimir Geshkenbein | -€15,000 |
| | | | Saar Wilf | -€10,000 |
| | | | Yusuf Kurt | -€10,000 |
| | | | Eugene Katchalov | -€8,175 |
| | | | Tony G | -€8,000 |
| | | | Iliodoros Kamatakis | -€7,500 |
| | | | Chris Sly | -€6,000 |
| | | | Sasa Dobrijebic | -€5,000 |
| | | | Bodo Sbrzsney | -€5,000 |
Get all the latest PokerNews updates on your social media outlets. Follow us on Twitter and like us on Facebook today!
*Picture courtesy of the PartyPoker Blog.
Start building a bankroll that is sufficient enough to play in the next edition of The Big Game by helping yourself to a free $50 on PartyPoker! Just use the code UK50FREE when you download PartyPoker through PokerNews.