Robert Baguley Wins UKIPT Nottingham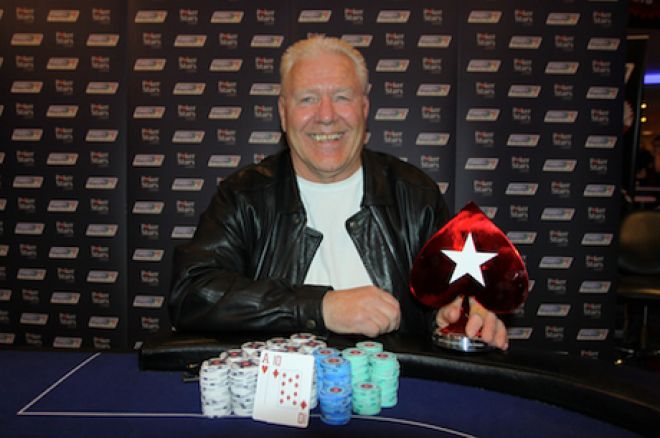 Robert Baguley is not the sort of person you would describe as a typical poker player. For a start he's 60-years old and in today's game, dominated by 18-21 year olds, he would be described as a veteran at best though references to fossils and dinosaurs may also be made! But let us jest no more because the retired landlord from Leicestershire has just shown the young guns that older players can still be a force to be reckoned with as took down the record-breaking UKIPT Nottingham Main Event, bagging the £210,400 first place prize!
According Simon Trumper of the Dusk Till Dawn, Baguley is a regular at the Nottingham-based club where he plays their £15 tournaments three nights a week. Last week he pushed the boat out and entered the last live super satellite to the £1,000,000 guarantee UKIPT Main Event and won his seat for a combined cost of £224. he has now turned that into £210,400!
The eliminations came in thick and fast and although the media and tournament staff were all preparing themselves for the long haul, matters were settled rather quickly. The first elimination came around 90 minutes into play, Ian Senior getting his stack in with


only to run straight into Grant Pirie's


The





flop kept the cowboys in front and Senior headed to the cashier's desk to pick up £22,750.
Just 20 minuntes later and he was joined by James Cummings who pushed his short stack into the middle with


and like Senior before him ran into pocket kings. This time they belongs to Nick Woodward and on this occasion the board ran out





.
Two hours later, including a break, there was a double elimination that saw Iqbal Ahmed massively add to his stack. Barry McMahon open shoved from under the gun for 1,400,000 and Hasmukh Khodiyara called on the button for slightly less chips. Ahmed asked for a count and after a brief pause inexplicably made the call with


! He found himself up against McMahon's


and Khodiyara's


and his unconventional play was rewarded with a board that read





gifting him a full house!
Just 10 minutes later and Pirie busted out in third place again at the hands of Ahmed. The latter opened to 350,000 then called when Pirie moved all in for around 3,800,000. Pirie turned over


but was in bad sahpe against the dominating


of Ahmed. The board ran out





and Grant's tournament came to an abrupt end.
Ahmed held a 16,425,000 to 7,685,000 chip advantage over Baguley but the 60-year old one the first pot of note then several larger pots to not only close the gap but actually take the lead. Baguley completely steamrollered the man he could have been a grandfather to and at around 19:20, just five hours after the final table kicked off, Baguley had done the unthinkable and taken down the UKIPT Main Event.
He opened to 450,000 then insta-called when Ahmed three-bet shoved for less than 4,000,000 chips. Baguley turned over [Ah

whilst Ahmed could only muster


. The board ran out





and with that Baguley won the UKIPT Main Event.
In his winner's interview Baguely stated that he had planned to go on holiday to Cornwall with his wife but Tenerife was now a much more likely prospect!
UKIPT Nottingham Main Event Final Table Results
| Position | Name | Prize |
| --- | --- | --- |
| 1 | Robert Baguley | £210,400 |
| 2 | Iqbal Ahmed | £125,000 |
| 3 | Grant Pirie | £96,700 |
| 4 | Barry McMahon | £79,600 |
| 5 | Hasmukh Khodiyara | £62,500 |
| 6 | Nick Woodward | £45,500 |
| 7 | James Cummings | £34,000 |
| 8 | Ian Senior | £22,750 |
Stay up to date on all the latest news by following us on Twitter and liking us on Facebook.
Sign up for a PokerStars account now and remember that by entering the marketing code UKPOKERNEWS and the bonus code STARS600 you will be able to claim a 100% match up to $600 first deposit bonus and be eligible for any future promotions we have on PokerStars.