Jannick Wrang Wins PokerStars.it European Poker Tour Campione Main Event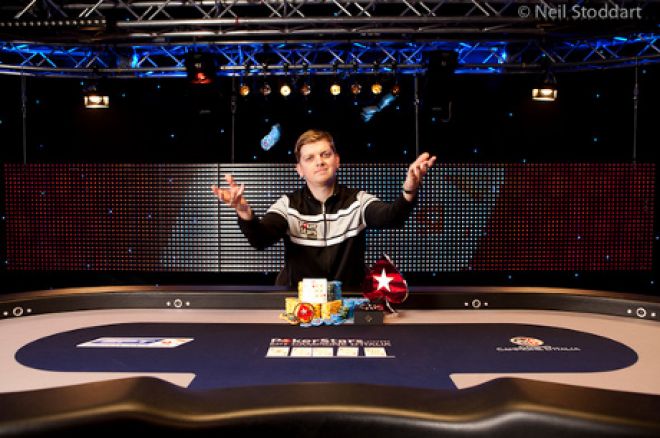 The PokerStars European Poker Tour Campione Main Event has come to a thrilling conclusion after Jannick Wrang bested a star-studded final table that lasted 13 hours to get his hands on the coveted EPT trophy, a Shamballa bracelet worth over €10,000 and of course the €640,000 first place prize.
With the players being so deep thanks in part to the superb structure of the EPT events and the fact yesterday's Day 4 came to a conclusion in record time it was no surprise that it took around 90 minutes for the first player to be eliminated. That dubious honour went to Sweden's Robin Ylitalo who saw the flamboyant Frenchman Fabrice Soulier open to 57,000 from the button and then Balazs Botond three-bet to 135,000 from the small blind. Ylitalo looked down at


and decided his best move was to move all in for his 1,100,000 stack. His shove was enough to force a fold from Soulier but Botond had been dealt queens and he made the call. The board ran out void of kings and Ylitalo become the eight place finisher, netting himself €54,000 in the process.
From that point on there was a slow and steady stream of eliminations starting with the last standing Italian player Stefano Puccilli who three-bet jammed over the top of Busquet's opening raise with


but could not out run his


.
Next to go was Mario Nagel, albeit three hours later, his


running straight into the


of Wrang and play was well and truly short-handed. The remaining players battled it out five hands for close to two hours before the Belgian pro Koen De Visscher was sent to the rail in fifth place. De Visscher got his chips in good with


but Soulier made the call with


, which spiked a hand-winning king on the turn to bust the popular player four places earlier than he had hoped for. The €124,000 fifth place money should soften the blow a little.
Four became three some three and a half hours later when Botond suddenly imploded on a




board. Wrang had already check-raised Botond's 325,000 bet to 850,000 on the flop and he lead into Botond with a 1,100,000 bet on the arrival of the

turn. Botond moved all in and was snapped off by his Danish opponent. Wrang turned over


for top pair with a flush draw but all Botond could muster was


. The

on the river completed the hand and the tournament was now three-handed.
The trio fought it out for an hour before Soulier's dreams of becoming the inaugural EPT Campione champion were dashed. His stack had fluctuated throughout the day due to his rather unorthodox style of play and he found himself in the dreaded push-or-fold territory. He looked down to see


staring back at him, a hand that he cracked aces with on Day 4 and that had been kind to him on the final table too, but his seemingly lucky hand failed to help him when he needed it most because when Wrang called with


the board ran out





to set up an intriguing heads-up battle between Busquet and Wrang.
Going into heads-up Wrang held a 10,410,000 to 6,680,000 chip advantage over the man widely considered the best one-on-one No Limit Hold'em player in the world so it was a far from done deal. The pair tussled for a while before a scheduled break halted proceedings momentarily. When the players came back from the aforementioned break Wrang had opened up a 12,890,000 to 4,200,000 chip lead but despite this the media and tournament staff were preparing for a long, drawn out battle – but how wrong they were.
On the very first hand back Busquet open-shoved for 4,190,000 with what turned out to be


and Wrang made the call with


. The board ran out





gifting Wrang the heart flush and he became the third consecutive Danish EPT Champion!
The EPT's next stop is the penultimate of the eighth season in Berlin between Apr. 16-21. The PokerNews Live Reporting team will be there and we hope you will be too. Until next time, thanks for reading!
EPT Campione Main Event Final Table Results
| Position | Name | Prize |
| --- | --- | --- |
| 1 | Jannick Wrang | €640,000 |
| 2 | Olivier Busquet | €430,000 |
| 3 | Fabrice Soulier | €240,000 |
| 4 | Balazs Botond | €157,000 |
| 5 | Koen De Visscher | €124,000 |
| 6 | Mario Nagel | €92,000 |
| 7 | Stefano Puccilli | €71,500 |
| 8 | Robin Ylitalo | €54,000 |
Follow PokerNews on Twitter and like us on Facebook to stay in touch with all the latest poker news from around the world.