20-year old Sonny 'Spommo' Pomroy becomes the first ever Black Belt East End Live Champion

Adam ''snoopy'' Goulding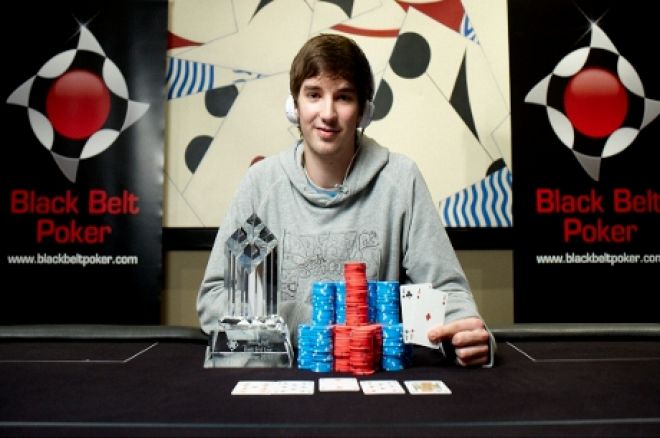 The Black Belt Live tour bus stopped at the Aspers Casino, Stratford this weekend for the inaugural Black Belt East End Live, a $200+20 freezeout with a deep structure and $75,000 guarantee.
After a quickfire final table, it was 20-year old Sonny Pomroy who emerged triumphant, besting a field of 391 to capture the illustrious title and comedy cheque worth $13,300.
The field was an eclectic mix of pros and amateurs alike, with community members getting to lock horns with seasoned veterans such as Neil Channing, Surinder Sunar and even the legendary Yilfer 'Mr. Bond' Shevket.
They were joined by reigning League Champion Adam 'The Hobbit' Saunders and Nottingham Live winner Stuart 'The Dyson' Hyson, who was hoping to suck up the chips and become the first ever Black Belt Live multiple champion.
The final table was tougher than a two-dollar steak and included Black Belt and WSOP bracelet winner Richard 'Chufty' Ashby, as well as chip leader and online pro Sonny Pomroy.
| Seat | name | Chips |
| --- | --- | --- |
| 1 | Sonny Pomroy | 1,471,000 |
| 2 | Richard Lindsey | 317,000 |
| 3 | Dhaval Rajani | 440,000 |
| 4 | Jon White | 326,000 |
| 5 | Elliot Aspden | 828,000 |
| 6 | Andrew Lidgey | 732,000 |
| 7 | Paul Hempseed | 1,056,000 |
| 8 | Richard Ashby | 379,000 |
| 9 | Sam Lawsey | 398,000 |
The final table was a brief affair with players falling like dominoes in the wind. After Lindsey became the first to walk the poker plank, there began a demolition derby in which Dhaval Rajani took out three consecutive players: Lawsey, Lidgey and White, the latter of whom added 10 percent to his prize due to being an Orange Belt.
After a plucky fight that would have made Rocky look like a wimp, Ashby fell in fifth when his


was unable to improve against Pomroy's


. Aspden then disposed of Hempseed in fourth (


versus


) to leave us with three.
Rajani was the next to munch dust, moving all in on a



flop with


against Aspden's


. Despite his numerous outs, the turn and river came blankety blank and it was time take him off the campfire - he was done.
Heads-up and it was closer than a Manchester title race, Pomroy a nostril hair in front with 3 million chips to Aspden's 2.9 million. However, within 30 minutes, the Fat Lady was belting out her favourite tune as Pomroy's


held against


to secure the win.
Making his debut at a Black Belt Poker event, Pomroy is a poker pro of three years who plays mainly online MTTs with the occasional ventures live. He's also the brother of high stakes pro David 'Dpommo' Pomroy, a fierce online phenom who attracted a lot of attention a few years ago.
"I feel really good, obviously, but shattered too," commented Pomroy just moments before his first trip to the bar. "I'm used to playing 15 tables online, but I didn't get bored. I was in the zone and didn't remove my headphones the whole time.
"The structure of the event was really good and you got so much play. For example, a lot of tournaments go from 1K/2K straight to 1.5K/3K, but here we had a 1.2K/2.4K level. It makes a big difference. It was a great tournament."
The East End Live was a roaring success with positive reviews all around, and our thanks go out to the staff at Aspers Casino for all their hard work, as well as all the players who made the journey to Stratford at the ungodly hour of noon.
However, as one tournament ends, another one is announced, and we can exclusively reveal that our next Live event will be Nottingham Live II at Dusk Till Dawn on August 10-12. We hope to see you there.
| Position | Name | Prize |
| --- | --- | --- |
| 1 | Sonny Pomroy | $13,300 |
| 2 | Elliot Aspden | $9,400 |
| 3 | Dhaval Rajani | $6,300 |
| 4 | Paul Hempseed | $4,500 |
| 5 | Richard Ashby | $4,080 ($3,400) |
| 6 | Jon White | $2,860 ($2,600) |
| 7 | Andrew Lidgey | $1,950 |
| 8 | Sam Lawsey | $1,650 |
| 9 | Richard Lindsey | $1,400 |
(Prize in brackets is standard payout without bonuses)
Bounty Eliminations:
Stuart Hyson by Del Block
Adam Saunders by Daren Braddick
Nik Persaud by Alex Rousso
Warren Wooldridge by Kerry Panayiotou
Sam Razavi by Steve Gilbert
Neil Channing by Del Block
Alex Rousso by Adam MacGuinness
Steve Blapo by Colin Marks
Jerome Bradpiece by William Wicher
Yilfer Shevket by Joe Dennis
Richard Hurst by David Kiernan
Tom Drew by Steve Jones
Kevin Williams by Byron Brewer
Paul Romain by Darren Rideout
If you want to read more about this fantastic tournament then head over to dedicated East End Live pages on Black Belt Poker.
Follow PokerNews on Twitter for up-to-the-minute news.