Terrance Mitford Wins DTD 150 Deepstack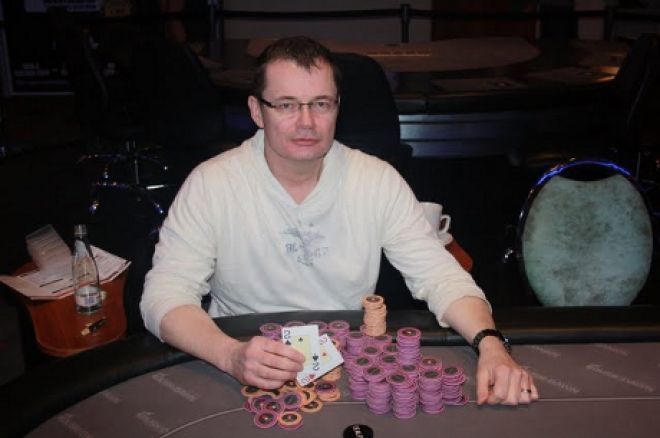 Terrance Mitford is the latest poker player to enter the winner's circle at the Dusk Till Dawn poker club in Nottingham after he took down the 150 Deepstack this weekend for a cool £15,591.88.
The total attendance for the £150+£18 was 314 runners, which lead to to small overlay for the club, but it was still a fantastic turnout considering the final day fell on Mother's Day and many men would not have dared to tell their other half they were planning on deserting them to go play poker!
The 314 entrants were whittled down to 62 for the start of Sunday's second and final day and with only 27 of them making it to the money places there were 35 unhappy players leaving the club during the day of rest; none more unhappy than Lewis Morton who was the unfortunate bubble boy.
Morton busted out at around quarter-past three in the afternoon and over the next six hours the field was being steadily reduced until the following hand took place. John Bousfield starting the betting off with a raise and he was called by Grant Pullin in the small blind. The dealer spread the



flop into the centre of the felt and Pullen check-called a 70,000 continuation bet from his sole opponent. The

was the turn card and Pullen checked again and then snap-called when Bousfield opted to commit his entire stack with what turned out to be


, top pair. Unfortunately for Bousfield, Pullen had turned a straight and he was drawing completely dead. The river was of no consequence and whilst Bousfield headed to the cashier's cage to pick up £671.75 for his tenth place finish the surviving nine players joined up on the final table.
DTD 150 Deepstack Final Table
| Seat | Name | Chips |
| --- | --- | --- |
| 1 | Graham Parkin | 450,000 |
| 2 | Adbul Khan | 720,000 |
| 3 | Grant Pullen | 700,000 |
| 4 | Terence Mitford | 400,000 |
| 5 | David Willis | 420,000 |
| 6 | Tan Luan Le | 200,000 |
| 7 | Matthew Wadham | 240,000 |
| 8 | Maria Demetriou | 640,000 |
| 9 | Kyriacos "Greek Jack" Dionysiou | 750,000 |
Wadham was the first player to be eliminated when he three-bet shoved with


for his last 15 big blinds but was unlucky to run into the


of Tan Luan Le, which held to reduce the field to just eight players and ensure that everyone who had chips in front of them would be helping themselves to at least a four-figure score.
Next to go was Abdul Khan was was down to just 120,000 chips at 20,000/40,000/5,000a and moved all in with


, which was live against the


of David Willis but in desperate need of help, help that never arrived because Willis flopped two pair and Khan was out.
Just 10 minutes later and Graham Parkin's tournament came to an abrupt end. Greek Jack moved all-in with


and Parkin decided to gamble with his


and make the call but his gamble failed to pay off because the board ran out





and Jack's seven kicker played; and then there were six.
Play remained six-handed for the best part of an hour before Le busted out. The amateur player, who had his etiquette questioned on a number of occasions throughout the tournament, open-shoved with for 235,000 with his


but Greek Jack woke up with pocket jacks and made the call. The





board kept the jacks in front and the inexperienced Le headed to the rail safe in the knowledge he had bagged £2,158.88 for himself.
Just 20-minutes later and the last woman standing, or should that be sitting, was sent packing. From the small blind Maria Demetriou open-shoved with a pair of red deuces which on any other day would almost certainly have seen he pick up the much needed blinds and antes but on this occasion Mitford peeled back his hole cards to discover


satring back at him! They held and Demetriou was no more.
Five minutes after Demetriou's demise saw another player, Pullen, bust out. In another battle of the blinds he found himself all in with pocket sixes against Greek Jack's ace-eight for a crucial coinflip. However, the race was a rather one-sided affair as Jack flopped an eight, turned another and improved to an unneeded full house on the river to send Pullen home in fourth place.
Jack turned executioner again 20-minutes later to eliminate Willis in third spot. Willis moved all in from the small blind with ace-eight but Jack found yet another pair in the hole,


, and he made the call. No ace showed up on the five community cards and Jack found himself heads-up against Mitford for the title holding a 3,400,000 to 1,400,000 chip lead.
With Jack running insanely hot and having an extra 2,000,000 chips in his stack it looked like it was going to be a one-sided match to say the least but now it was Mitford's turn to run well, which combined with Jack's seemingly lack of one-on-one experience saw Mitford claw his way back into contention then take the lead. The final hand saw Mitford make it 180,000 to play and Jack make the call. The pair shared a flop reading



which looked inconspicuous but Jack obviously liked it because he moved all in. Mitford snapped his hand off and flipped over


for bottom set, crushing the


of Jack. The

turn sealed Jack's fate and Mitford was announced as the champion!
DTD 150 Deepstack Final Table Results
| Position | Name | Prize |
| --- | --- | --- |
| 1 | Terence Mitford | £15,591.88 |
| 2 | Kyriacos Dionysiou | £9,115.25 |
| 3 | David Willis | £5,469.15 |
| 4 | Grant Pullen | £3,838.50 |
| 5 | Maria Demetriou | £2,878.50 |
| 6 | Tan Luan Le | £2,158.88 |
| 7 | Grahm Parkin | £1,679.13 |
| 8 | Abdul Khan | £1,199.38 |
| 9 | Matthew Wadham | £959.50 |
Next up for the Dusk Till Dawn club is the Super 50 on Saturday at 14:00, a £50+£8 tournament that carries a £10,000 guarantee. For their money players receive a starting stack 10,000 and play to a 30-minute clock. Should they bust out before 17:20 they can re-enter and receive a full 10,000 starting stack for £58. Also on Saturday is a £50+£6 mega satellite to the UKIPT Nottingham Main Event where a minimum of five seats to the £1,000,000 guaranteed tournament are up for grabs.
The live reports from Blonde Poker were used in the writing of this article.
You can also qualify for the £1,000,000 guaranteed UKIPT Nottingham Main Event on PokerStars, the world's biggest online poker site. Download PokerStars through PokerNews, enter the marketing code UKPOKERNEWS and the bonus code STARS600 and you will be eligible for a 100% up to $600 first deposit bonus along with being able to participate in all future promotion we hold with PokerStars.