PokerStars Zoom: A Review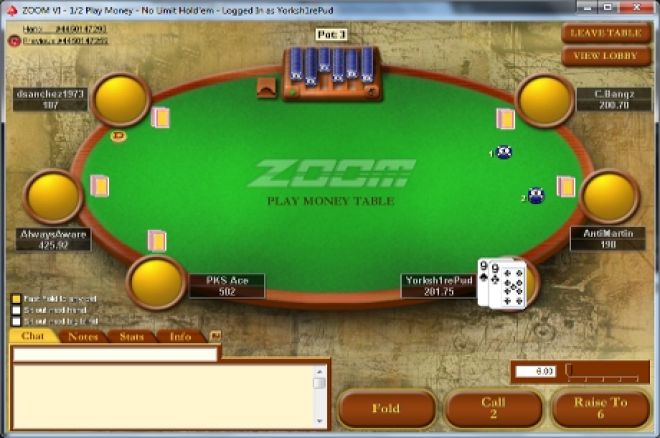 A couple of months ago a member of the popular Two Plus Two forums started a thread asking about a folder named "Blitz" they had discovered whilst looking through the installation files created on their machine when downloading PokerStars.
Immediately the thread burst into life with members new and old coming to the conclusion that Blitz must be PokerStars' version of Rush Poker that was created by the stricken former online poker giant Full Tilt Poker. An official from PokerStars then confirmed the world's largest online poker site was working on a new "fast-paced way to play poker," which confirmed the thoughts of the poker community.
Zoom In Testing
As with all the new products that PokerStars launch they are fully tested on the PokerStars test client, which is where I have been hanging out for the past few days, logging thousands of hands at lightening speeds. The name Blitz has since been changed to Zoom, possibly because the dictionary definition of Blitz is "an intensive or sudden military attack," which probably stood the risk of offending several nations around the world, and whilst I personally am not the biggest fan of the name Zoom I also do not see what else PokerStars could have called it. Plus who really cares about the name what were are really bothered about it the answer to the following question; Does Zoom poker play well?
The answer is a resounding yes, a bit fat yes. Yes with a cherry on top if you like, it works like a dream. Currently the test client only has play money Zoom available but word has it that real money games should be launched within a couple of weeks and live on the actual PokerStars client not long afterwards.
What Is Zoom?
PokerStars describe Zoom as "a new fast-paced way to play poker. You're always at the centre of the action and can play more hands per hour than ever before," which sums it up nicely. For any of you who have played Rush Poker in the past it is essentially that but with a couple of minor tweaks in animations and such. For those of you who have not sampled Rush Poker before you are in for a real treat!
Zoom poker plays exactly the same way as any other online cash game in that the card rankings are the same, the rules for betting are the same, everything is the same except one difference, a game changing difference. As soon as you fold you are removed from the table you were seated at and placed at a new table with different players! Your old opponents simply fade away and are replaced by new ones.
You do not have to wait for the action to be on you either. Pick up


in middle position and simply click the "Fast Fold" button to be whisked away from your seat and placed on a new table with new cards! Your opponents will not know you have folded until the action gets to you, by which time you could potentially have played two or three more hands.
Zoom poker will allow players to play hundreds of hands per hour, potentially massively increase profits and make climbing up the superb VIP scheme much easier than ever before.
What Does Zoom Look Like?
Zoom poker looks exactly the same as the standard PokerStars games that I have played in the past and all the themes I tried worked seamlessly. Below is a screenshot showing the "Black" theme, the fold, call and raise buttons and me picking up a nice pair of sevens in the cutoff!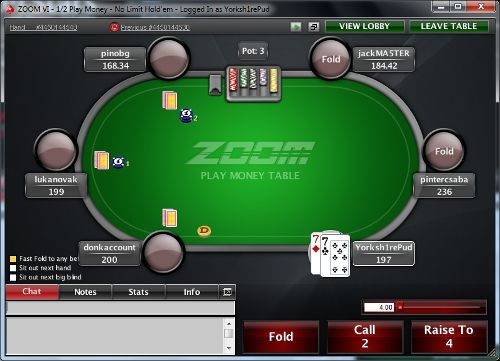 The Fast Fold button is just as clear as the rest and it is highly unlikely you will be misclick-folding your pocket aces once you start playing Zoom.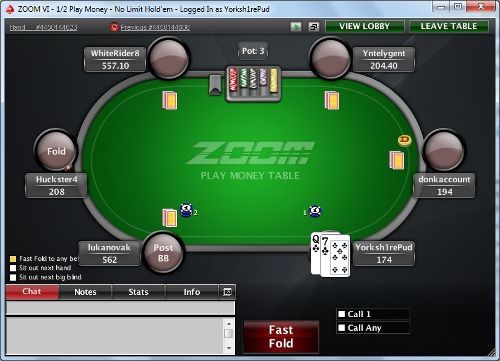 Is Zoom Really As Fast As The Name Implies?
In a word single word, yes. Although at the times I have been testing the software there have only been a two or three dozen fellow testers playing, the games have progressed rapidly, you could say they have zoomed along, with my hands per hour figures easily reaching three figures. Once there is a full quota of players for the software to choose from I am positive the games will be even faster still.
What Formats Does Zoom Support?
In the test client there are only No Limit Hold'em and Pot Limit Omaha cash games available but there are tabs for Fixed Limit Hold'em, Omaha Hi/Lo and one entitled Other. This seems to imply that once PokerStars have Zoom running perfectly in real money games they will be adding the full repertoire of games they currently spread.
It is almost guaranteed that PokerStars will be launching Zoom sit 'n' go tournament and multi-table tournaments but there has been no official statement on that front but they know and you the reader know that it will happen eventually.
Can I Play Zoom On My Mobile Device?
PokerStars recently launched a mobile platform for customers in the UK and Zoom would be a perfect match for it. Recreational players and hardcore grinders could log on during say a short train journey and easily log 500 hands all from their iPhone, iPad or Android powered device. Again, no official word has been given but we would expect Zoom to be available to play on mobile devices sooner rather than later.
Closing Comments
Ever since I first played Rush Poker I have wanted PokerStars to create their own version and now they have I am personally over the moon with excitement. As a poker player who has limited time available to play this is the perfect solution for me and could pave the way to PlatinumStar or even SuperNova and for those of you who are high volume players anyway then SuperNova Elite has just been brought within your reach.
Stay up to date on all the latest news by following us on Twitter and liking us on Facebook.