New Tournament Changes At Dusk Till Dawn From Sunday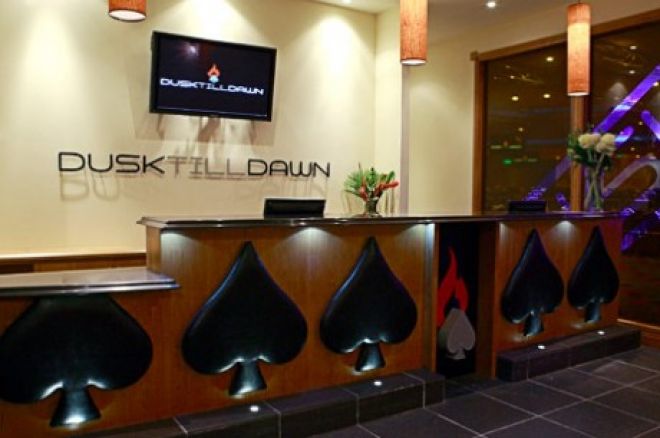 If you head down to the Dusk Till Dawn poker club in Nottingham from Sunday 1 April onwards then you will notice a change to the way tournaments are being displayed in terms of their buy-ins. Until Sunday the buy-ins will be displayed in their traditional manner such as £50+£8 or £150+£12 but as soon as Sunday rolls around they will be a much simplified £58 or £162, that is tournaments will no longer have the registraion fee added to the buy-on.
The club will still be taking a fee but what they will be doing is taking a flat 10% from each entry, so when the Super 50 changes from £50+£8 to a nice and simple £50, they will take £5 for the fee and place the remaining £45 into the prize pool. On this front, there will be a minimum deduction of £5 for one-day tournaments at buy-ins less than £50 and £10 for a two-day event. This actually lowers the money that Dusk Till Dawn takes in rake because under the old system 200 buy-ins to the Super 50 would net them £1,600 but under the new system £600 less.
DTD will still be continuing to place guarantees on tournaments and the guarantee will be that actual prize pool not entry fees take. So using the Super 50 as an example again, if it were to have a guarantee of £10,000 there would need to be 220 entrants rather than 200 previously to meet the guarantee.
According to Rob Yong of the DTD, these changes have the potential to cost the club upwards of £125,000 per year so why on Earth are they doing it then? Here are the reasons he laid out on the Blonde Poker forum:
To make the world a simpler place for players, a £50 buy-in is a £50 buy-in, a Super 50 is a Super 50, not a Super 58! Therefore all players, no matter how experienced, can easily relate their total expenditure to their potential win.
To reduce the cost of entry and registration in our tournaments i.e. a £150 comp actually is a £168 comp in reality, on the new system, the player pays £150 (full stop) and 10% is deducted before the GTE prizepool, in this case, £15 instead of £18.
It is something we have wanted to put in place for ages, I've never understood why there is such a thing as a reg fee on top of a buy-in, yes, venues cannot deal comps for nothing, especially with higher taxes etc but lets not try and make the entry look "less", players know that £500 + £60 is actually £560 out of their pocket.
All tournaments that players could have already been registering for will not change until they have been complete for fairness otherwise these changes will come into force immediately from Sunday.
Don't forget that Dusk Till Dawn have slapped a £1,000,000 guarantee on the upcoming UKIPT Nottingham Main Event, which you can qualify for on PokerStars. Download PokerStars through PokerNews, enter the marketing code UKPOKERNEWS and the bonus code STARS600 and you will be eligible for a 100% match up to $600 first deposit bonus.