Ceri Rees Wins Supersized Dusk Till Dawn 500 Deepstack £250k Guaranteed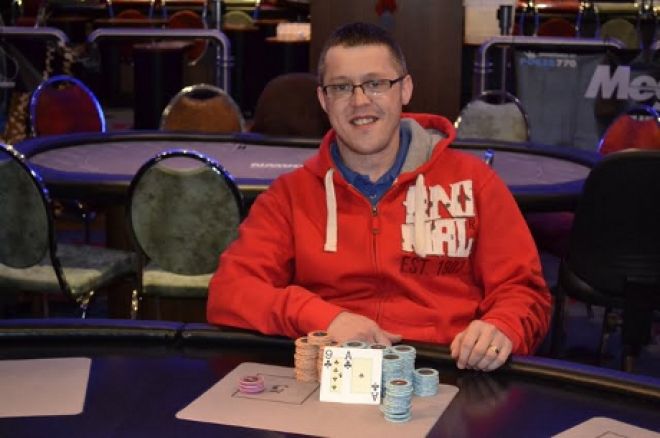 Check the poker history books for the winner of March's 500 Deepstack at the Dusk Till Dawn poker club in Nottingham and you will see the name of Ceri Rees printed. Next to Rees' name will be the figures £86,206, easily the best score of the Welshman's career so far.
The reason for Rees' massive win was the fact this month's 500 Deepstack carried with it a £250,000, which in itself would have seen the eventual winner walk away with close to £75,000 but the guarantee was obliterated when a total of 643 players (including re-entries) created a total prize pool of £321,500.
Yesterday a total of 188 players returned to the Dusk Till Dawn poker club in an attempt to make it through first to the top 63 places where the money was, then to the eight-handed live streamed final table and from their they would only be seven eliminations away from the huge first place prize.
The bubble burst around 1700 on Sunday, five hours after Day 2 had got underway and it was the unfortunate Neil Giblin who was the man to pop it. He looked down at pocket sixes in the hijack and decided his best move was to move all in for his last 15 big blinds. Unfortunately for him C.T. Law woke up on the button with a pair of jacks and he made the call. No two outer for Giblin and when he left, to a round of applause, hand-for-hand was over after just two hands and everyone with chips in front of them had locked up at least £750 for their efforts over the two days.
One by one the field was thinned out with the likes of Paul Romain (39th), Anthony Gaughan (37th), James "Epitomised" Atkin (15th), Dave "Devilfish" Ulliott (14th) and Maria Demetriou (10th) being the biggest names to lose their stacks, and when Mohammed Ifzail busted out in ninth place the official final table was set.
First to go was Tamer Kamel around 90 minutes after the final table had begun and he was followed out of the door first by Richard Wilcox and then by Kevin Parkes. Fifth place went to Callum Mccuaig then half hour after his demise Jareth East's big slick could not connect with the board and Tommy Bingham's pocket tens held up, and when Mark Lane was sent to the rail in third place only two players remained.
Going into the heads-up battle Bingham held an 11,000,000 to 8,500,000 chip advantage over Rees but with the blinds being 80,000/160,000 the effective stacks were still 50 big blinds deep. The pair jostled for position and were trying to forge a lead for themselves when a cooler hand saw the tournament all but ended as a contest. All the chips, literally, went flying into the pot on a board reading





with Rees being covered by just 1,000,000 chips. Bingham turned over


fpr trips and the crowd thought it was all over for Rees but alas it was not because he proudly turned over


for a flopped boat! This gave Rees a massive chip lead and it was all over after the very next hand.
Bingham was all in with


and Rees called with


. Both player paired their ace on the



flop but Rees also picked up the nut flush draw. The

turn changed nothing but the

on the river gave Rees two pair and the overall win. A massive congratulations to Rees on his victory, which was made all the more special by the fact he final tabled this event back in February! On that occasion he finished fourth for £19,000, not a bad couple of month at the felt I am sure you will agree!
DTD 500 Deepstack Final Table Results
| Position | Name | Prize |
| --- | --- | --- |
| 1st | Ceri Rees | £86,206 |
| 2nd | Tommy Bingham | £50,398 |
| 3rd | Mark Lane | £30,239 |
| 4th | Jareth East | £21,220 |
| 5th | Callum Mccuaig | £15,915 |
| 6th | Kevin Parkes | £11,936 |
| 7th | Richard Wilcox | £9,284 |
| 8th | Tamer Kamel | £6,631 |
| 9th | Mohammed Ifzal | £5,305 |
Stay up to date on all the latest news by following us on Twitter and liking us on Facebook.
Play in the $67,500 PokerStars PokerNews Freeroll Series and grab yourself some free cash