Aliro Diaz Wins 2012 PokerStars.net Latin American Poker Tour Chile

Chad Holloway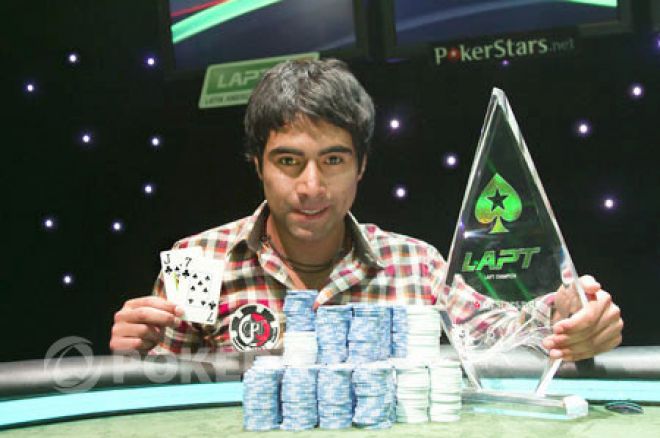 Day 4 of the 2012 PokerStars.net Latin American Poker Tour Chile concluded on Sunday by crowning the first champion of Season 5. The final eight players of a 651-player field returned to the Enjoy Casino & Resort in Viña del Mar to play down to a winner, which took approximately five hours to determine. At the end of the day, Aliro Diaz hoisted the trophy and took home $76,560 in prize money.
2012 LAPT Chile Final Table Payouts

| Place | Player | Country | Original Prize | Amount Per Deal |
| --- | --- | --- | --- | --- |
| 1st | Aliro Diaz | Chile | $129,470 | $76,560 |
| 2nd | Leonardo | Chile | $84,090 | $66,000 |
| 3rd | Jaoa Lopes | Brazil | $58,010 | $58,000 |
| 4th | Felipe Velasquez | Chile | $43,540 | $74,000 |
| 5th | Javier Venegas | Argentina | $32,460 | $50,000 |
| 6th | Sergio Escobar | Colombia | $23,990 | $47,000 |
| 7th | Halysson Sala | Brazil | $17,470 | N/A |
| 8th | Nicholas Batt | Colombia via United States | $13,040 | N/A |
At the start of the final table, which included three Chileans, two players from Colombia, two Brazilians and one Argentinian, the big question was whether of not a local would capture the LAPT Chile National Poker Championship title.
Here's a look at how the final table stacked up at the start of the day.
2012 LAPT Chile Final Table

| Seat | Player | Country | Chips |
| --- | --- | --- | --- |
| 1 | Nicholas Batt | Colombia | 1,470,000 |
| 2 | Javier Venegas | Argentina | 855,000 |
| 3 | Halysson Sala | Brazil | 660,000 |
| 4 | Sergio Escobar | Colombia | 1,845,000 |
| 5 | Joao Lopes | Brazil | 755,000 |
| 6 | Leonardo Olivares | Chile | 1,100,000 |
| 7 | Felipe Velasquez | Chile | 1,840,000 |
| 8 | Aliro Diaz | Chile | 1,235,000 |
It took about 40 minutes for the first elimination of the day to occur, and it happened right after Nicholas Batt doubled Javier Venegas. It began when Felipe Velasquez opened for 90,000 and was met with an all-in shove by Batt, for around 725,000. Velasquez made the call with


and was off to the races against Batt's


.
The railbirds were on their feet as the dealer put down the flop of



. The Velasquez contingent erupted in cheers as their man had hit an ace to take the lead. The

turn was of no consequence, and neither was the

river. Velasquez chipped up to 2.8 million on the hand, while Batt became the eighth-place finisher worth $13,040.
Not long after, action folded to Diaz in the cutoff and he opened for 95,000. After the button got out of the way, Halysson Sala moved all in from the small blind for 505,000 total holding


. The big blind got out of the way, and Diaz called with


.
It was a classic race, but Sala needed to improve to stay alive. The



flop was not what he was looking for, and neither was the

turn, though it gave him some extra outs. Unfortunately for Sala, salvation would not be delivered on the river as the

bricked, and he was eliminated in seventh place for $17,470.
It was at that point that a six-handed deal that was struck. Chip leader Velasquez guaranteed himself $60,000, while each of the other five players locked up $40,000. Per the terms, each would add to their respective totals depending on their finish as follows: first — $36,560; second — $26,000; third — $18,000; fourth — $14,000; fifth — $10,000; and sixth — $7,000.
It took some time for the next elimination to develop, but it came when Velasquez opened to 140,000 in the hijack and was called by Diaz in the cutoff. From the small blind, Sergio Escobar, who began the day as chip leader, shoved for about 475,000, and Velasquez isolated with an all-in re-raise.
Showdown
Velasquez:



Escobar:


The



flop paired Velasquez and left Escobar in a world of hurt. Neither the

turn nor

river offered help, and Escobar's Main Event run ended in sixth place for $47,000.
A few hands later, action folded to Venegas on the button and he wasted little time in moving all in for 710,000. Leonardo Olivares was in the big blind and thought for a solid minute before making the call. Venegas turned over


, and seemed excited his cards we live against the


of Olivares.
When the



flop came down and Venegas hit his king, his supporters erupted with cheers from the rail; however, it was short lived as the

peeled off on the turn. This time it was Olivares's rail that erupted. During the commotion, the harmless

was put out on the river, and Venegas shook hands with the victor before taking his leave in fifth place for $50,000.
In a blind-versus-blind battle of Chileans, Velasquez moved all in from the small for around 1.4 million and Diaz snap-called from the big blind. Velasquez flipped over


and was in trouble against Diaz's


, especially after the



flop delivered the latter a set. Velasquez picked up a gut-shot straight draw to a three, but it was not meant to be as the

hit the turn followed by the

on the river. Velasquez was eliminated in fourth place for $74,000.
A short time later, Joao Lopes opened to 300,000 on the button and Olivares folded his small blind. Diaz, though, re-raised all in from the big blind with the big stack. Lopes called all in for about 1.3 million.
Showdown
Lopes:



Diaz:


Lopes' cries for a three failed to materialize as the board came down





to end his Main Event in third place.
On the seventh hand of heads-up play, Diaz opened for 185,000 and then called Olivares's three-bet to 500,000. When the flop fell



, Olivares thought for a moment before announcing all in for around 2.5 million. Diaz thought long and hard, approximately two minutes, before announcing a call.
Showdown

The crowd was on its feet as the dealer burned and turned the

. In order to survive, Olivares needed either an ace or queen on the river. The dealer burned one more time and put out the

. With that, LAPT Chile was over as Olivares shook hands with his opponent and made his way to the payout desk to collect $66,000.
The next stop on the PokerStars.net Latin American Poker Tour will be in May at the Mantra Resort, Spa and Casino in Punta del Este, Uruguay, and of course PokerNews will be there to bring you all the action straight from the felt.
Remaining LAPT Season 5 Schedule
| Destination | Main Event Date | Buy-In |
| --- | --- | --- |
| Punta del Este, Uruguay Mantra Resort, Spa and Casino | May 24–27, 2012 | USD$2,300 +200 |
| Medellín, Colombia, Casino Allegre | Aug. 8–12, 2012 | COL$ 3,820,000 +380,000 (≈USD$2,300) |
| Lima, Peru Casino Atlantic | Nov. 29 – Dec. 2, 2012 | USD$2,500 +200 |
| LAPT Grand Final | TBC | TBC |
Stay up to date on all the latest news by following us on Twitter and liking us on Facebook.