UKIPT Galway Day 3: Ronan Gilligan Leads But That Man Risk Is Still There!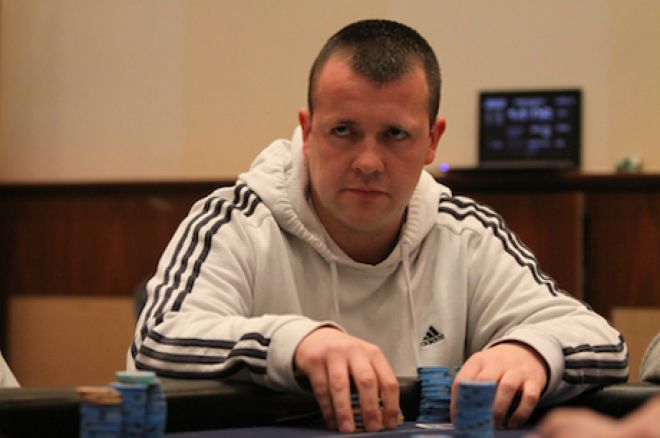 The PokerStars UKIPT Galway Main Event has reached the final table after a gruelling third day of play reduced the field of 59 down to just nine. Usually PokerStars events play down to the last eight but the day took so long that when there were only nine players remaining, at around 0300, the decision was taken to call it a night, return at noon and play down to a winner on Monday.
Although the UKIPT monster that is Nick Abou Risk will be hogging the headlines due to him being in the hunt for an unprecedented third UKIPT title it is an Ireland's Ronan Gilligan who is well and truly in the driving seat when please resumes at the Radisson Hotel. Gilligan's name may have rung a few bells in your head and rightly so because he is no stranger of going deep in events in Ireland. Back in 2010 he finished as runner-up to Max Silver in the UKIPT Dublin Main Event and more recently he was the third place finisher in the inaugural World Poker Tour Dublin Main Event. Those results netted the Irishman €43,400 and €74,090 respectively and he is now on course for the €114,900 first place prize.
Gilligan's stack of 2,489,000 means he is the only player to have surpassed the two million chip barrier but there are five other players with at least a seven figure chip stack. They are John Willoughby (1,382,000), Craig Burke (1,283,000), Joe Roberts (1,103,000), Emmett Mullin (1,003,000) and Aleksandras Rusinovas (1,003,000). The rest of the final table is made up of Richard Haile (652,000), Nick Abou Risk (647,000) and Joris Ruijs (440,000).
Each of the nine players has now locked up a minimum of €7,800 for their efforts and this amount starts to grow more substantial with each and every elimination. Eighth place is worth an additional €3,100 whilst seventh is almost €4,000 more than that. These jumps continue until the eventual winner walks away with a wallet-bursting €114,900. Will it be Gilligan who becomes a champion on home soil or will Risk make it three UKIPT titles? Follow the action live on the PokerStars Blog and tune back in tomorrow for a full report on the final table's proceedings.
UKIPT Galway Final Table Seat Draw
| Seat | Name | Chips |
| --- | --- | --- |
| 1 | Emmett Mullin | 1,003,000 |
| 2 | Nick Abou Risk | 647,000 |
| 3 | Richard Haile | 652,000 |
| 4 | Craig Burke | 1,283,000 |
| 5 | Joe Roberts | 1,103,000 |
| 6 | John Willoughby | 1,382,000 |
| 7 | Aleksandras Rusinovas | 1,003,000 |
| 8 | Joris Ruijs | 440,000 |
| 9 | Ronan Gilligan | 2,489,000 |
Get all the latest PokerNews updates on your social media outlets. Follow us on Twitter and like us on Facebook today!
Qualify for future UKIPT Main Events only on PokerStars, the world's largest online poker site. Download PokerStars through PokerNews, use the marketing code UKPOKERNEWS and the bonus code STARS600 and you will be eligible for a 100% match up to $600 first deposit bonus plus be able to participate in all out promotions with the online poker giant!