Soccer AM Presenter Max Rushden Demolishes "Cardstacker's" Creation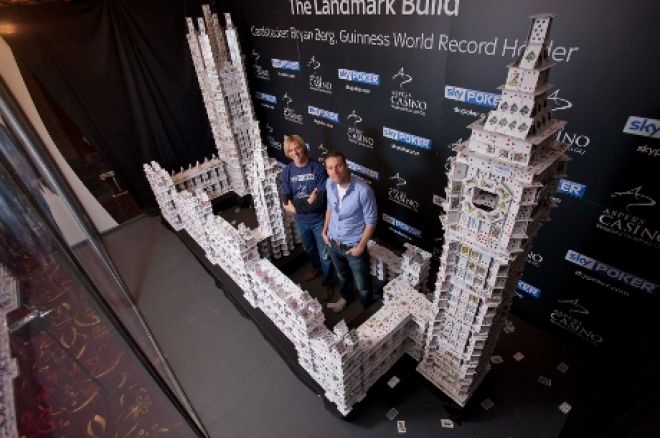 A couple of weeks ago we brought you the news that the man known as "The Cardstacker," a certain Bryan Berg, had started his latest engineering feat of building Big Ben and the iconic Houses of Parliament out of nothing more than standard playing cards. No glue, no framework just plain old plastic playing cards.
The reason for him creating this amazing structure was to celebrate Sky Poker's "Play The Nation" promotion that sees players compete against each other in leaderboards that represent the region that they live in. Depending on where the finished in the leaderboards players either pick up a 100%, 50% or 25% boost when they take advantage of Sky Poker's Cash for Points feature, as long as they earned at least 500 points in February.
It took Berg an entire week to build the structure, using more than 50,000 playing cards, but it took mere seconds to completely demolish it at the Aspers Casino in Stratford. Berg was helped in his demolition task by the presenter of the popular Saturday morning television programme Soccer AM, Max Rushden.
The pair used a football as a wrecking ball to completely obliterate the building and within moments there was just a pile of "rubble" where the structure once proudly stood. it is not known whether Rushden or Berg helped in picking up the cards when they had finished having their bit of fun.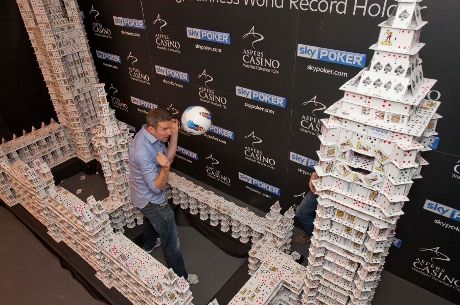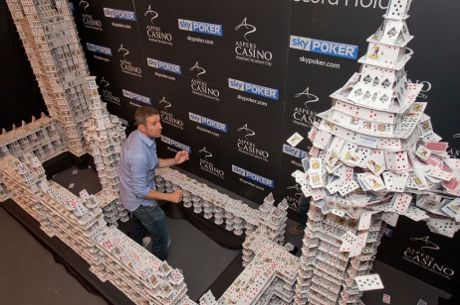 The current standings, with just today and tomorrow to go, sees the South East running away with the competition with 26 points, followed by N.Ireland and the Rest of the World on 22 and London on 21 making for an exciting finish. Who will win and who will fall just short? Head over to Sky Poker an do your bit for your region!
| Position | Region | Points |
| --- | --- | --- |
| 1 | South East | 26 |
| 2 | N.Ireland & ROW | 22 |
| 3 | London | 21 |
| 4 | South West | 19 |
| 5 | Scotland | 17 |
| 6 | East | 17 |
| 7 | North West | 14 |
| 8 | Wales | 13 |
| 9 | Midlands | 11 |
| 10 | North East | 5 |
Sign up to Titan Poker today and grab a seat to a $3,500 Deepstack Freeroll!