Leslie Kerrigan Wins Fox Poker Club Main Event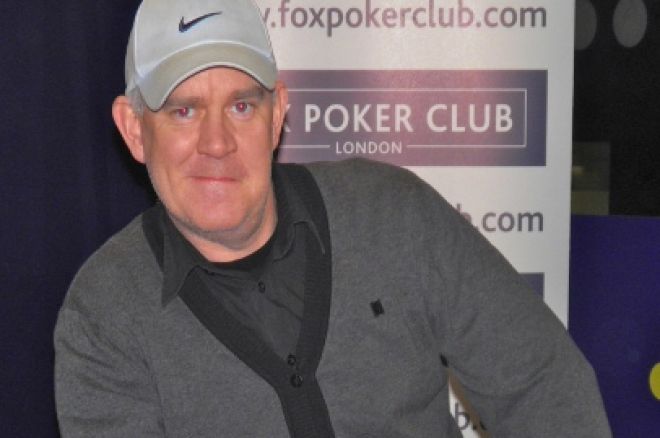 The £300+£30 buy-in Fox Poker Club Main Event took place over the weekend and once again it was extremely well attended with 141 players descending on the London-based club, creating a prize pool of £42,300. By the time the dust had settled in the Genting owned poker room only one man had chips in front of him, Leslie Kerrigan, February's FPC Main Event Champion.
Of the 141 players who entered only 42 made it through relatively unscathed to participate in Sunday's Day 2. These 42 hopefuls returned to their seats at 1400 and just over four and a half hours later the money bubble had burst with the unfortunate soul who popped it being David Barnes.
Barnes was down to just a few big blinds and was set all in by Chris Gordon who held


. Barnes made the call with just


and when neither player connected with the board Barnes became the 15th place finisher and everyone else still in the tournament locked up a min-cash of £425.
After Barnes' demise it took a further three hours to reach the nine-handed final table, Pirovano Graziano being the tenth place finisher. With Graziano busting the surviving nine players re-drew for the official final table and were seated as follows:
| Seat | Name | Chips |
| --- | --- | --- |
| 1 | Les Kerrigan | 350,000 |
| 2 | Rafael Fernandes | 703,500 |
| 3 | Steven Vigor | 69,500 |
| 4 | Tina Abery | 408,000 |
| 5 | Tai Tran | 143,500 |
| 6 | Morgan Sorfleet | 469,500 |
| 7 | Mario Lazarou | 213,500 |
| 8 | Leon Louis | 262,500 |
| 9 | Chris Gordon | 550,000 |
Almost immediately after the restart Steven Vigor busted out and just minutes after him Tai Tran attempted to squeeze with


but Tina Abery held a legitimate hand in the shape of


, which held, and the final table was the home to just seven players.
The field was further reduced when Abery was sent to the rail in seventh place. Having fought her way back from just 3,000 chips in the penultimate level of Day 1 she managed to claw her way back into the tournament and would have no doubt gone even deeper had her nut straight held against bottom set with the chips going in on a



flop. She got the rest of her stack in with


against Mario Lazarou's


, failed to hit and become the seventh place finisher.
Leon Louis, who we will be speaking with at some point in the new Best of British feature, was sent to the cashier's cage to pick up sixth place money and he was joined at the sidelines, and presumably the bar, by Morgan Sorfleet just moments later.
With play four-handed the remaining players decided to take £500 from the top prize and award it to the fourth place finisher so they received more than £4,000 and the person this benefited was Chris Gordon. Gordon has a great record at the Fox Poker Club having won the London Calling Main Event back in November 2011, but he will have to wait until March to add an FPC Main Event to his name. As will Lazarou who fought valiantly only to finish in third place.
Going into heads up Kerrigan trailed Sorfleet by 1,350,000 to 1,820,000 but he soon turned that completely around when the chips went in on a





board with Sorfleet holding


to Kerrigan's


and almost immediately after that hand Sorfleet got in his last 280,000 with


against the


and when the board ran out





it was all over, Kerrigan had won the February Fox Poker Club Main Event.
Fox Poker Club Main Event Final Table Results
| Position | Name | Prize |
| --- | --- | --- |
| 1st | Les Kerrigan | £12,615 |
| 2nd | Morgan Sorfleet | £8,035 |
| 3rd | Mario Lazarou | £5,075 |
| 4th | Chris Gordon | £4,095 |
| 5th | Rafael Fernandes | £2,960 |
| 6th | Leon Louis | £2,115 |
| 7th | Tina Abery | £1,690 |
| 8th | Tai Tran | £1,270 |
| 9th | Steven Vigor | £845 |