Get Ready For Tomorrow's Betfair LIVE London Final!

PokerNews Staff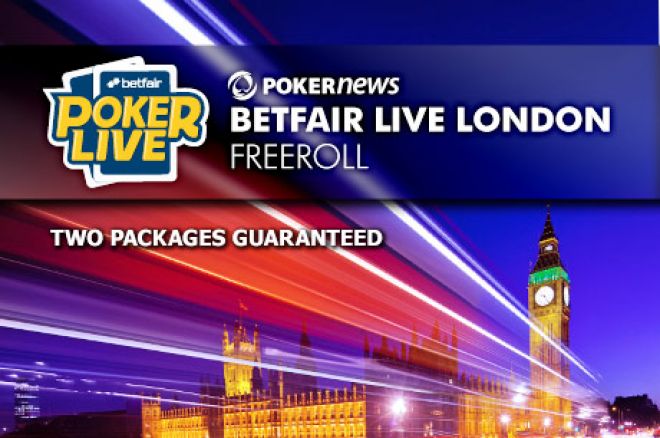 The $2,800 Betfair Poker LIVE London Freeroll takes place tomorrow and two lucky PokerNews players will be walking away with a $1,400 packages to the Betfair Poker LIVE Main Event! Are you ready for what could be one of the most important tournaments of your life?
It's Crunch Time!
The tournament is exclusive to PokerNews players who downloaded Betfair Poker through us and then generated just 50 Player Points between Jan. 9 and Feb. 1. Fifty Player Points sounds a lot but it actually equates to less than $14 in rake and for that two players will be taking home a $1,400 package to the upcoming Betfair Poker LIVE London Main Event!
The $2,800 Betfair Poker LIVE London Freeroll kicks off at precisely 1900 GMT and will award a $1,400 package to the eventual winner and runner up.
Each package consists of:

A $650 Main Event buy-in for Betfair Poker LIVE London on Feb. 17
$750 travel and accommodation allowance
Betfair's legendary hospitality
The Live Final
The top two finishers will then head to the fantastic Fox Poker Club on Shaftesbury Avenue in the heart of the English capital, London for the Betfair Poker LIVE London Main Event on Feb. 17. Here they will be joined by a field of around 150 fellow poker players who will battle it out for the title and the bragging rights that are associated with winning such a prestigious tournament.
Last year's Betfair London LIVE Main Event featured a much lower buy-in of £250 (around $400) but the eventual winner, Arttu Pitkakangas of Finland, still walked away with £7,630 ($12,000) for his efforts after besting the 171 strong field. However, this year's Main Event has a higher buy-in and a first place prize closer to £13,000 is expected!
One of the great features of this tournament is the fact it is played with a bounty hunter element to it. Once everyone has bought in $100 from each buy-in is removed from the prize pool and placed on each players head. Eliminated a player and receive their $100, it really is as simple as that. The winner of the recent Betfair Poker LIVE Costa Brava Main Event eliminated 13 players on his way to victory, adding a further $1,300 to his cash total.
In addition to the fun and potentially lucrative tournament format Betfair Poker are also taking the sting out of finishing on the bubble. Whoever finishes on the bubble at Betfair Poker LIVE London will not actually walk away empty handed, instead they will receive a bottle of champagne and a $120 ticket that can be used online to qualify for a future Betfair Poker LIVE Main Event.
That is not all because there is also a free $1,400 package to the next Betfair Poker LIVE Main Event up for grabs too. This will be given to the winner of the London Main Event if they have funds in their Betfair Poker account at the start of Day 1a, an amazing offer.
Help Yourself To A $250 Bonus
Betfair Poker are offering a sign-up bonus of up to $250 for new customers. Those who download Betfair Poker, enter the bonus code "PNE250" and deposit at least $10 will be rewarded with a bonus of up to $250. Each time they earn just 80 Player Points $10 will be released from their bonus account straight into their Betfair account, up to a maximum of $250. Players have 60 days to clear as much of the bonus as possible.
Stay up to date on all the latest news by following us on Twitter and liking us on Facebook.