Emmett Mullin Wins UKIPT Galway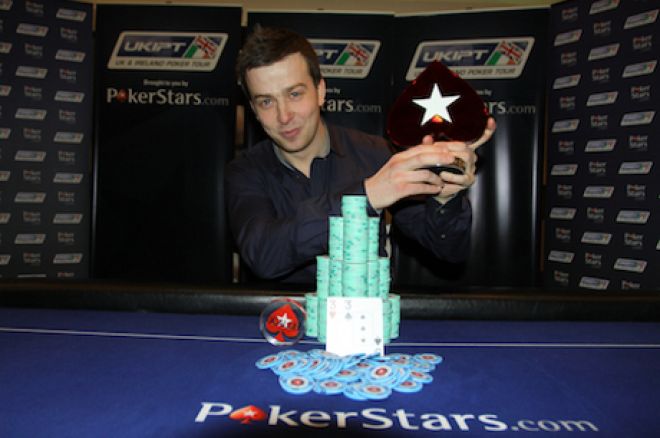 The PokerStars UK & Ireland Poker Tour Galway Main Event is done and dusted and it is Emmett Mullin who has emerged victorious after winning each and every one of the 10,470,000 chips that were in play. His reward? The bragging rights associated with becoming a UKIPT champion and the not-so-small matter of €100,000 in cold, hard cash.
Yesterday saw nine hopefuls return to their seats in the Radisson Hotel in Galway all with a dream of becoming the first UKIPT champion of the new season. Those dreams ended prematurely for Joris Ruijs on the hour mark when he committed his short stack with


and found a caller in the shape of Mullin who had been dealt


. The board ran out





and the nine who started became eight.
They were reduced to seven just five minutes later when another of the short stacks, Richard Haile, looked down at


and decided they were more than enough to get his remaining chips into the middle with. Unfortunately for him Craig Burke was sat waiting with


and although Haile picked up a gutshot straight draw on the



flop it was false hope because the turn and river bricked and his tournament was over.
Next to go, just 10 minutes later, was the man everyone secretly wanted to win the Main Event. Mullin opened to 80,000 then snap-called the 605,000 shove from Nick Abou Risk. Mullin flipped over


which dominated Risk's


but the door card was the

and it looked like Risk was going to survive but only for a brief moment because the second card out was the crushing

. The next three card read



and with that Risk's tournament was over but we know it will not be long before he gets another shot at that third UKIPT title.
After that whirlwind start the play slowed down for the next 45 minutes until John Willoughby found himself at the wrong end of the chip counts and needing to make a move.


in his hand was his queue to do that and he open-shoved and must have been delighted to see Aleksandras Rusinovas call with a dominated


. However, that elation will have quickly changed to major disappointment when the board ran out





to send him to the rail.
Rusinovas was the next elimination around 20-minutes after he had sent Willoughby packing. He opened the betting with a raise to 100,000 only to see Mullin click it back and make it 180,000 to play. Wondering what to do with his


Rusinovas thought moving all in for 1,100,000 was the best idea and it could have been had Mullin not decided to call with


. By the river the board read





and the UKIPT Main Event was down to the final four players.
He was followed the rail by Burke half hour later when Mullin busted yet another player. Mullin opened to 125,000 with


and called when Burke moved all in with


. Neither player improved on the





board but Mullin's kicker came into play and the last three players were sent on a break for the last time in the tournament.
During the last break of the day the remaining trio decided to alter the payout structure slight by taking €14,900 from the first place prize and giving €10,000 to second place and €4,900 to the third place finisher. The player to benefit from this the most was Joe Roberts who ultimately became the third place finisher. He three-bet shoved for around 1,300,000 chips after Mullin had opened to 150,000. Unfortunately for Roberts he made this move with


whilst Mullin was sat with


and he made the relatively easy call. An ace-high board was no good for Roberts but the €51,900 he picked up will soften the blow somewhat.
Roberts' demise left Mullin and Ronan Gilligan to fight it out of the title. Gilligan had been in this position before back in 2010 when he finished second to Max Silver in the UKIPT Dublin Main Event and he was to be a bridesmaid and not a bride again in Galway. The pair played a slow, thought out strategical battle before one hand flipped the battle into Mullin's favour. Mullin's chips went in on a




flop with him holding


for a set but Gilligan held


for a straight! The dealer dealt the river.....

gifting Mullin a full house and a 6,420,000 to 3,585,000 chip lead.
It was all over soon after when Mullin flopped another set. Gilligan min-raised to 200,000 on the button and Mullin called. The flop came down



, Mullin checked, Gilligan continued with a bet of 400,000 then shoved when Mullin check-raised to 950,000. Mullin made the fastest call in history and proudly showed


for bottom set, crushing the


of Gilligan. The

turn was no help for Gilligan and neither was the

river and with that Gilligan was eliminated and Mullin was swamped by his friends on the rail.
Congratulations to Emmett Mullin from everyone at UK PokerNews!
UKIPT Galway Final Table Results
| Position | Name | Prize |
| --- | --- | --- |
| 1 | Emmett Mullin | €100,000 |
| 2 | Ronan Gilligan | €73,650 |
| 3 | Joe Roberts | €51,900 |
| 4 | Craig Burke | €30,750 |
| 5 | Aleksandras Rusinovas | €24,150 |
| 6 | John Willoughby | €19,400 |
| 7 | Nick Abou Risk | €14,700 |
| 8 | Richard Haile | €10,900 |
| 9 | Joris Ruijs | €7,800 |
The UKIPT next heads to Nottingham between April 12-16 and you could win an excluisve package to be there through PokerStars. Download PokerStars through PokerNews and use the marketing code UKPOKERNEWS and bonus code STARS600 and you will be eligible for a 100% match up to $600 first deposit bonus and any future promotions we run with the online poker giant.