Bryan "The Cardstacker" Berg Starts New Challenge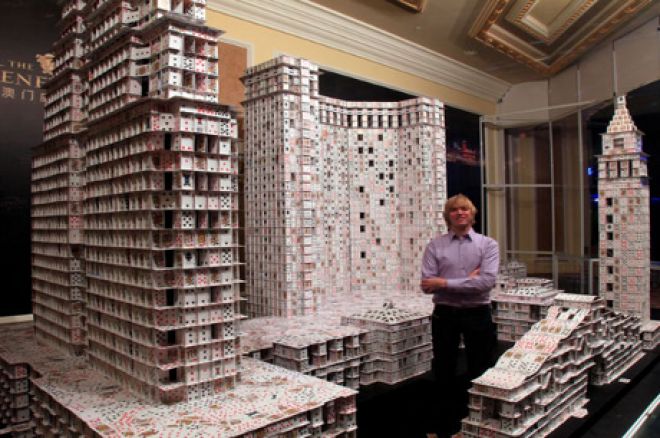 If you head down to Aspers Casino, Stratford today and up to Feb. 22 you will see Bryan Berg creating a masterpiece out of nothing more than freestanding playing cards! Known as "The Cardstacker," Berg is a Guinness World Record Holder who has created scores of amazing structures out of playing cards, hence his nickname, but this one promises to be bigger and better than ever.
Berg will be attempting to recreate the iconic Houses of Parliament and Big Ben out of playing cards after the community over at Sky Poker voted for this landmark to be built. Thirty-two percent of the votes were for the Houses of Parliament and Big Ben whilst 20% were for Windsor Castle with 11% of the votes cast being for Stonehenge.
The reason for this engineering feat is to celebrate Sky Poker's promotion "Play The Nation," that is going to see players compete against each other in leaderboards that represent the region they live in. Depending on where players finish they can earn a 100%, 50% or 25% Cash for Points boost as long as they earn at least 500 poker points during February. All players need to do to participate is to enter the bonus code PLAY and earn at least 500 poker points in February and hope your region performs best at Sky Poker's virtual felt.
Berg will be laying the first card today and hopes to be completed by Feb. 22 which means he is going to have to put in plenty of hours if he is to reach his goal. The structure will remain at the casino for five days before it is demolished in spectacular style on Feb. 27 and we should have video footage of the demolition when it happens.
So if you are in the Statford area pop into Aspers Casino and see how Berg is getting on with his latest creation.
If like Berg you enjoy stacking things up then why not stack the odds in your favour and qualify for the Victor Chandler Max Stack freeroll with a $5,000 prize pool?