Toby "810ofclubs" Lewis Wins TCOOP Event #16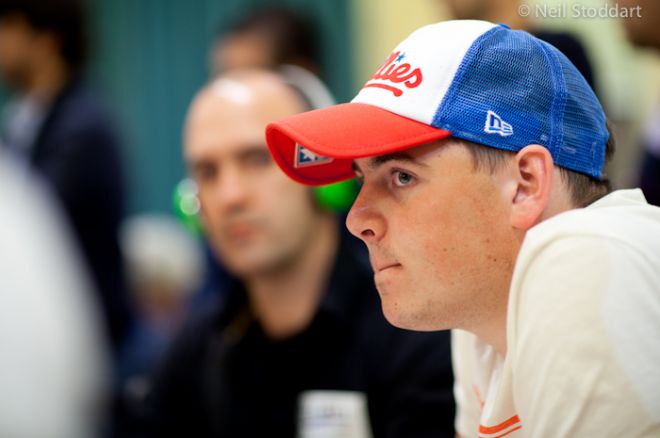 It is not just the live tournament circuit that the British boys and girls are crushing, they are also showing the rest of the world how to do it at the virtual felt.
Just hours ago EPT Vilamoura champion Toby "810ofclubs" Lewis took down Event #16 of the PokerStars TCOOP series netting himself a cool $68,676.14 in the process. Event #16 was a $55 buy-in event that had five minute levels and $10 bounties for each elimination so it was no surprise the action was intense from the second the first cards were dealt.
Lewis was one of the 12,270 entrants who helped to created a guarantee-busting $503,070 prize pool (guarantee was "just" $200,000), a prize pool that would be shared amongst the top 1,620 players. Amazingly the bubble burst two hours and 15 minutes, with the nine-handed final table being decided around two hours after that.
TCOOP Event #16 Final Table
| Seat | Name | Chips |
| --- | --- | --- |
| 1 | Slart42 | 6,029,912 |
| 2 | vic_xcite | 10,537,729 |
| 3 | flopperflush | 3,294,776 |
| 4 | 0123Gliukas | 6,843,904 |
| 5 | 810ofclubs | 5,883,991 |
| 6 | bradok77 | 13,564,458 |
| 7 | xaffer | 5,015,820 |
| 8 | Asso_PB | 7,225,242 |
| 9 | CigarBabe | 3,004,168 |
The first player to be eliminated was 0123Gliukas who got his money in good with his


against the


of Lewis only for the board to run out





. Eighth place was decided just a few hands later when Slart42 ran his


straight into the


of vic_xcite and could not catch that all important third king.
Seven became six when a short-stacked CigerBabe called off his / her stack with


in the big blind after vic_xcite had opened from under the gun with


. CigerBabe spiked a five on the



but the eagle-eyed amongst you will notice vic_xcite had paired their ace. The turn and river were void of drama and just six remained.
After discussing a deal, and failing to come to agreed figures, another player was sent to the virtual rail, Asso_PB. He had opened-shoved for 10,435,806 (blinds 600,000/1,200,000/150,000a) with


and xaffer made the call with


. Just as it looked like Asso_PB was about to double up the flop came down



gifting xaffer the advantage, but it was not all over as Asso_PB still had outs to a straight. They failed to materialise as the turn and river were the

[ and

respectively and just five players had chips in front of them.
Lewis then helped himself to another bounty, that of flopperflush who had open-shoved from UTG with


and was in serious trouble against the dominating


of the talented Brit. Neither player improved on the





board but Lewis scooped the pot thanks to his queen-kicker coming into play.
Xaffer's tournament came to an abrupt end in fourth place, vic_xcite claiming his bounty. Xaffer had been left with around five big blinds after doubling up bradok77 a few hands previously and these found their way into the middle with


. Looking down at


vic_xcite made the call and after spiking a nine on the flop and avoiding a jack vic_xcite stacked xaffer.
The very next hand Lewis suffered some serious misfortune when he doubled up bradok77. The latter had moved all in with the lowly


after Lewis had open-limped the small blind and Lewis, ranked 35th in the world for online tournament play, instantly called with a pair of red aces. Bradok77 flopped an open-ended straight draw on the



flop and it came in with the arrival of the

on the turn. The meaningless

landed on the river and suddenly Lewis was the shortest stack of the three remaining players.
The tournament went on a break almost immediately after that hand and shortly after the restart the tournament reached the heads-up stage. Vic_xcite found himself all in with


and was quickly called by the


on bradok77. The final board read





and just Lewis and vic_xcite remained!
At the start of the one-on-one battle vic_xcite lead Lewis by 37,815,762 to 23,534,238 chips and after a trading a few pots with each other a huge hand went down that saw Lewis' stack swell past 55,000,000 to his opponent's 6,000,000. Lewis was all in with


against


in a typical coinflip scenario. Lewis picked up a gutshot on the flop but paired his ace on the turn. The

on the river improved Lewis to an unnecessary straight but vic_xcite started to stage a comeback and almost drew level, but his comeback was cut short after the Poker Gods decided to give Lewis some Sklansky Dollars back after cracking his aces earlier.
Vic_xcite min-raised to 4,000,000 then called with Lewis moved all in for around 30,000,000 and the cards were flipped over.
Lewis looked in big trouble but he earned a reprieve when the flop came down



. The turn card was the

and the river a tournament winning

! Along with the $68,676.14 Lewis also picked up a TCOOP bracelet and bragging rights amongst his friends!
TCOOP Event #16 Final Table Results
| Position | Name | Prize |
| --- | --- | --- |
| 1 | Toby "810ofclubs" Lewis | $68,676.14 |
| 2 | vic_xcite | $48,546.25 |
| 3 | bradok77 | $35,214.90 |
| 4 | xaffer | $25,153.50 |
| 5 | flopperflush | $20,122.80 |
| 6 | Asso_PB | $15,092.10 |
| 7 | CigerBabe | $10,061.40 |
| 8 | Slart42 | $5,030.70 |
| 9 | 0123Gliukas | $3,144.18 |
The excellent PokerStars Blog was used to create this article.