The Dusk Till Dawn Grand Prix Starts On Saturday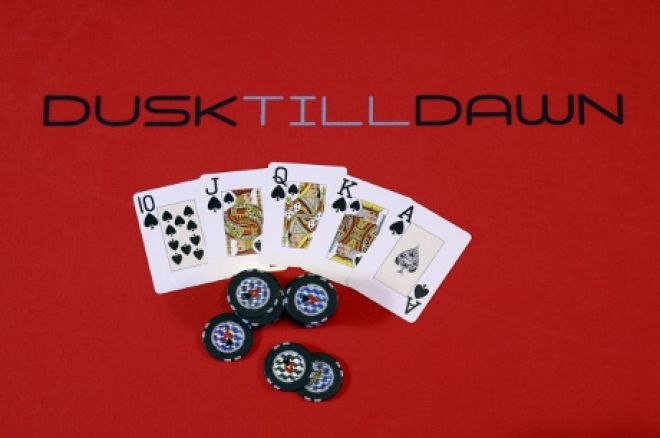 Saturday 14 January marks the return of the Dusk Till Dawn Grand Prix event which should see upwards of 4,000 players entering the doors of the Nottingham-based club all vying for a slice of the €100,000 guaranteed prize pool.
We can hear you asking how Dusk Till Dawn are going to accommodate 4,000 poker players at once, well they are not, their premises is not the Rio so instead they are running a total of seven starting days! That's right, players can chose between Day 1a, 1b, 1c, 1d, 1e, 1f and 1g and if anyone playing in any flight other than Day 1g will be able to re-enter the following day!
If you make it through using only one bullet all entry will cost you is €50+€10 and for that you will receive 15,000 chips and 40-minute clock. On each of the seven starting days late registration will be open for the first six levels of play with each of the Day 1's playing a total of 12 levels (8 hours plus breaks) but please be aware each day will be capped at 405 players.
The last time this amazing tournament was run, back in August, it saw a crowd of 4,010 players descend on Nottingham and pay €60 for entry. It was brought to a premature ending when the final eight players decided to chop the prize pool based on chip counts. The prizes ranged from €10,700 with the man who booked the win, Nicholas Humphris, walking away with €30,000.
DTD €100,000 Guaranteed Grand Prix Schedule
| Day | Date | Time |
| --- | --- | --- |
| 1a | Saturday 14 January | 2pm |
| 1b | Sunday 15 January | 2pm |
| 1c | Monday 16 January | 5pm |
| 1d | Tueday 17 January | 5pm |
| 1e | Wednesday 18 January | 5pm |
| 1f | Thursday 19 January | 5pm |
| 1g | Friday 20 January | 5pm |
| 2 | Saturday 21 January | 2pm |
| 3 | Sunday 22 January | 12pm |