Main Event Travel Set To Launch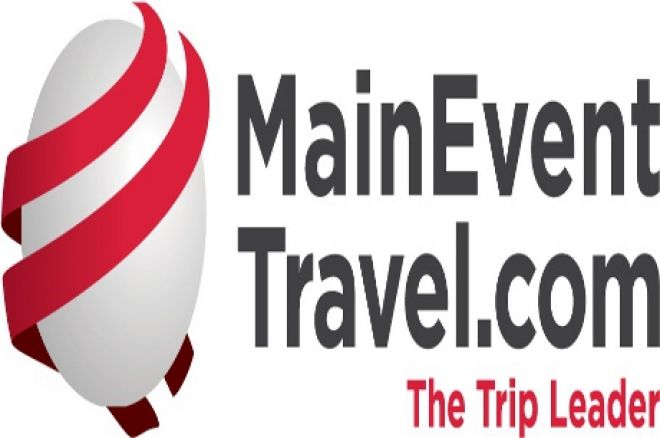 There are hundreds if not thousands of poker players out there who would love to participate in various live tournaments and events, not only in the UK but in Europe and the rest of the world but they are put off by the sheer amount of organisation that comes into play. Buying into the tournament is simple but how do you get to the venue, where do you stay and what is there to do where you are staying if you bust out early? If only someone could take care of all that for you, a sort of concierge, wouldn't that be great? Step forward Main Event Travel.
Main Event Travel are a UK-based company that are looking to become the one-stop shop for poker players. UK PokerNews spoke to one of the founders, Warren Kwei, and we spoke, at length, about this new and exciting company that will be going live on Monday 30 January.
The clue is in the title of the company but what exactly will Main Event Travel be bringing and offering to the poker world?
Fundamentally, our vision is that we would become a market leader in what we call bespoke travel and hospitality packages to poker players at a very good value proposition. By that I mean we are effectively seeking to provide convenience to the poker player who wants to travel and have some hospitality services associated with a major poker tour.
Effectively that means the proposition could be one of your aspiring player who only wants to spend £39 per night in a two or three-star hotel next to Dusk Till Dawn up to your professional poker player who has a fair amount of spare cash where they may want to stay in a five-star resort and stay there for numerous nights and everything in between. What we are trying to do, across the entire poker sector, is work with the vast majority, if not all of the major tours and put together products that will be acquired on our website in the same way you would go onto lastminute.com or expedia.com and you would see associated packages relating to a tour stop.
Do you have an example?
As an example, the Monte Carlo at Dusk Till Dawn, we would have between three and six packages as a rule which customers could acquire on our website that relate to the £1,000 Monte Carlo event and side events. They could be one, two, three, four nights' accommodation at very different hotels, they could include transport to and from airports or train stations etc. And they could include buy-ins, so we are effectively creating a one-stop shop site where if you as a player wants to go play in the Monte Carlo you can come to our website, click a couple of buttons and everything is taken care of.
We are attempting to push those packages to our customers whilst also building the functionality in the system so that a customer can request bespoke packages so in essence the commercial business model looks like we think we understand the travel sector and we understand the poker community well enough to build those packages for them. We effectively do all the upfront work, which tailors a package to a customer need and we have broken the customer types down across five different segments ranging from your aspiring poker player who looks up to the like of Jake Cody (using the UK as an example) up to those guys like John Eames who will travel the world every year and not worry too much about what he spends but may just want an easy view solution. In that particular sector we would effectively act as a concierge service, dependant on how the business evolves, to take care of all the poker player's requirements.
But core and central to our business, after analysing the UK market, will be around the aspiring player.
How did the idea of the company come about? Is it because poker players, from my personal experience, are not the most organised creatures in the world?!
One of the things that spawned it for us as an idea was the general Facebook discussions where quite often you would get someone saying, "Who fancies playing UKIPT Nottingham," or something similar and everybody comments and says they are happy to do that but make it easy for me. Then by hook or by crook it just doesn't take off so we saw huge potential to say to those people here is package A, B, C, D and E that is self-explanatory, explicit in terms of what that customer is buying and is laid out for them on a plate where they only have to click a couple of buttons to buy it.
Personally I think it sounds like a great idea and something I will certainly be interested in using. You cannot be the only people who have thought of this, will you have many rivals?
There are people doing pockets of this but we do not believe they are doing what we intend to launch in a real scalable and corporate look and feel. My background is very corporate, much investment banking and all those sorts of things and one of the synergies I see here is that more often than not the poker industry is pretty much run by poker enthusiasts.
Sure.
And therefore more often than not the commercial element of poker is missed as far as the opportunities that are there. Where we were very careful in our business model was that we selected shareholders that had that mix of poker industry and event management understanding coupled with the travel sector experience but also the corporate behaviours on how to run a business and how to evolve a business on how we perceive is how the customer wants. This has lead to a lot of time, capital and investment going into that search in order for us develop the system that we launch next week and that is an attractive proposition to the travelling poker playing customer.
Which poker players are Main Event Travel targeting?
As mentioned earlier where we think the real opportunity lies is the new poker players. The guys like John Eames and Jake Cody's will travel to all the WPTs and EPTs anyway and whilst they are an attractive customer to us we estimate they will make up around 5% of our market in terms of revenue. We want to attract new players, take them away from their laptop and get them into the live environment because you can see those trends happening in the industry now. Just a year ago it was cool to be the player who plays online but we all know you need that blend and mix now, it is becoming much more fashionable to be the guy that wins the live score rather than the person who wins the WCOOP. In order to create that name, create that brand it is the live environment that is as important if not more important than the online environment and we see that as a real opportunity to create some new behaviours in the industry.
I think where Main Event Travel could really stand out would be to someone like me who would love to play at the WSOP, maybe not the Main Event, but who wants a couple of week's holiday with the Mrs, play a couple of $1,500 events but the organisation to do it properly would be a bit of a nightmare. Or maybe to play in some of the WPT and EPT side events that are never really thrusted into the public domain.
Absolutely. We are launching with that functionality. So take for example, let's take EPT Deauville which will have eight to ten side events, each of those events are being listed as far as what the buy-in is, what the rake is and you therefore have the opportunity to select any number of events on any tour and you will then be able to see the packages we are offering relating to those events. You will be able to choose packages and your hotel based around the side events not just the Main Events.
Main Event Travel are a business and we all know the aim of the game in business is to make money. How will Main Event Travel make money? Will you be adding percentage to the buy-ins of the packages?
We have access to more than 10,000 worldwide hotels through a wholesale agreement at cheaper prices than laterooms.com can do it and that is just one opportunity to us. We recognise the need to be cost conscious, especially in the current climate. So things like buy-ins, if it is a £1,000 +£70 event we would not be looking to charged £1,000 +£70 plus a percentage, the margin we might create as far as that relationship is concerned would be simply through the accommodation. We are not looking to add percentage to buy-ins because we do not think that is attractive to a customer. I don't think it is attractive to charge a customer more just so they don't have to stand in a queue!
Finally, you have Sam Macdonald as your first sponsored pro player. How did this relationship come to fruition?
Yes, he's our first official sponsored pro. We've worked with and known Sam for quite some time and followed him on his journey to date, and given the success he's started to have and funnily enough in the journalistic sense people are talking about him because he is that super-aggressive online player. Speaking to him you see that in effect he is taking how he plays online and implementing it in the live arena, which hasn't really been done at that level before, and he's being known as being the chipleader on Day 1 and we are the "Trip Leader" so we feel the synergies are perfect.
We have already worked out his schedule, he'll be playing the vast majority of EPTs and WPTs, 20+ events at the WSOP etc so he's playing enough marquee events to make it worthwhile us investing in him and building that relationship. We are not a staking business, we are not a staking site, we just want relative synergies that the press will talk about and looking for on the blog and we feel we will get maximum exposure through somebody like Sam.
Well thank you very much for your time and the very best of luck with Main Event Travel
-----------------------------------------------------------------------------------------------------------------------------------------------
So there you have it, a new kid on the block but one with bags of experience and success in the business world. I for one am very excited about Main Event Travel and I think the majority of poker players should be too! For more details on Main Event travel simply visit their website.