APAT UK European Amateur Poker Championship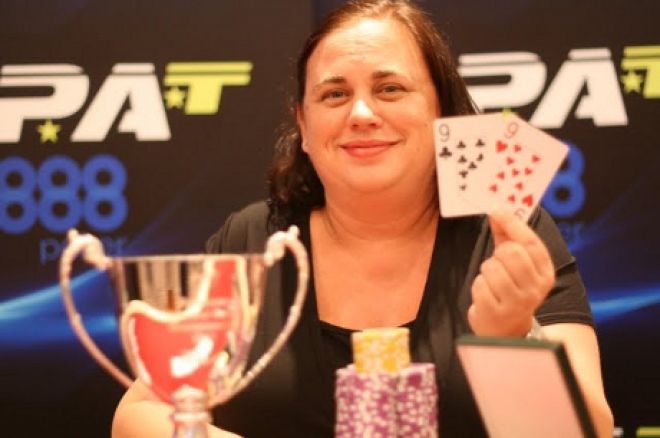 APAT held its European Amateur Championships at the Rendezvous Casino, Brighton over the weekend of Jan. 21-22. This was the final event of APAT's successful fifth season of live events, where for a £75 buy in players received a 10,000 starting stack and 45 minute clock two-day tournament.
The 124 runners created a £9,300 prize pool including added value of a tournament entry from APAT to the winner. APAT members had the chance to win added value throughout a packed season of Live and Online National Championships and leagues.
The early chip leader was Julian Brooker, all-in with set under set on the flop he made quads on the river to knock out Robyn Houlford. Regular APAT players Vikrum Mehta and Ben Burnhill both moved to the head of affairs during the day, but the chip leader by the end was James Barber.
Barber was helped by raising with kings, being called in position by Steve Jay . The flop came



. Barber bet, Jay moved all in and Barber eventually called, and was comfortably ahead of the


of his opponent. The pocket kings held and Barber did not relinquish his lead for the rest of the day.
At the end of Day One, 24 players remained with the chip leaders as follows:
| Name | Chips |
| --- | --- |
| James Barber | 109,300 |
| Vikrum Mehta | 72,000 |
| Martin Sieder | 68,700 |
| Lewis Keeble | 67,800 |
| Tony Johnson | 66,100 |
Mehta was on great form as the play on Day 2 moved towards a final table, knocking out Ian Thompson and John Murray in quick succession in the minor cash positions, out-drawing both with


against


. Elsewhere, Tony Johnson and Marie Sherwood moved towards the top of the chip counts, and Barber stayed in the hunt with a magnificent fold of pocket queens against Sherwood's pair of kings on a



board to a four-bet shove all-in.
The final table line up was as follows:
| Seat | Name | Chips |
| --- | --- | --- |
| 1 | James Barber | 99,800 |
| 2 | Marie Sherwood | 128,100 |
| 3 | Siamak Siamak | 95,500 |
| 4 | Jonathan Walker | 162,800 |
| 5 | Lewis Keeble | 61,400 |
| 6 | Tony Johnson | 207,300 |
| 7 | Mike Johns | 48,900 |
| 8 | Mark Davidson | 125,000 |
| 9 | Vikrum Mehta | 311,200 |
With blinds on the final table beginning at 4,000/8,000 the two short-stacks were under immediate pressure. Keeble made a move with king-eight in late position and found Johnson in the blinds with pocket kings to knock him out ninth. Mike Johns shoved king-jack and was eliminated eighth by Jonathan Walker holding ace-king.
Siamak Siamak then shoved ten-nine suited on the button and Johnson found a hand again in the blinds, pocket sevens. He won the race and Siamak left the competition in seventh. Mark Davidson was knocked out by Mehta in sixth and Barber fell to Johnson in fifth.
Four handed, stacks were approximately equal, played continued for some time. Eventually Walker and Mehta had a big all-in pre-flop confrontation with ace-jack and king-queen respectively. A jack flopped, knocking Mehta out in fourth place. Johnson was then eliminated by Sherwood in third place, his flopped top pair losing to Sherwood's two overcards, which hit on the river.
Walker began heads-up with a chip lead and over nearly two hours Sherwood first managed to get equal in chips with a flopped flush, then in the key confrontation Walker with a turned straight and Sherwood with two pair and a flush draw played out a pot that saw Sherwood river a flush to take control, winning soon afterwards.
So the winner of the 2012 APAT UK European Amateur Championship was Marie Sherwood who won £2,780 and in addition to winning the Championship Trophy, Medal and prize money, she will also receive an 888poker SuperStack entry at Star City, Birmingham.
or all the details of how to enter future APAT events and free membership of APAT visit www.apat.com